On his 8th Birthday, my son asked for an Oscar Taveras baseball jersey for his gift. Two days prior, the long awaited Major League debut of the St Louis Cardinal's prospect began with a Heaven Tickling Home Run. In his 2nd big league at-bat, he hit a ball that lifted high enough for the baseball gods to grab the souvenir for themselves. Graciously, the gods decided to allow one of us commoners to keep OT's first HR. "HE" had arrived.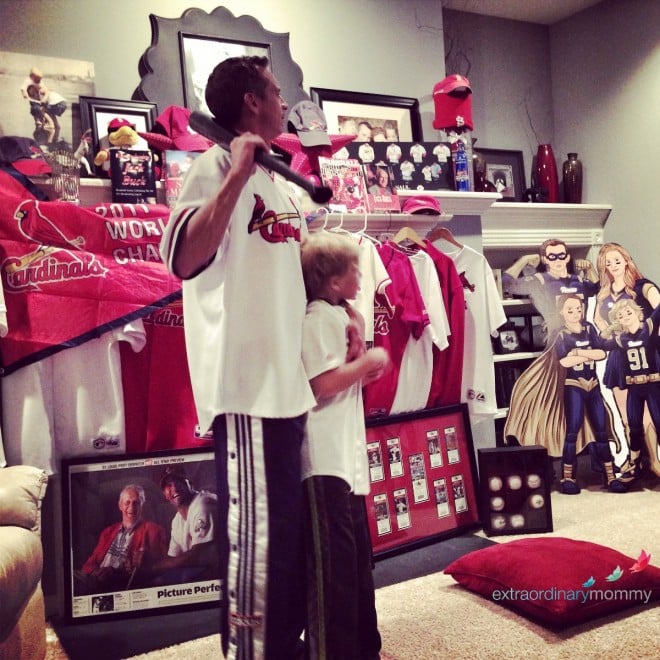 Last night, my 8-year old son cried himself to sleep.
As I lay in Cooper's bed holding him and trying to answer his questions, a tear rolled down my cheek as well. I started thinking. Why am I so sad?
Is it because a 22-year old and his 18-year old girlfriend were both killed in a car accident? A tragedy for sure, but unfortunately, this is not uncommon.
Is it because this is the 3rd active St Louis Cardinal in recent memory who has died during his playing career? I was standing across the street from Wrigley Field on June 22, 2002 when Pitcher Darryl Kile was announced as deceased. That game was postponed. I still hold the ticket stub in my wallet today.
Is it because Oscar was going to be Cooper's "hero" for the next decade and send him off to college? Ozzie Smith made his Cardinal debut when I was about Coop's age. During the 80's, every St. Louis kid wanted to play short stop, do back flips and Go Crazy! He played his last game while I was in a lecture hall at Mizzou. My baseball youth ended that day. Now another bird, name beginning with "O" was to assume the role of herO in downtown St. Louis. Coop would follow his career, learn to finish a short swing with a long follow through, and attempt to hit home runs as high as the sky, then head to college with many fond memories thanks to his own standing "O."
Is it because the kid was drafted by MY TEAM when he was 16 years of age, developed by MY TEAM for over half a decade, brought to the show by MY TEAM to become a superstar, only to have all that go away on a rainy night in the D.R.? That's the magical kingdom where our game's greatest talents are discovered at such a young age, not where our game's greatest talents are to die at such a young age. Admitting a lot of selfishness, I feel betrayed.
Is it because we now have a gaping talent hole in our franchise? Speaking strictly on a baseball level, not at all to be compared to the personal tragedy that has occurred, the Cardinals now have a talent problem. A farm system that was so deep has become real shallow, real fast.
I know this is a strange thought process. I didn't even understand it myself. Then, at 3:30pm the day following the death of Oscar Taveras and his girlfriend, my answer arrived home from school.
"Dad, I started crying in math class today. Nobody saw me. I covered my eyes. (Cooper's head drops, he stares at the floor) I just started thinking about Oscar, his mommy, daddy, brothers, his girlfriend, and her family too. (Then, he looks up, with watery eyes) And, it just made me sad."
Leave it to the 8-year old to bring some perspective.
RIP Oscar, Edilia, and to all of you who left this world too young. There are people down here on earth who miss you. We think of you often, and it just makes us sad.
The last pitch Oscar saw at Busch Stadium was hit off the clouds and into the seats. Home Run. One last Standing O for Oscar.