Just how many children do I have anyway?
I thought it was two.  But lately, it sounds like TEN.  They are LOUD.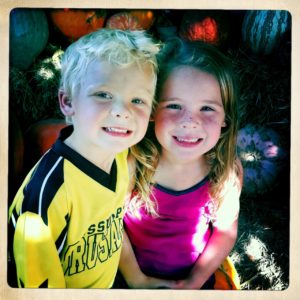 And, I mean LOUD.  The screaming.  The squealing.  The yelling.  And really?  THE FIGHTING.
About at the moment my last nerve was frayed by yet another high-pitched disaster, I snapped.  As in, I raised my voice to a previously unknown (or well hidden) octave.  The clouds parted, the sun peaked out, my halo sparkled and I no longer resembled….or sounded like… Charlie Brown's teachers.  Good heavens – they can hear me.  That must be a small miracle.
Now, about that sparking halo.  Whatever I snapped was clearly not-befitting an angel.
So, Delaney did exactly what any 6 year old in her situation would do….
She dissolved into hyperventilating hysterics during which I could clearly make out, "I waaaaaant MY DADDY." (who is, by the way, out of town)
Naturally.
And even better, when I called her on it….  you know the old, "Look drama queen….  you want your daddy because you are mad at me."
The tears stopped and without missing a beat, she replied, "And when I'm mad at Daddy, I want you."
Nice.  At least she is smart.  Or so I keep telling myself.