Parents, let's have a little chat…ok?
If I was to make a list of the skills I want my kids to have when they eventually leave my home at 18 years old, I promise you that financial responsibility and money management are at the top of the list.
I suspect you feel the same.
Yes, I also want them to be respectful, to be good citizens of the world and to practice kindness at every turn…but money….they need it for all the basics.
There wasn't a course in high school that taught me what I needed to know – how to spend, save and give – and let's just say I made more than my share of mistakes signing up for credit cards that first week of college (boy, do those companies pursue students relentlessly! And, I simply didn't know any better.)
But let me give you a MUCH better option.
Let me introduce you to Current.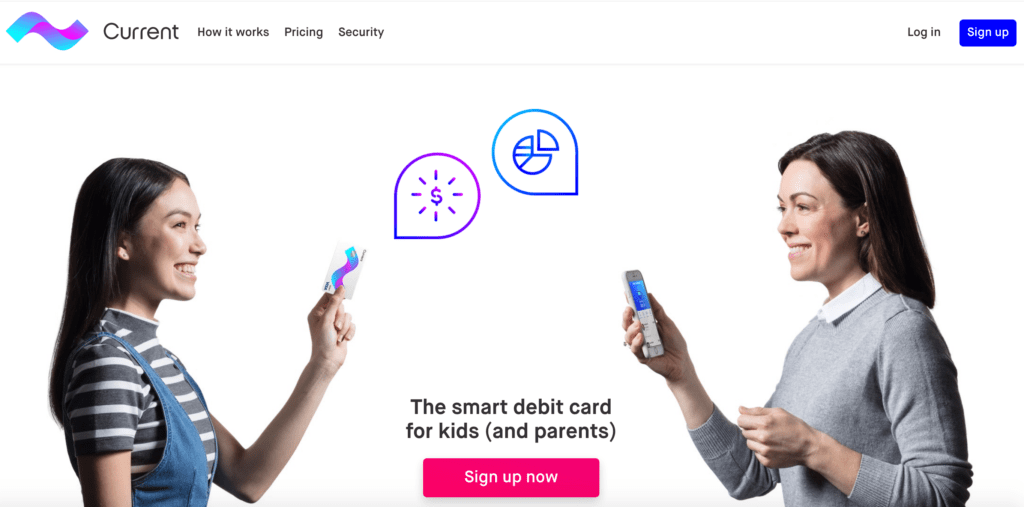 Teaching Kids Financial Responsibility
Current is an app-based smart debit card for teens. It allows parents like you and I to teach our children financial responsibility and money management.
It sounds like a tall order, I know, but it is actually SIMPLE.  I will break it down for you.
Here's how it works:
You sign up at Current in less than two minutes. (Grab the code below!)
When you create your account, you will attach it to your bank account and then create accounts for your child or children. In my case – I created one for both Delaney (13) and Cooper (11).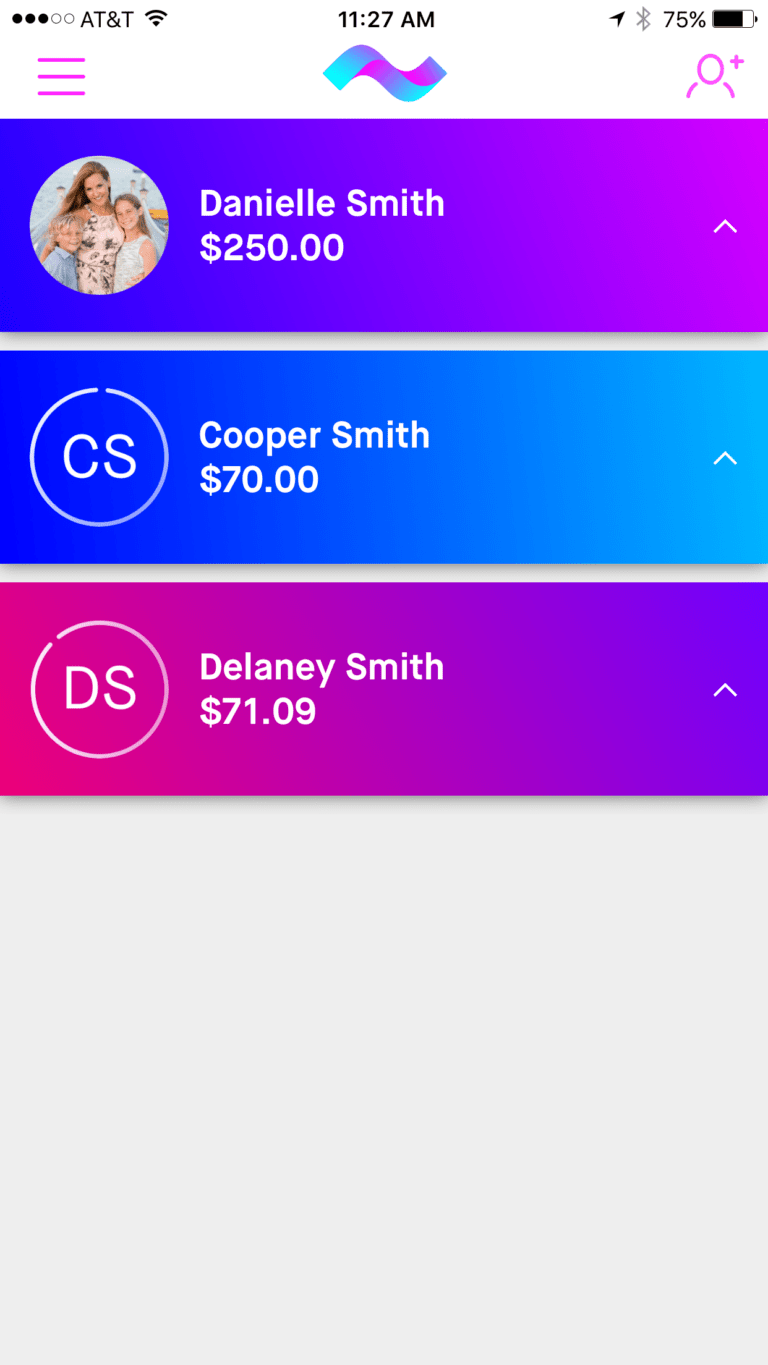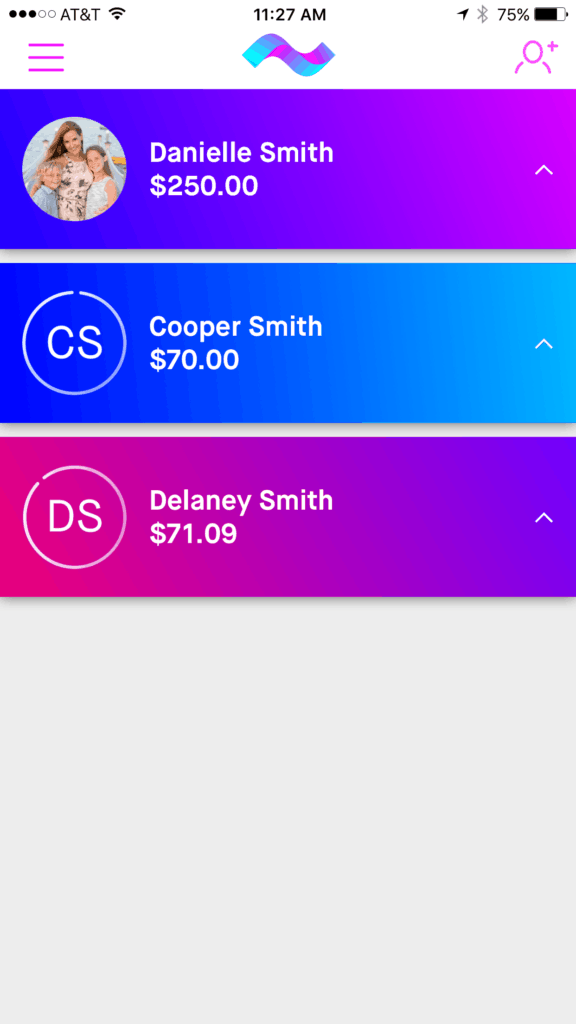 We all then download the Current app – available on both IOS and Android.
My kiddos receive an actual debit card with their name on it. When it arrives, you will create a personalized pin number so it can be used.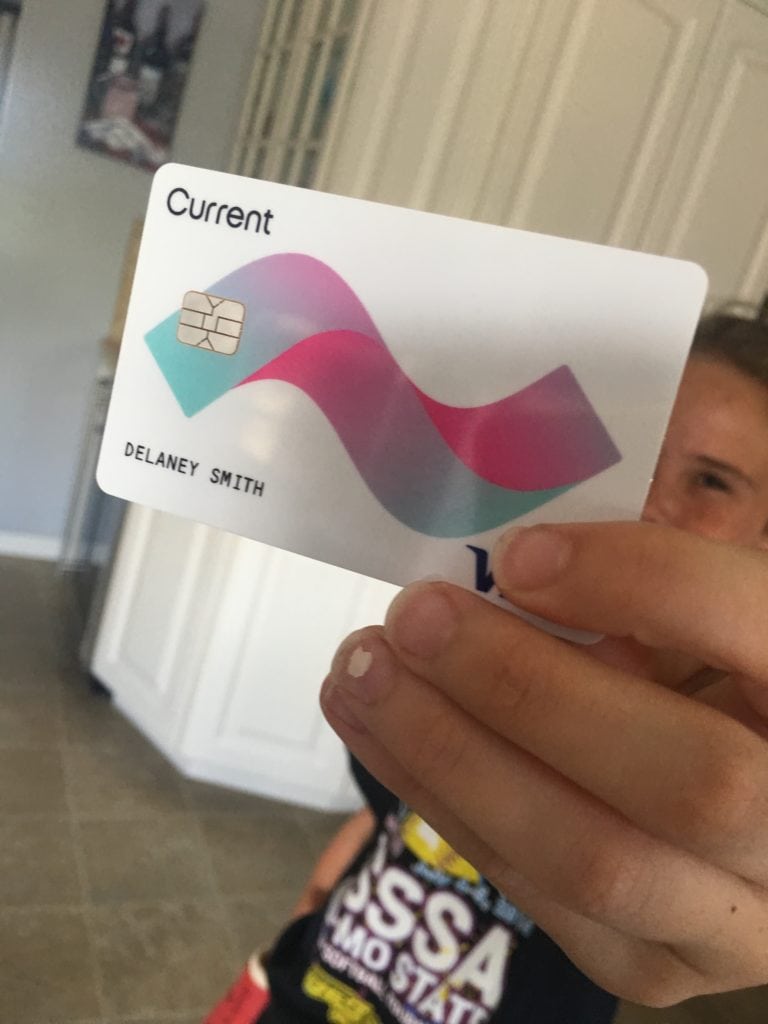 From here, I transfer money from my bank account to MY Current account and then decide how much and when I'd like to put money in my kid's Current accounts. (no, my kiddos DO NOT have access to my bank account….the only money in their account is what I transfer over.) I transfer money to them by creating an allowance (this can be weekly, bi-weekly, etc) or attached to specific chores. I can give them a weekly allowance of $5, $10, $15 OR….I can decide that I don't do a regular allowance, but rather will pay them what they EARN – $5 for washing my car, for scrubbing the kitchen floor, or cleaning the baseboards, etc.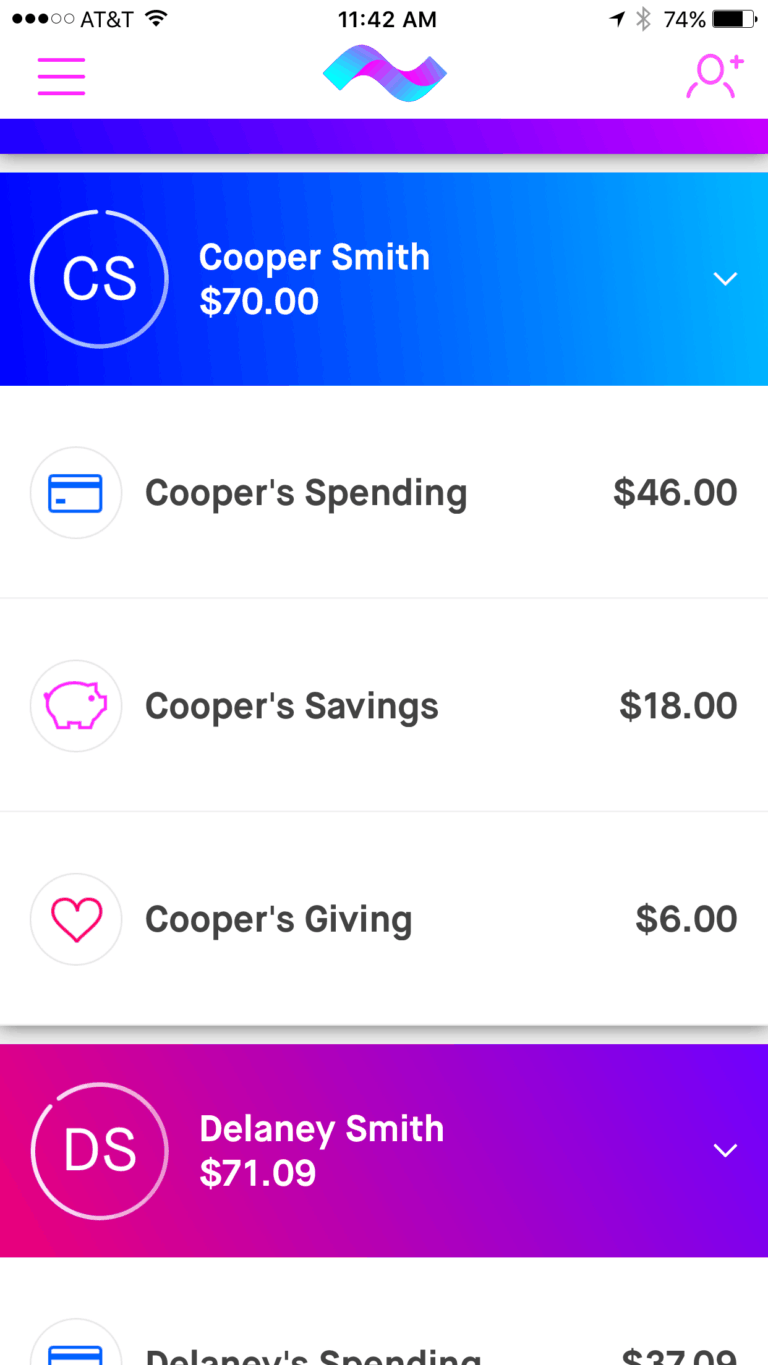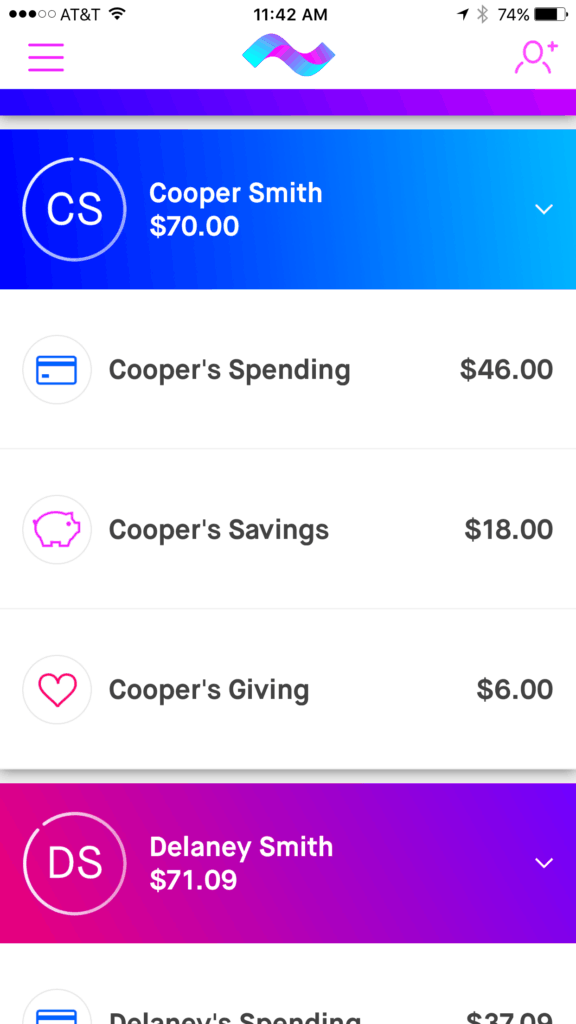 Within the app – their accounts are broken down into the three 'wallets' that teach them the accountability they need to  NEED to grow into financially savvy adults – spending, saving and giving.
In our home, we have decided to break those wallets down like this – 60% of what my kiddos earn goes in to spending, 30% in to savings and 10% in to giving.
Here's what I love:
Transparency: The very moment Delaney or Cooper spends even a penny, I get a real-time notification telling me not only how much they spent, but WHERE they spent money. If I don't like where they have spent, or think they are spending too frequently with a particular retailer, I have the option to block an individual retailer. Delaney spending too much at Starbucks or hopping online too frequently to order from Amazon? We can have a conversation about it – or?Blocked.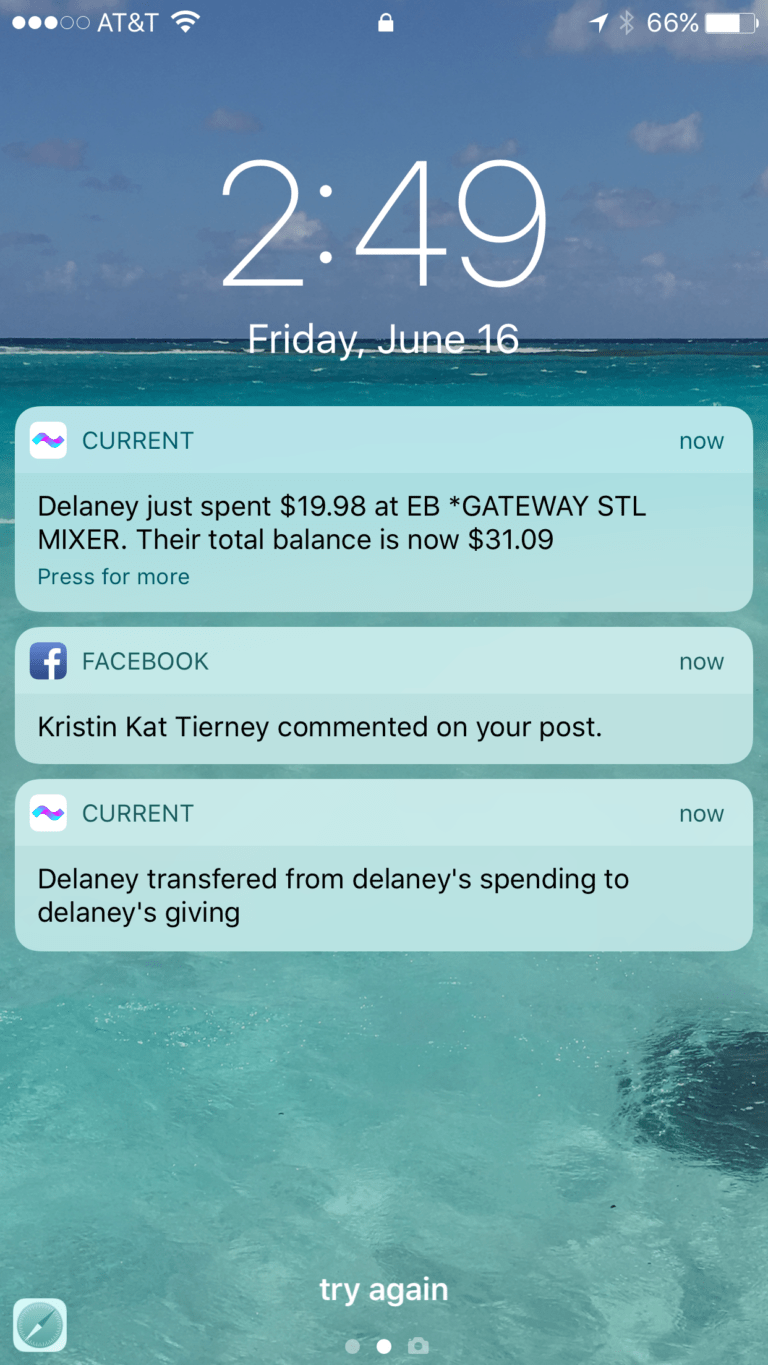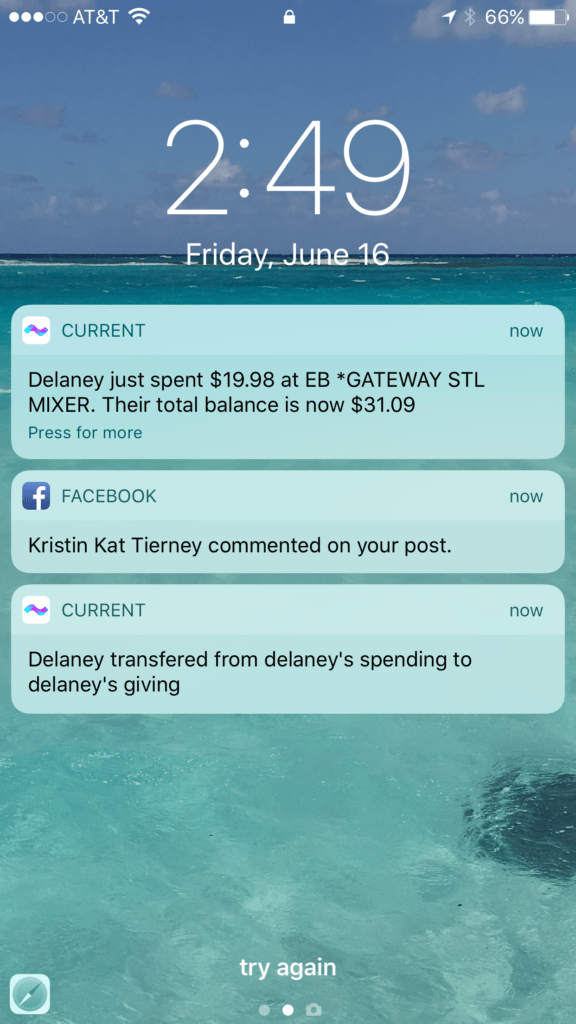 Parental Controls:
Within my settings, I can limit entire categories of spending – meaning, with a simple click of a button, I can prevent my children from being able to use their current card for anything airline or hotel related or even at an ATM. I can also suspend their account if I believe they are abusing the privilege or if the card is lost or stolen.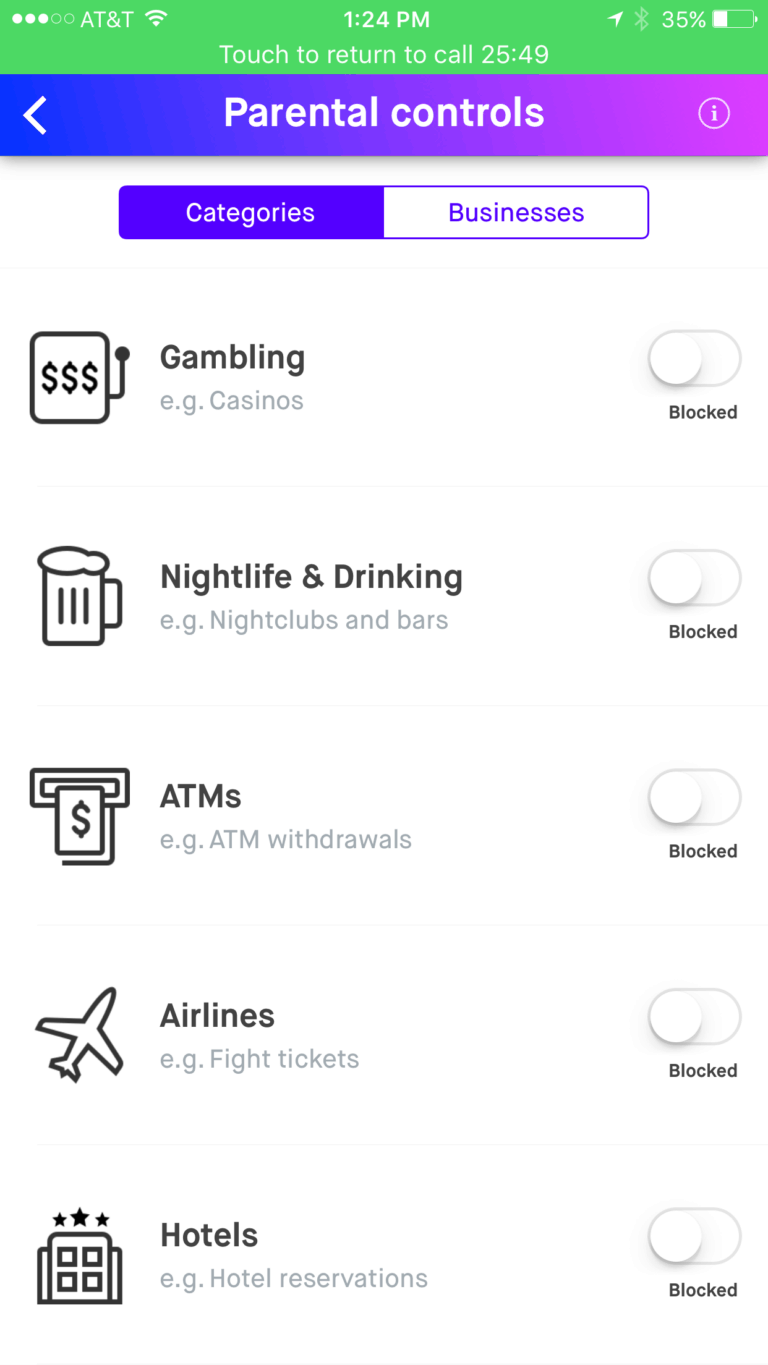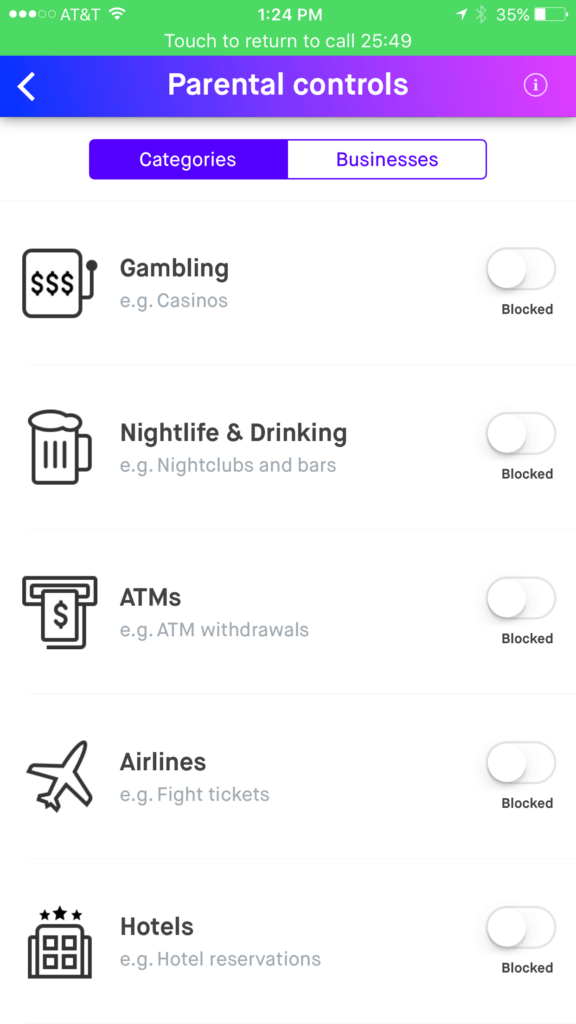 Giving:
I cannot say enough about this feature. I mentioned Coop and Delaney are required to put 10% of their earnings in to this wallet. Once they hit a $10 threshold, they can 'gift' that money to one of nearly two million charities that are attached to this category. Your child can search for any type of charity that matters to them. Are they committed to helping animals? (like my girl) Donate to the Best Friends Society. Want to help a military organization? Make the Wounded Warriors Project the object of your gift. Worried about child hunger? Help Feeding America. There are so many extraordinary options.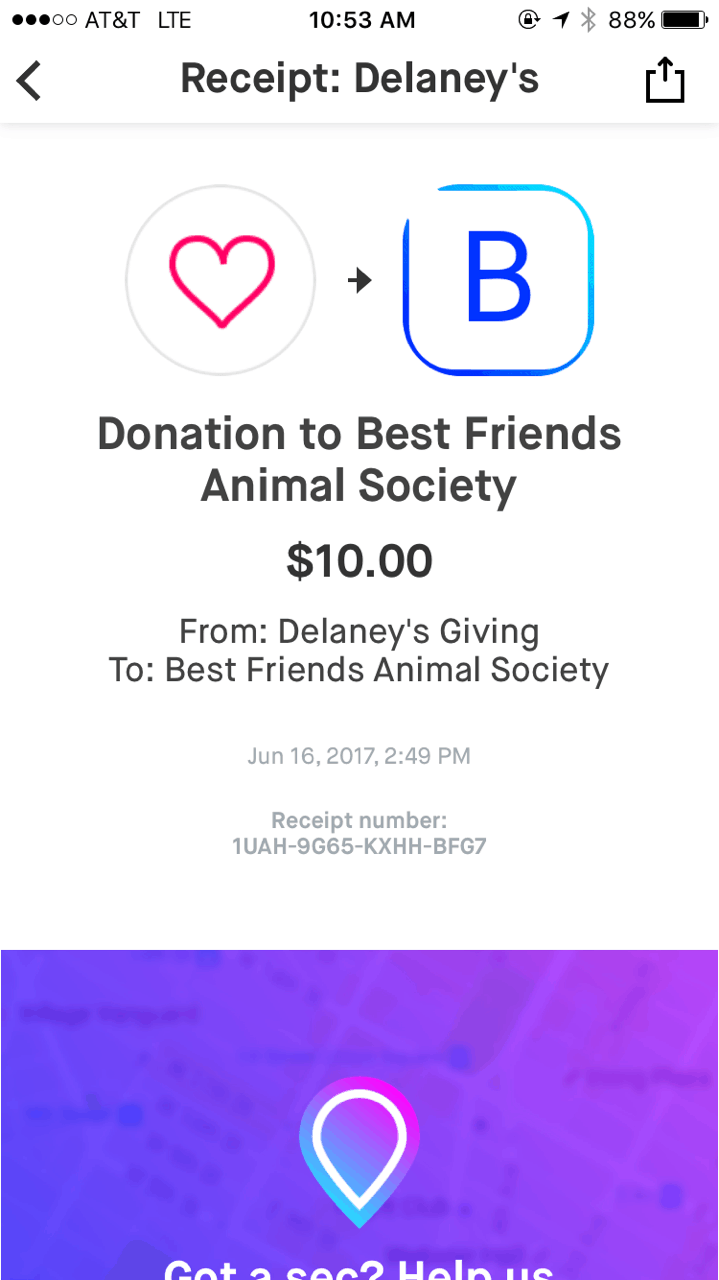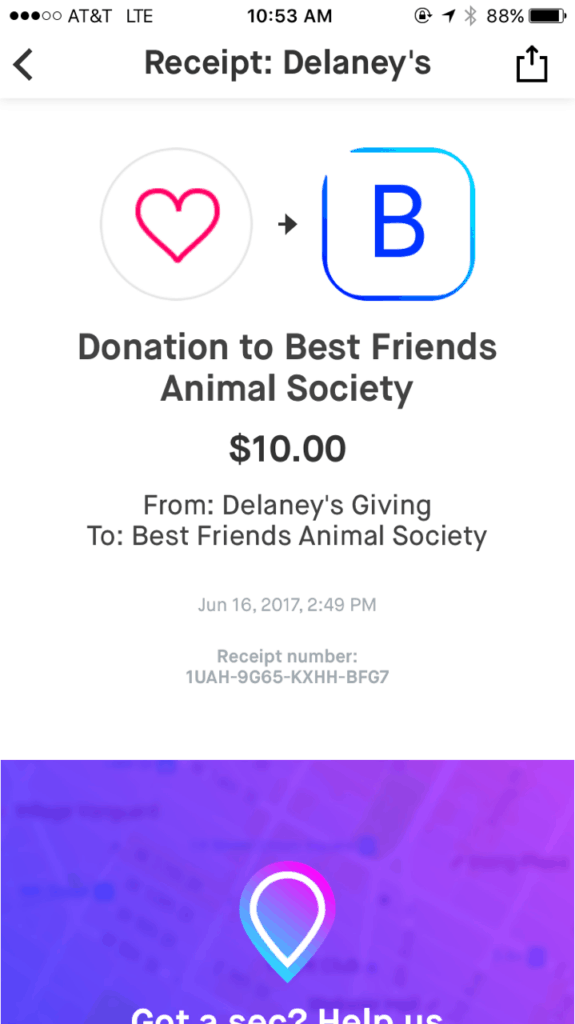 Security:
Two-factor identification is an option, none of our information (social security numbers, etc) is stored by Current and there is a first class anti-fraud system in place to protect us and our children. Not to mention, as I said above – with the level of transparency, you know everything that is happening at all times, so you can suspend the card in seconds if you are concerned.
Accountability: My children are LEARNING. At 11 and 13, they know the difference between a credit and debit card. They are taking responsibility for earning money and beginning to understand the importance of spending, saving and giving. They are seeing what happens when they spend irresponsibly. They are seeking additional work to increase their earning potential. They are learning consequences. They know it is imperative they not lose their card. They are EXCITED to give (this is so good for my heart!)
Regular Updates: Current is constantly updating and improving the way both the app and cards work. Just added – specific chores – so you can click on some of the most popular options to assign them to your child – like walking the dog, cleaning their room or babysitting their siblings. Their website also tells you the average allowance being paid state by state. Coming soon: adding a second parent to the account and soon – within the 'savings' wallet – there will be an option to create a custodial investment account.
I would love to answer a few questions you may have in addition to what I have shared above:
Is there a fee for Current? It starts at $2/month with a variety of payment plans. **But for YOU – 3 months free with code: PrettyExtraordinary** Just visit Current.com to get started.
Can it be used at an ATM? Yes, but you have the option to turn this feature off within your parental controls.
Is there a fee to use Current at an ATM? Yes, there is a small fee, but it is specific to what the bank/ATM charges – there is no fee from Current. However, Current is working on bringing in the VISA+ ATM network to be charge-free.
Can Current be used Internationally? Yes, and there is a small international fee specifically related to the currency exchange.
Do you have an additional questions? I'm happy to answer any. Clearly, I'm thrilled with the experience we are having with Current – with the way it has eliminated my need to have cash on hand, the layer of safety and transparency it provides and the gift of financial savvy it is allowing me to teach my children.
Disclosure: I'm excited to have partnered with Current to share this with you and to do a series of nationwide interviews for them as spokesperson for this Smart Debit Card for teens.