Hello everyone!
Can I just say I love being here? I love coming here to write about other cultures and encouraging people to step outside of their comfort zone and experience something different. While you can usually find me writing about inspiring women to embrace their beautiful, I am also passionate about what I write here!
A few posts ago I wrote about teaching your kids another language – whether or not you speak that language yourself. Unfortunately, America doesn't start teaching a second language until around age 12 when it is sometimes too late for the mind to ever grasp that language as a first language. I want to encourage families to make a change in their own home and start introducing and learning another language.
So today I am going to talk about adults learning another language and some tips I've picked up along the way. In case you're wondering what kind of credentials I have on the subject, I have lived in France on and off for the last 7 years and now I can finally say that I am fluent in French. And MAN was that a long road! I still wouldn't consider myself perfect, but enough to to the point that my entire life in France exists in French. No one switches to English for me and that makes me feel good.
Tips for learning a second language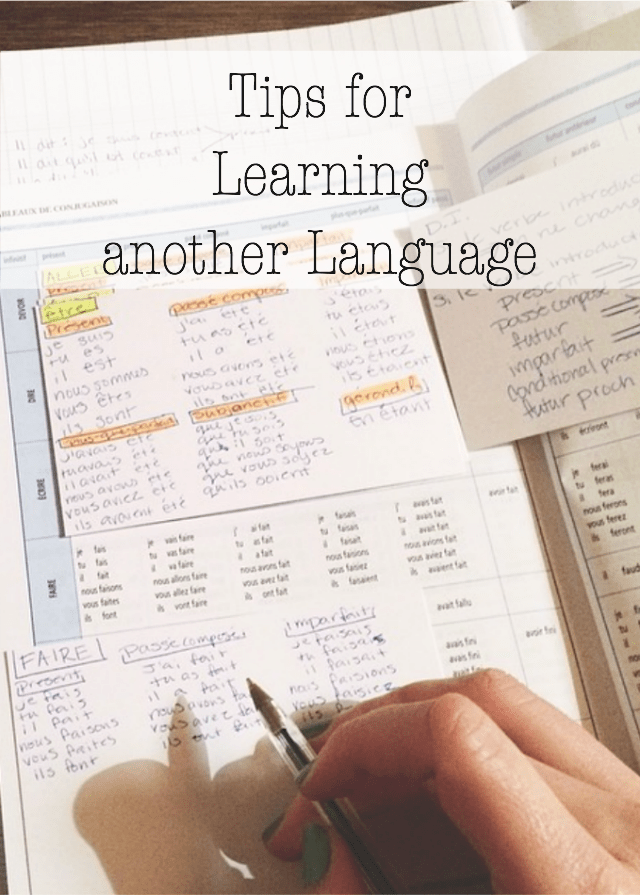 Let me start by saying I do understand if you don't live in a country that speaks the language you are trying to learn it can be a lot harder. It will take a little bit more effort, but it's still doable to the point of communication. To be entirely fluent, you might have to spend some legitimate time in that country to really pick it up. Let's get started on the practical tips you can do to learn another language.
Just start
It's intimidating, looking down at all these words can appear to be gibberish to you. It can seem overwhelming looking at a whole sentence when you can barely understand one word. I get it, I've been there! But just start. Pick up a very simple learning book and start at the beginning. Start by learning one or two words and move onto verbs and then maybe conjugations. You'll be surprised how fast you progress!
Consistency
Now there's no set time you should study per day, but you should be doing it daily. Set a time, early in the morning, at night before you go to bed, during kids nap times, or whatever works for you and just do it. It may not seem like a lot or even enough, but when you add it up over the course of the week and then month, you're getting a lot of language practice in!
CDs
I used these a lot before marrying my husband and moving to France. I had about a 45 minute commute to work and I would listen to Pimsleur French CD's. I would say this gave me a nice base of the language. I could say simple sentences and I learned some new vocabulary words. I could order a cup of coffee in French. It wasn't a lot, but when you piece these things all together, it added up!
Find Friends
The best kind of friends are those who speak the language you want to learn. When I was in college and studying Spanish, I actually found a Spanish speaking church to attend. I didn't get too much out of the service, but I got to chat with a bunch of Spanish speaking people each week. Some would even call me up and chat on the phone to give me a little extra practice. Very helpful!
You can also look into finding others who are wanting to learn the language as well. It won't be as helpful, as it's hard to correct other's mistakes, but we all do better in groups, even if just for encouragement.
Associations
It's amazing that there are associations for things right under our noses that we didn't even know existed. I'm speaking to myself here too! There is a group called Alliance Francaise which has chapters all over the world! There is one 45 minutes from my house and I had no idea! Simply do a little Google research for a similar association or alliance in your area for the language you've chosen. If you've chosen French, I've already done that research for you. Now just look them up, find a chapter near you, and get involved! They even have language summer camps for kids.
Local University or Junior College
Consider taking a class at the local university or jr. college. You will likely encounter many like-minded people there. Just take a simple summer course and make it your goal to become friends with the professors for teacher's aids so you can potentially get some help outside of class. Up until this last year I had never taken a French class. I could speak at a pretty high level but didn't know a ton of grammar and my writing was atrocious! After just one semester I improved so much!
Language Exchange
Guess what — there are people all over the world also wanting to learn another language! And a lot of them are wanting to learn English! Thankfully, there are plenty of sites that bring people together to allow them to teach each other their own language. Try Googling language exchange and you will see quite a few. Some might be in your area, some might just become pen pals and give you a reason to visit another country. Either way, you'll be learning the real language, not just from a book, but rather from a native speaker and you will be helping someone in return. Oh and it's free!
Don't be afraid to mess up
I can't tell you how many times I've said something stupid or offensive or that simply didn't make sense. I've made a fool out of myself plenty of times and no, it isn't fun. No one wants to feel that way. But it's part of the struggle. Try to remember you're end goal. Don't worry about what people think of you in that moment. Just speak. If it comes out wonky, try again. If they don't understand, use as many hand gestures as you can. You'll get your point across, eventually. If you let the fear of messing up prevent you from practicing you'll never improve. I hate to be harsh, but it's true.
Just speak
This piggy-backs on the last one, but it's also different. When you have to sit there and translate every word coming out of your mouth, it's hard, slow, and tiring. My encouragement and advice would to be just spit it out. Don't worry about the conjugation or word form, just say it. Either you'll get your point across enough so that they understand and that's that or if it's that bad, they'll correct you and you've learned something new. It's a lot harder to understand someone who's saying "je me – no wait – je m'appelle – wait, was that wrong? what's the word again?" You get the idea. Just spit it out, the other stuff will come!
Now one last side note on why I believe you should be learning another language. You might be thinking "I have two young kids at home, it's all I can do to keep them alive!" I get that, I really do. Here are my reasons you should give it a shot:
Something for you – diapers are only so fulfilling. Learning another language is time to yourself to work your mind.
Sense of accomplishment – I cannot tell you how good it feels when I can spend the day speaking French. You will start to feel this as you make progress!
Keep your mind sharp – As we get older, life gets harder! Learning another language stretches your mind, like a mental work out! It will keep you sharp!
Progress in your studies – The more languages, the more opportunities!
You never know where it will take you – You really never know where life will take you, speaking another language – even if not fluently – can open up so many doors!
I hope you're encouraged today to start learning another language! It's hard, but it's not as intimidating as you're thinking. How do you eat an elephant? One bite at a time. Baby steps and you'll be speaking in no time!!
Go get 'em!