"Mom, is Santa real?"
It's the question most parents dread, because really how do we answer it? We don't want to straight up lie, but we do want to preserve a bit of that magical innocence that makes Christmas so exciting.
Years ago, when my children were all very young, I purchased a book titled "The Legend of Saint Nicholas: A Story of Christmas Giving" in an effort to cover my tracks when the time came to finally reveal Santa's true identity. The book tells of the real Saint Nicholas and his heart for the plight of the needy and poor. He gave in secret on Christmas Eve, and his efforts became legendary, birthing the Santa Clause we know today.
We read this book at the beginning of the Christmas season, and we discuss ways that we as a family can carry on the tradition of Saint Nicholas, giving in a way that blesses others during a season that can often be difficult for so many.
Kids are natural givers. If we place the opportunity in front of them to serve someone else, we as parents will almost certainly learn a lesson or two about giving.
Here are a few ways that our family has given back during the Christmas season in the past:
1.) Throw a party.
Our annual neighborhood party has become one of our favorite family traditions, and it is the perfect way to kick off the holiday season. This is an opportunity for not only our children to serve those in need, but for them to bring along their friends as well.
Every December, we pick a weekend early in the month and we host a party in our home. The kids invite their friends, and everyone is asked to bring with them a new, unwrapped toy, which we donate to The Ronald McDonald House. We play Christmas music, eat Christmasy desserts, and before the party is over, my husband gathers everyone around the couch and reads them the Christmas story from the Gospel of Luke.
After the party is over, we pile our kids into the van and head to our local Ronald McDonald House where they get to play Santa Clause and carry in the gifts. This is an easy and fun way to give back to your local community and let your kids be involved in the giving.
2.) Volunteer at a Food Pantry
Place your kids behind a table full of steaming hot food and let them scoop it onto waiting plates. The recipients of this blessing will more than likely thank them profusely, and your children will beam with pride. Look for a Food Pantry that allows young children to help serve, and go together as a family. You'll be blessed as you bless others.
3.) Give Internationally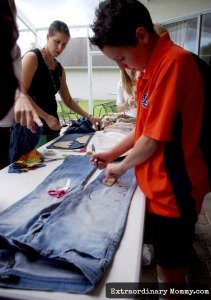 At our Annual Christmas Party, we have also in the past looked for ways that we as a community can give back on an international level. Last year, not only did guests bring toys for the Ronald McDonald House, but they also brought old jeans and fabric, which we then cut out in pre-made patterns for Sole Hope, an organization that takes the cut blue jeans and makes them into shoes for children in Uganda.
The idea was simple, and the guests, both young and old, loved this hands on way to make a big impact for children in desperate need.
4.) Fill a Shoebox
Each year, Samaritan's Purse sends hundreds of thousands of shoeboxes to children throughout the world. Willing and gracious families fill the shoeboxes with such items as toothbrushes, hair bows, candy, small toys, socks, and other necessities. Take your children shopping and make it a game to find as many items as possible that will fit inside one regular sized shoebox.
5.) Give Together as a Family
Every year, we sit down with our children and take them through Compassion International's Holiday Gift Guide. We decide as a family if we are going to buy one large item (like a goat or water filtration system), or if we will each pick out a smaller item (like mosquito nets, soccer balls, Bibles or textbooks) to purchase for a family living in desperate poverty. The kids love choosing what to donate, and I love watching their eyes light up when they realize they just made a difference.
Every year as I watch my children grow in their love for serving and giving, I realize that Santa Clause is very real. He's inside each one of us who is ready and willing to give generously to a world that is filled with need.
Joy to the World.
Do you and your family have traditions of giving at Christmas? Share them in the comments so we can all learn more ways that we can give back during the Christmas season.