This holiday season, I've felt…. hollow. Is that the word?  I don't know, but it seems to fit.
I know, it doesn't really make sense, really – because why?  Healthy, happy kids (who are, by the way, at the HEIGHT of believing in Santa at 4 and 6 years old) – a roof over my head and all that jazz, but I've been going through the motions.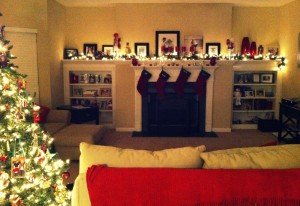 Tree and decorations up – check. Elf on the Shelf moved each night – check. Holiday cookies baked – check. Christmas cards ordered (and now mailed) – check.  Surprise gift for the kindergarten class – check. Wrapping paper and ribbons pulled from storage – check. Shopping done – well – mostly check.
(whispering – how can I help?)
Normally this is the phrase that swims in and out of my consciousness this time of year.
How can I help?
There are so many people who need it… and virtually every story I hear makes me cry. My family is blessed. Blessed by the things that truly matter: health, home and togetherness.  My kids don't know what it is to be hungry.  And I don't know what it is like to fear having to explain WHY Santa didn't come.  And it truly breaks my heart knowing that this is reality for many…
(How can I help?)
Each year we've done something….  adopted families, made baskets for Ronald McDonald House, donated toys to St. Louis Children's Hospital….  Last year, I saw a mom talking about having a hard time on twitter and we helped…. but this year….  what?
I think THIS is what has been missing.  My heart hasn't been in the right place.  It has only been at home.  Or it was until a few days ago  when I read this post by Jenny The Bloggess.  You've probably heard about Jenny's Christmas Miracle by now….  Her offer of $30 Amazon giftcards to the first 20 people who didn't know how they were going to give their kids gifts this year SNOWBALLED into a love fest of hundreds of people filling Jenny's comments with alternating needs and offers of assistance.
I came to the party late.  Like – after she had already written an 'I-can't-believe-how-awesome-you-people-are-' post.  So, I sat and cried as I read about lady who donated dolls to little girls and the man in another country who donated one thousand dollars and on and on…..  Just on the off chance Jenny was still keeping track….  Just on the off chance someone still needed, I commented.
Nothing fancy – just, "Jenny – add me to the list of people who can help if someone still needs…."
The next day, I got this email:
If you're getting this email it means that I have you listed as one of the amazing people who wrote a comment on thebloggess offering to help someone in need.  Many of the people asking for help are asking for their friends, family or coworkers who are struggling to make Christmas special for someone, so the person you get matched up with may be passing on the gift card to their friends who need it.  Others have asked for help for family members who would otherwise not have presents.  Not a single person has asked for help for themselves personally and we were able to match all requests with donors.  Yeehaw, y'all.
And the woman I am matched with?  Beautiful and sweet. She has asked for help….  not for HER and her children,  despite definitely having a need, but for her grandparents who are losing their home.
If I could have bought her grandparent's home, I would have.
And you know that hollow feeling I mentioned?
This email I received this morning filled it:
You have gone above and beyond what you needed to do.  I honestly don't know how to express to you the gratitude I'm having.  You're my angel and I am so, so grateful.  You have made my Christmas very full and my outlook a little brighter.  My grandparents will be so thrilled!!!  This will allow them to buy groceries, get their medication and maybe even get some new clothes. They are so deserving of this of this gift!  You will always hold a special place in my heart for the kindness you've extended to my family this Christmas.
Thank you, Jenny….  for making me whole for the holidays….