Seeing another beautiful corner of the world. Experiencing culture. Building community. Enjoying leisure time. Changing lives.
Including my own.
I'm setting sail on an adventure – a cruise to the Dominican Republic, but this cruise is not only unlike anything I've ever experienced before, it is a forging a path as a type of travel that is the very first of its kind in the industry: Social Impact Travel.
Just what is Social Impact Travel?
Social Impact Travel allows travelers like me to be fully immersed in another culture and gives us the privilege of working alongside the people of the country to create a permanent social impact. At this time, Fathom travels to both the Dominican Republic and to Cuba. As the newest member of the Carnival and P&O family, Fathom travelers will sail aboard the Adonia – the smallest of the family fleet, carrying 704 passengers. This video gives you a sneak peek into the experience.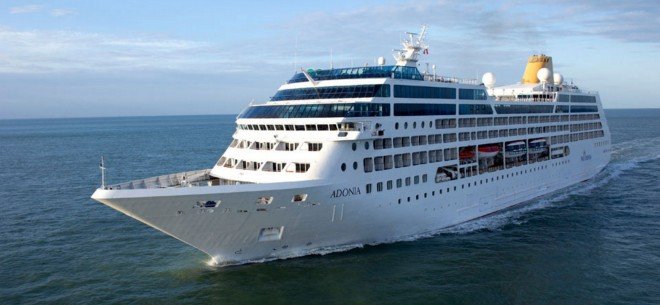 On this journey, as I mentioned, I'll be traveling to the Dominican Republic. The Adonia will be our home for our 7-day expedition.
Days 1-2 are travel to Puerto Plata. Days 3-5 we will spend in the Dominican Republic and Days 6-7 are our travel days back to Miami.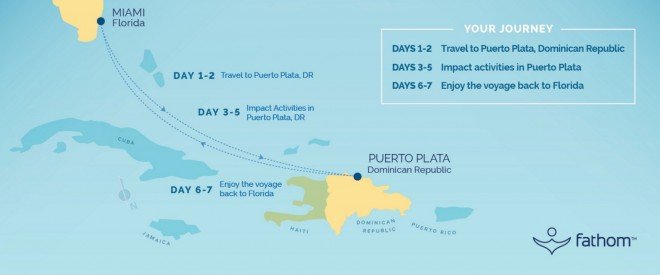 Much like on a traditional cruise, we were given the option to choose 'excursions'. However, instead of simply choosing from the traditional options of swimming with the dolphins, spending the day on a catamaran, snorkeling or zip-lining (we'll discuss that shortly)….our options included 'Impact activities' like working at a Cacao and Women's Chocolate Cooperative, putting concrete floors in community homes, making a difference in reforestation efforts, or, as you can see in the video below, doing hands-on work with the women of Repapel – creating paper goods out of recycled products.
Among other activities, I've chosen to spend time in the Cacao Cooperative and with the women of Repapel.
As we will be spending three days in Puerto Plata (while sleeping on the Adonia), we do also have the option to include some of the traditional 'vacation' excursions I mentioned above as part of our experience – visiting the beaches, touring the best of the city, snorkeling, renting a cabana and going deep sea fishing.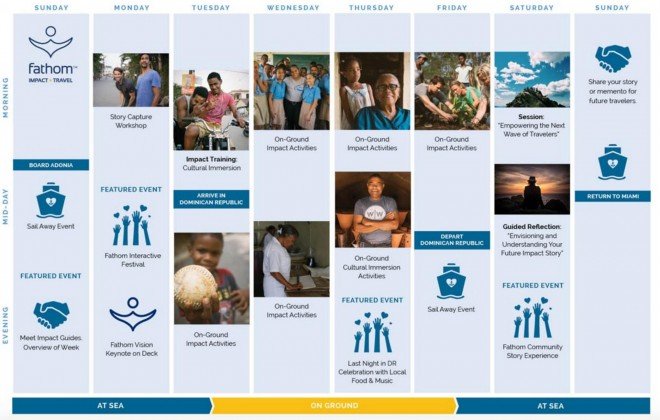 I'm overwhelmed by the opportunity to experience the culture of the Dominican Republic, to meet and enjoy the people who live, laugh and love there, and to come away with a sense of the community, and hopefully having made a small impact in their lives.
This experience with Fathom combines leisure, recreation and an opportunity to do good while traveling.
I'm so looking forward to sharing more and to hopefully returning with my family.
Disclosure: I am traveling as a guest of Fathom. As always, all thoughts and opinions are mine and mine alone.