The opportunity to travel is a gift. There are so many countries and cultures out there just waiting to be discovered by you (and me!) However, I know often real life gets in the way of real dreams. We might only ever get one dream vacation abroad. It's important to make the most of it. As I'm having the time of my life living abroad, I wanted to talk about visiting multiple countries in one trip & the best ways to travel cheap throughout Europe.
How to travel cheap through Europe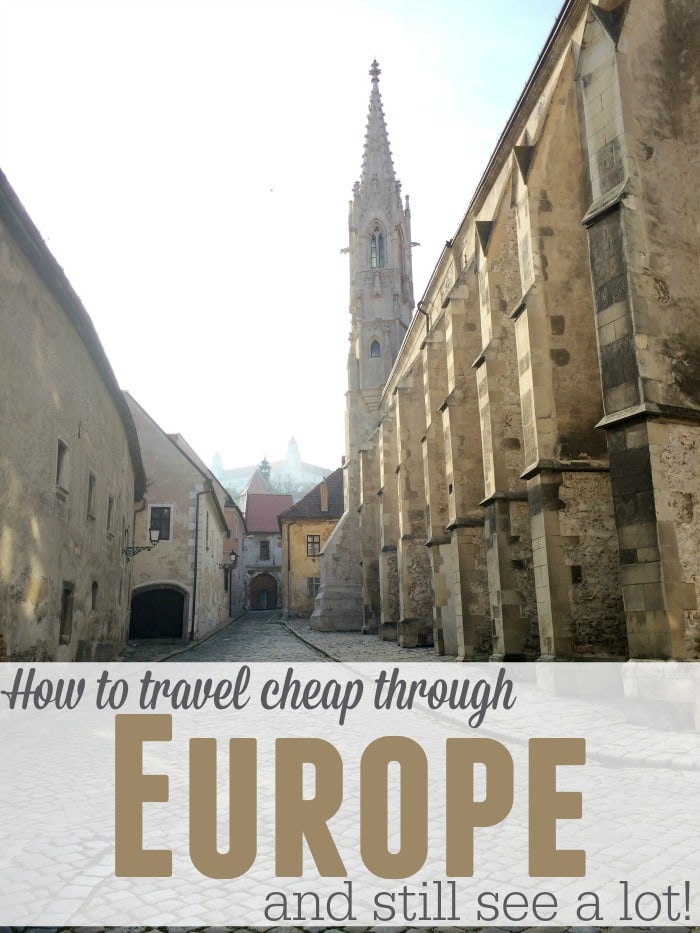 Plan ahead
We've talked about this before, but it's best to book the major flights in advance so you can take advantage of the best deals. Check any airports in and around the countries you want to visit. Be flexible: you can check into one airport and out of another if you're going to be visiting quite a few locations. Plan the bulk of your adventures in advance.
Check all avenues of transportation
Planes, trains, automobiles: it's hard to know which is going to be the most affordable. It's best to look explore all options. Sometimes you can take an overnight train to your destination. That way you don't waste valuable day-time traveling. Ride-sharing is also an option. In France it's called covoiturage. You pick a starting point and join in with a group in what feels much like an organized hitch hike. This is obviously not much of an option for families, but for singles or even couples looking to save money traveling in Europe, it's a good option to check out.
Seek alternative lodging
This might not be the popular opinion, but there are other places to lay your weary head than an expensive hotel. I recently took a trip to Prague, Vienna, Bratislava, and Budapest and other than staying with friends in Vienna, we booked hostels. Now, I was traveling with my brother which made me feel a ton safer, but it can be an option for everyone. We even met an older couple as we were checking in. The price difference will astound you. Both hostels in Prague & Budapest were smack in the center of the city and in Budapest our lodging felt like an apartment. It's worth exploring as even with a family you can book a whole room to yourself. It'd be quite the experience.
Have a path
Start in London, end in Venice and see Paris, Barcelona, Nice, Monaco, Genoa, then Venice. You've seen 5 countries and you could certainly do it in a 10-day span. Or you can start in Berlin and see Prague, Vienna, Bratislava, Budapest, and Bucharest and maybe even head down to Istanbul all in the same trip. That's 6 countries! I did almost the middle part of this trip in 6 days. It was glorious. If you plan a starting point and ending point you will be able to see quite a bit. I think for Americans especially, we are used to everything being so far apart, it seems crazy you'd be able to see so many countries in such a short period of time, but trust me, it's doable. Plan the path and you'll get it done.
Make Friends
This might sound a bit odd, but one of the cheapest ways to travel in Europe is to stay with friends. If you know a friend of a friend living abroad for some reason, hit them up. I know that I would gladly host someone trekking across Europe. It might seem far fetched, but the European mindset is quite different from that of Americans….they are often happy to welcome newcomers to their home city. It's always a good option to have.
As you may have noticed if you've read my articles here for a while, I want to encourage people to get out there and travel! If you don't have the funds at the time, make some adventures at home! I think it's important that we explore the world any way we can to open our eyes and broaden our views.
To quote Mark Twain:
Travel is fatal to prejudice, bigotry, and narrow-mindedness, and many of our people need it sorely on these accounts. Broad, wholesome, charitable views of men and things cannot be acquired by vegetating in one little corner of the earth all one's lifetime.
Hope you're inspired to explore today!