OK…so this may come off slightly boastful, but that is not my intention….I am just extremely thrilled about a little something….
pretend this is said in a stage whisper ( I was mentioned in USA Today).
I was interviewed last week as a result of my relationship  with children's publisher, Mackinac Island Press.  They are too much fun…have the most amazing books (that you can see entirely online) and they are offering one heckuva deal for ExtraordinaryMommys (code Mommy123 gives you 30% off their books – can you spell H-E-A-V-E-N-L-Y??) And the book they talk about in the article, Santa Goes Green, is not only perfect for this time of year, but it shows kids how to be selfless.  Can't ask for more than that!
Anyway….here it is…in all of its glory: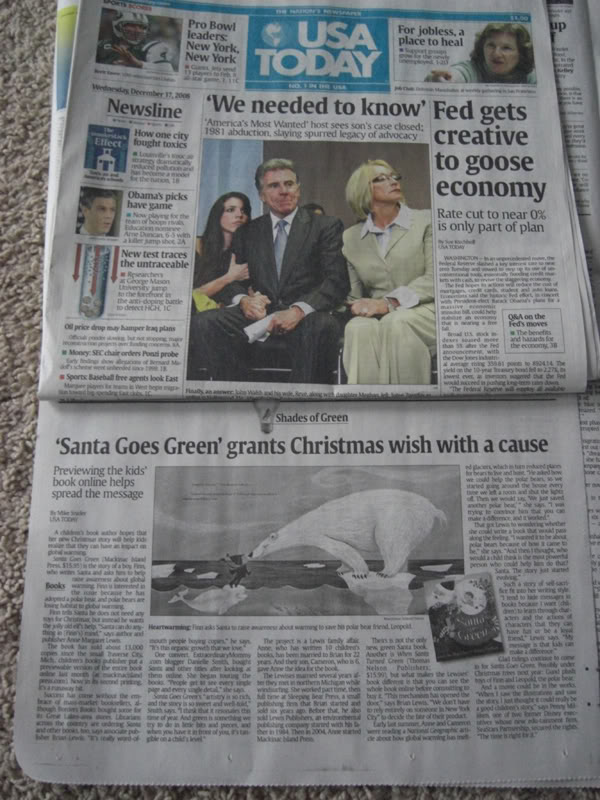 That's the front page at the top…and then our article down below. (Life Section, page 4:) ) When I was forwarded the online link this morning, I actually thought it might only be online, but nope – there it is – in black and white.  I bought a copy (I mean 4).
I'm a little excited.  Excited about people seeing these wonderful books.  Excited about them getting the books with the discount. Thrilled that Mackinac will donate 10% of the proceeds from books sold via ExtraordinaryMommy.com to the charity of my choice.  I'm going to use the money to buy books for kids who don't have regular access to works of art like these 🙂 And, I'd be lying if I said I wasn't excited about the mere mention in the newspaper. I'm actually ecstatic.
If you don't happen to have USA Today lying around, never fear: here's the link to the story!