Here is something you need to know about me:  I absolutely love to read.  Books have always held a mystical place in my life. From the moment you crack one open, you are transported to another world.  You can be anyone, try anything.  You can be a sea turtle, a little boy who talks to Santa, the star of the football team, the first girl to become President, an artist, an athlete, a magician, or the King of the Jungle.  In fact, you could be all of these things at once.  That is the power of the written word as it combines with your imagination.
It is this love, this passion for books that I desperately want to pass on to my children.  And, I truly believe, it is not only the story, but often the pictures that can capture the imagination of a child.
Now pretend that child is me.  And pretend that child got a fantastic surprise in the mail today: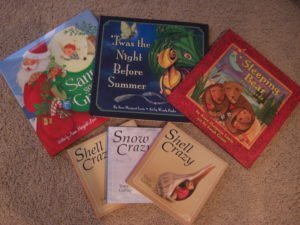 They are hardcover, and solid. They are rich with breathtaking pictures.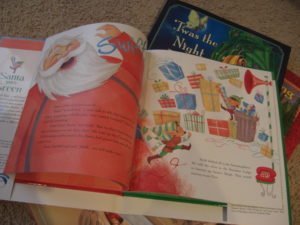 The stories are pure magic.  Only three days passed from the time I ordered them until I had them in my little hands.  I couldn't put them down until I had pored over every page….and taken in every illustration.
These books are straight from the publisher: Mackinaw Island Press.  Here's a little bit of heaven for you: you can read every page, of every one of their books online.  How about this…I'll take you right to their free previews.  (tell me which one is your favorite!  I love Santa Goes Green, 'Twas the Night Before Summer, and Sleeping Bear) Now….you may be wondering why they would benefit from showing you every little detail – simple – they want you to fall in love with the books.  Oh…and you will.  And, you know as well as I do, that reading a book online – even with your child in your lap – is just not the same thing as curling up next to them to read a bedtime story.  Not only do they have picture books (a current favorite in my home), but there are chapter books for older kids too!
The books I ordered are going to my kids and to other children I love.  I trust that these baby novels will end up on a 'favorites' shelf next to those same kiddos.
Extraordinary Mommy Book lovers: Get 30% off all books by entering the code: mommy123
(And because Mackinac Island Press agress with ExtraordinaryMommys's 'Give Good, Get Good' philosophy, they will donate 10% of the sales generated from our site to the children's charity of our choice – amazing!)