Ok – here's the deal, I am about as soft-hearted as they come.
I WISH…..deep-down-in-my-soul wish….that the world was fair, but guess what??  It's NOT.
There are winners.  There are losers.
Some kids are smarter, some nail their ballet routines, some can do flips off the high dive, some hit home runs, score goals and kick it through the uprights.
But you know that isn't everyone, right?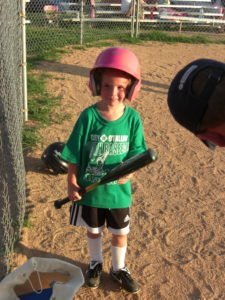 Why am I ranting about this?  Because my daughter is on a softball team.  She's heading in to first grade, so the little darlings on her team are only six.  (This photo is actually of her last year) So, I don't expect the full rules of the game to apply – but I do think they need to be taught some basics:  3 outs ends your inning, if you get out – you go back to the bench.
For the first 3/4 of the season, that's how the game was played – with modified softball rules:  the inning ends when one teams gets three outs or 5 runs – whichever comes first.  But for the last few games, we are suddenly batting every girl in an inning – regardless of outs…..and, even if you get out….you stay on base to run?  Whaaaaa? (This is, by the way, how first year T-Ball is played )
I'm all for keeping it fair. I absolutely want them all to get a turn.  But they already know about the three outs AND they know to sit if they are tagged out.  They want to keep playing as we have been….So why the reversal?
Because the opposing team requested it.
And so our girls spend the game asking, "how many outs do we have?" and "how many runs have we scored?"
In the span of the season, our girls have learned to hit.  They run the bases like champs.  They sprint to get someone 'out'.  But when they do it all, it doesn't count?
When our coach compliments the girls on the opposing team, THAT coach replies with, "what matters is that they are having fun".
Well, yes, it most certainly does matter if they are having fun, but it is possible to BE GOOD and have fun.  And it is possible to BE LEARNING THE GAME and have fun.  "FAIR" and "FUN" are not mutually exclusive.
Of course I want them to have fun.  In fact, I'm confident THEY ARE HAVING FUN.  (unless they are bored to death by an inning that takes forever and outs that don't count)
The funny thing is, they don't seem to care IF they win, just simply that SOMEONE does.
There, I said it.  I'm done.
The world isn't fair.  There are winners.  There are losers.
I think one of my jobs as a parent is to teach my children to try hard – their very best even, and to both win AND lose gracefully – because it is a guarantee they will face both situations as they get older.
Your thoughts?