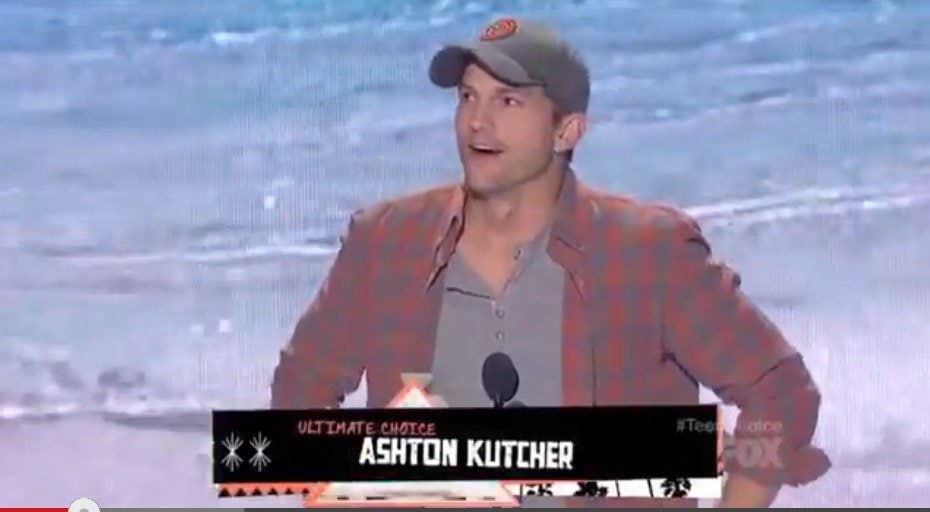 Did I really just THANK Ashton Kutcher? The guy known for roles in movies like, 'Dude, Where's My Car?' and for co-creating the practical-joke-hidden-camera reality series 'Punk'd' back in 2003 hasn't ever made my list of actors I want my kids to model themselves after. Until this week.
That isn't to say I have ever questioned his work ethic or his talent.  It has always been clear to me (since Ashton and I are so close, you know) that he has both in spades, but the tabloids and even the traditional media have always managed to capitalize on his antics as well. And while I hardly hold either up as the pinnacle of ethics, the truth is, I've never been able to tell if he was 'good people' or not.
However, his recent acceptance speech at the Teen Choice Awards has officially put me on Team Ashton, if there is such a thing. (can adults even say something that ridiculous?) He took an opportunity, not only to thank the people that have helped to launch his career and keep it there, but to offer offer something that I believe teenagers, AND 20-somethings, AND 30-somethings, AND 40-somethings AND beyond ALL need to hear.
His message is important as kids are beginning to choose paths, as graduates attempt to sink their teeth into work for the first time, as entrepreneurs battle with their inner demons to keep going, as business owners and work-at-home moms and dads juggle work and family.
(updated September 7, 2018 – video is no longer available)
This is a video I will keep to play as my small people grow.  Sometimes a message like this doesn't resonate when it comes from your parents, but knowing that an actor, someone 'famous', lives by these words is powerful.
Thank you, Mr. Kutcher.  I'm a fan.