I'll admit, I'm fairly particular when it comes to babysitters…. probably because we've had one I LOVE for the better part of the past 7 years – she is responsible, plays with my kids, LOVES my kids, leaves notes so I know what they did, what they ate and even *gasp* cleans up after herself.
The challenge is, naturally, that she is popular and actually has a full-time nanny job. In my perfect world, she was my nanny, but we haven't needed someone full time up to this point.
However, now that it is summer, I need a semi-regular babysitter so I can continue to work and even for the times when I head out of town.
There is a neighborhood kid that my small people love.  He really PLAYS with them. At fourteen, I knew he was a bit bold – he told me he wanted $15/hour.  Ummmm – not so much.  Though I appreciated his willingness to ask for what he wanted.
However, today presented a new challenge.  While watching my small dude for the afternoon I realized I clearly had not set the appropriate boundaries.
I walked into the kitchen to find him (my 14 year old babysitter) on my iPad. My brand-new-barely-been-used iPad.  My iPad that was plugged in to be charged.  My iPad that has oodles of personal information on it – email and such.
I instantly told him that wasn't an option.
But I somehow feel as though it wasn't enough.
I wondered if I was overreacting, so I did what I always do, I asked twitter: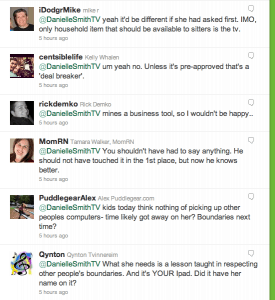 And, the good news for me, I'm not alone – it seems most people want their personal stuff to stay just that – personal.
So, clearly I need to have a serious heart-to-heart with him…  I guess I just didn't realize.
What do you think?  Are these types of items/electronics off limits in your house for babysitters?  And how did you explain?  Is there anything else that you have had to lay down the law about?
Happy to have any advice!