I crawled out of bed today full of all of the optimism that a Monday usually offers. New beginnings. Fresh starts. A full to-do list.
I end Monday defeated. Tears pushing at the edge of my eyes, the odd one dragging the day's mascara with it to my chin. Figures. The tracks are the only marks of accomplishment on a day that was supposed to be.
The notepad to my right is full of the should-have-beens. I was sure today was going to be GOOD. Sitting here now, I'm fairly certain I was wrong on all accounts.
My office is a mess.
My brain is a mess.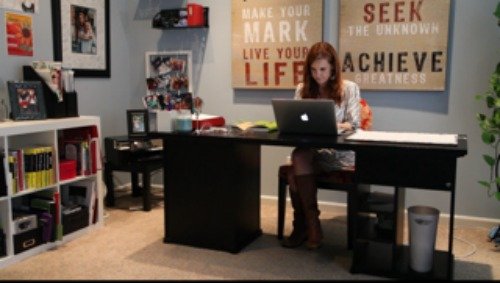 The Advil I took 6 hours ago did nothing to dull the migraine that threatened with every, "Mommy!" someone yelled from one corner or another in my home today. They weren't fighting, just checking in. Sharing the latest 'Just Dance' moves, asking for snacks, asking for help on math work, heading outside, coming back in, wrestling, laughing, telling jokes….SIMPLY. BEING. KIDS.
And I?
Well…. I was….SIMPLY. WORKING. FROM. HOME.
My house is loud. And messy.
AND MESSY. AND LOUD. And it is my office and my home.
And yet this is just what I asked for.
I have never wanted anything BUT to work at home. And even at this very moment, with a splitting headache I still want want to work from home.
I think. 
From the outside looking in, working from home sounds delightful and fabulous, decadent event.
Make your own hours? Check. Be your own boss? Check. Carve out time for important kid and life functions because you can? Check. Work in your comfy clothes, do conference calls in yoga pants, wash your hair every five days? Check.Check.Check.
I can duck out of my day early to make basketball games, baseball and softball games and the regular soccer tournaments. I can prioritize life. I can prioritize work. I can run out to the store mid-day for a teacher's gift, flowers for a friend, for the last-minute poster board needed for a school project. I can work until 3:30am (and have many times) when a) either I want to or b) when it is necessary.
But as with everything good,  there are many, many challenges.
See today.
See today's migraine and tears.
See today's utter lack of patience. 
Never mind that many people think 'work from home' means some version of 'not a real job' or 'since you're home, can you…..watch my kids? run this errand? hang out?'.
I actually lost patience with the word 'Mommy' today. Really? All I wanted was to finish writing ONE article. Just one. Every time I made it one-hundred and twenty five words deep someone needed to talk to me. And not for any type of urgent reason. JUST BECAUSE.
Can I be brutally honest?
I lost patience with their singing. And their laugh-screaming. And their FUN.
BECAUSE TODAY I WAS NOT FUN. I just needed to do a little bit of work. And not one ounce of my reasoning with my eight and ten year old small people (an age I deem reasonable) seemed to resonate. I didn't yell. I didn't scream. I didn't actually lose patience with THEM. I just cried by myself because sometimes working from home feels beautiful and amazing. Sometimes it is JUST what I always wanted.
And sometimes, like today….it feels impossible.
~~~~~~~~~~~~~~~~~~~~~~~~~~~~~~~~~~~~~~~~~~~~~~~~~~~~~~~~~~~~~~~~~~~~~~~~~~~~~~~~~~~~~~~~~~~~~~~~~~~~~~~~~~~~~~~~~~~
Here are my caveats:
I KNOW that Summer is harder than the school year.
I know that my kids are actually easier now that they are a bit older, so having smaller children is even more of a challenge when you work from home.
I know that I could have hired help to be here with me, but the kids have been in many camps and I want them to learn some level of independence.
I know that I could have worked harder today to be more stern with them to set boundaries.
I know that so many moms who work from home experience some version of these challenges day to day and my hope was to say, 'I get you' and 'you're not alone'.
Today was hard. So hard. Working both in and out of the home is hard.
But I'll get up and try again tomorrow. And I imagine you will too. Thanks for being here.