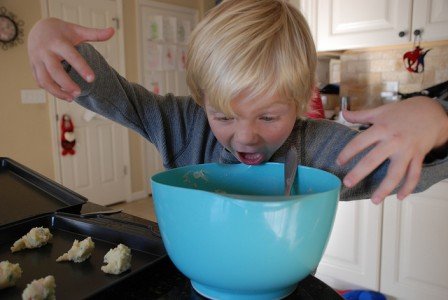 We will be spending a good portion of this weekend baking cookies.  It is just one of the many things I love to do with my small people as we get close to Christmas. Now that they are a little older, they are enjoying the process a bit more, too.
They used to reserve all of their energies for the licking of beaters and sticking their fingers in the dough, but now they get excited about choosing what we will be making and how many.  Why?  Because Santa is the recipient, of course.
Never mind that we will also be taking dozens with us to family events…. never mind that I have favorites and their daddy does too… this Santa guy gets top billing.
Come Christmas Eve, out will come the special Cookies and Milk Santa plate and cup, the cookies will be laid out gently, the milk will be poured and, don't worry…. we won't forget the reindeer.
My small people joined a number of other kiddos from around the country sharing their favorite 'Cookie and Milk' traditions when it comes to making plans for the big guy in the red suit.
(Updated September 15, 2018 – Video no long available)
What preparations do you take with your small people in your home?
Thank you to the team at Milk Mustache for putting this video together…. Cooper and Delaney loved being a part of it.
We do have a relationship with Milk, though all thoughts and opinions shared are our own.