Friend – you are a crap shoot.
You are a giver and a taker.
You have put me back in touch with friends from days gone by(thanks Facebook!), but you have also opened the doors to less savory (though flattering) events.
I never expected to see and hear from some of those High School folks again – but I am loving the reconnection. Wait….you're a mom?  A dad?  And you have kids the age WE WERE when I last saw you?  Crazy.
And the college crew – how mind-blowing to watch them come out of the woodwork with husbands, wives and kids.
To say nothing of my new circle of social media gurus – men and women, mommy bloggers, women entrepreneurs, and work at home gals – all new friends.
Twitter.  Ning.  StumbleUpon.  I Digg you all.
And then of course, there are our new friends in the Czech Republic. You see, since my family was unwittingly made the poster-children for a local grocery store – I've been getting visits from all over the world.
And, hey, new visitors – thanks for stopping by….I know you came to see this: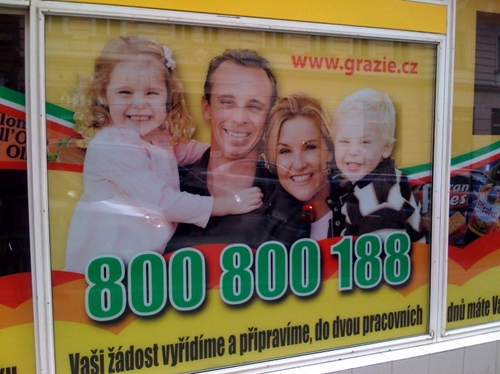 the  'wow-did-that-really-happen-story", but I like making new friends – feel free to come by again.
You can also see a few other versions of the story by clicking here, or here and here if you speak other languages.