Half full.  That's how I see my glass.  That's how I CHOOSE to see my glass.
So, every day…. I use the tools available to me to insure I am seeing something good in my world.  And you know what makes me feel as though things are right in the world?  Seeing something good in yours.
I know…. I know….  I'm one of those cheery – TELL-ME-YOUR-GOOD-NEWS-PEOPLE on Twitter and Facebook.  And, honestly, I've seen people tweet general complaints about people like me:
"Don't those cheery-nothing-is-ever-wrong-in-their-world-people just make you sick?"
27 comments later people are still yelling YES!!!!! and are STILL congratulating themselves on being 'real' and not being sucked into the vortex of the fake and happy.
Here's the thing….  the REAL me IS happy.  The REAL me IS cheery and glass is half full. The REAL me does want to know what is making you happy.
It doesn't mean I don't ever have a bad day.  It does mean, I think LONG AND HARD before I share negative. More often than not, I CHOOSE to share positive.  I CHOOSE to ASK for positive.
Because really?  Surrounding myself by happy and positive makes me that much more so.
Let me illustrate.
Today, as I do every day, I tweeted this: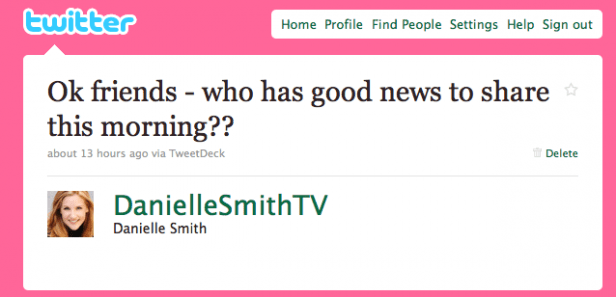 But WHY do I do this?
Tweeting for Good News is Using Social Media for Social Good
1)  This is an EXCUSE TO BRAG. Asking for good news gives wonderful people an opportunity to share something that is truly making them happy – and honestly – they might not share it if not asked.
2) I always ReTweet the good news – Joy is meant to be shared.
3) People share the outrageous and amazing – book deals, astronomical business growth, marathons, successful weight loss, pregnancies and engagements, and the everyday-this-is-really-making me happy: the first snow fall, a healthy child, a chance to sleep in or a favorite meal.
3) What an amazing way to engage – when people share – I LEARN something about them and we often end up chatting long after that first tweet
4) I am selfish.  The good news tweets?  They make ME smile.  So MY day?  Is off to a MUCH better start.
Just look:
After seeing these tweets this morning – and chatting with each of these people, I found myself smiling.

And there it was – I asked for the good news and they gave it.
I shared it.
We BOTH smiled.
And, I PROMISE, someone else who READ IT, smiled too.
Just one of the many reasons I love this space – for the good.…