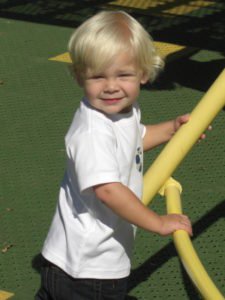 For sale:
One Tow-headed 2 year old:
Blond since birth, he will likely stay that way.  Blue eyes.  Loves all sports involving balls, including, but not limited to soccer, football, and especially baseball.
Often wanders around with a ball, bat and glove.
Favorite Baseball Team:  St. Louis Cardinals.  Favorite Player: Yadier Molina, Catcher.
Answers to Cooper, Coop, Coopy, Buddy and Handsome
Likes to cuddle, give 'kishes' and talk. Can't live without milk.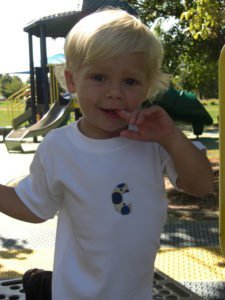 Full Disclosure:
Loves to watch Dora, Diego and the Backyardigans.
If you look up Terrible Twos in the dictionary, you may find his picture.
Currently likes to hit and tackle (all in fun of course). He is, fingers crossed, out of his biting-for-fun stage.
If you get mad at him, he has a pouty bottom lip that will melt your heart.
Is a bit of a fraidy-cat: fears include thunder, changing tables in public restrooms (can't really blame him) and large trucks (UPS and Fed-Ex included)
Has perfected the who-me?-of-course-I'm-too-cute-to-do-anything-wrong-look.
Only those seriously interested need apply.