I can still remember the moment my small girl asked me if I chose my job… My thinking? She was proud of her Mommy, proud that her Mommy was completely in charge of her days, where and when she traveled and how often. Instead, her little girl heart was hurting, sad that I traveled as much as I did, heart-broken believing that I was choosing to be away from her as much as I had been.
Eye-opening for me.
Traveling is part of my job.
And I love it. But having a parent away can be hard for small people. Let's face it – it is hard on moms and dads too. We miss family dinners, helping with homework, sporting events, prayer time, school functions and most importantly – hugs and kisses.
The good news is – in our house, we have found a way to juggle the travel and family time by staying connected face-to-face. Even from a distance, my husband and I both participate in baseball and softball games, prayer times and don't miss plays and practices. (I swear!) And there are other steps we take to ease the traveling transition as well. This picture below was from a recent trip to Costa Rica – I was never so happy to see their sweet faces.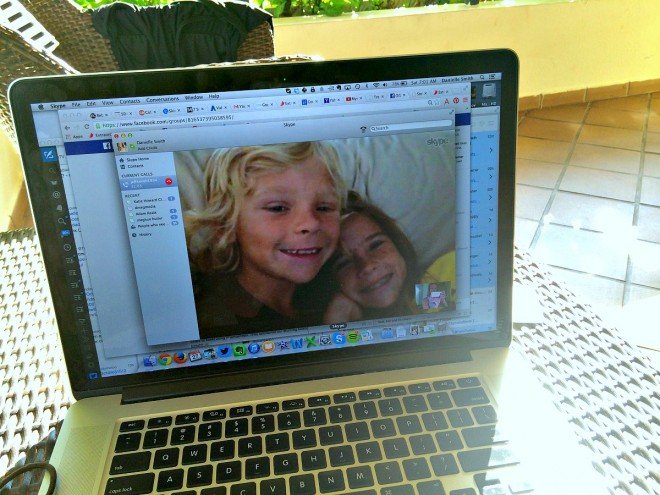 I'm excited to have partnered with Skype and SheKnows to share my best ways to stay connected while I travel as a SheKnows Expert. (there are a few.)
I'd love for you to head on over to see how my family tackles travel and then I would love to know how you do it in your world.
Disclosure: Thank you so much to Skype and SheKnows for working with me on this conversation. As always, all thoughts and opinions are mine and mine alone.