42.
In many ways, an insignificant number. For some, it is the answer to life, the universe and everything.
If you are a baseball fan, well…you KNOW. You won't ever wear the number on your jersey, at least not if you make it to the Big Leagues, but you respect the man who did, Jackie Robinson.
Me? Well….for me…the number marks 15,330 days of living. It marks the start of my personal New Year. It means I am another year wiser and am given yet one more opportunity to be grateful for where I've been and where I'm going.
And, as this 42nd birthday week begins, you now know why my husband is calling me Jackie.
Certainly turning 40 felt monumental in many ways, though I didn't feel 'older'. I was surrounded by many of the people I love most in the world and like those of you who have made this step, I heard the phrases 'over the hill', 'the big 40′ and '40 and fabulous' over and over again. But I didn't feel different. Every time I told someone I was 40, it felt foreign. The days, the months, the years were continuing to pass, and I have the wrinkles to prove it, but my soul didn't feel 40. 40 was for people older than me, right?
Even now, being IN my 40's feels a touch odd, but I finally realize I wouldn't change it. The evolution, the coming of age, the beauty in BEING that is finally arriving is good. So, this week, I'm embracing lists of 42 – a number I believe has magic – that resonate with me and I hope they will with you as well.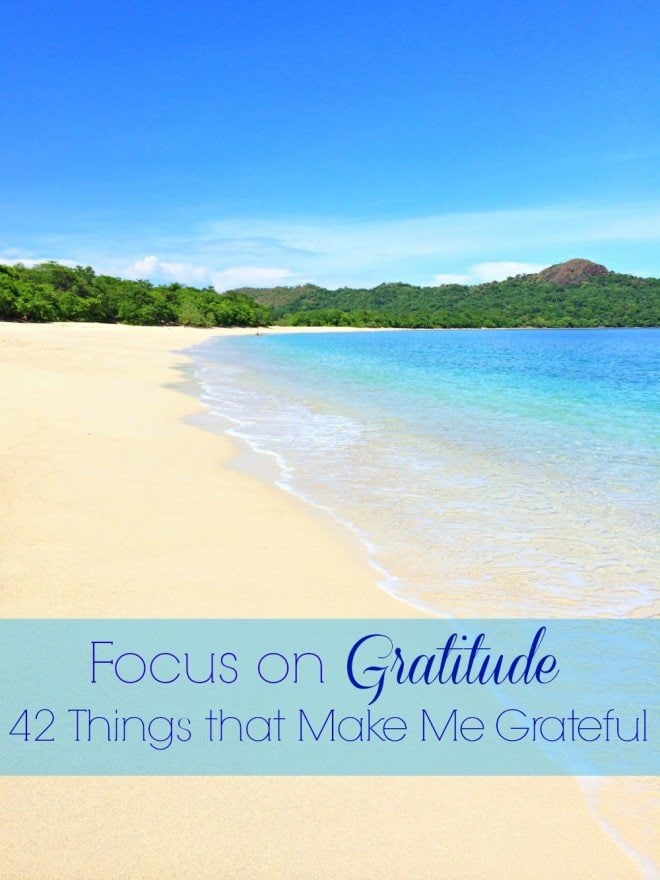 To start – 42 things, both big and small – that make me grateful. Tomorrow, 42 Things I Want My Small People To Know.
Wisdom of Age – I'm grateful that I can have the wisdom to see the difference in my yesterdays, believe I am enough for today and have hope and faith for my tomorrows.
 Sunshine – it fuels me all year long. It makes the cold of Winter bearable and the days of Summer glorious.
 My Children's Laughter – it just might be the very best sound in the world. When they giggled when they were little, it was heaven-sent. Now…as it isn't something I can trigger as easily, I'm that much more grateful for it.
 Watching My Kids Play Sports – I LOVE to watch them play because THEY experience so much joy. I'm grateful I can be witness to them growing, learning life lessons and having fun.
The Gift of my Husband's Love as a Father – I don't know that I have ever seen a man love his children more or truly make them the priority he does. He doesn't coach them, play with them or spend time with them because he SHOULD but because he truly wants to do so. If given the option to vacation to Disney with them or do ANYTHING else – guess where he'd be? This man won't ever look back having missed a moment. That is a treasure for which I am grateful.
Smiling people – When you smile at me, my day instantly improves. I'm grateful for the people who make the effort and for those for whom it simply comes naturally. Thank you. When I smile at you, I'm hopeful that I'm making your day just a little bit better.
The Color Red – it has always been the color that makes me feel stronger, happier, more powerful. My husband will tell you it means I'm grateful for the St. Louis Cardinals, but honestly… my gratitude for the sprinkling of red in my life pre-dates him.
Sleep – For years, I didn't get enough, but now I make it a priority and it is amazing what a difference it can make in how I feel.
Books and the Ability to Read – I have always loved to read. And I have always been grateful for a good book, but the older (and wiser) I am, the more I treasure both the time I have and each book I choose. I've set a personal goal of 52 books for this year. I'm currently reading my 3rd and 4th.
My Health – I have fibromyalgia. It isn't an exaggeration to say that every day something hurts…that is the nature of the condition, but it has taught me patience, pain management and to be grateful for the many good lower-pain days. I recognize that overall, my health is just fine.
My Friendships – I couldn't begin to list the people I love or the many ways they have supported me with words and with their hearts over the years. I have friendships that are 30 years old and some that are brand new. I'm grateful for the many seasons that each goes through – as they have helped to make me who I am now at 42.
Holiday Cards – I realize the holidays are over, but I love sending and receiving holiday cards. I grateful for the opportunity to see how our friends and family change year to year….and I adore receiving mail. I'm also grateful to my family for allowing me the small joy of opening each card. I keep everyone of them each year.
Peppermint Bark – my sweet, sweet once-a-year indulgence. I swear I try to stockpile it because I'm so grateful SOMEONE created this pile of deliciousness. Alas, my family loves it too.
The Academy Awards & Golden Globes – these two programs and others like them (the Emmy's, the Country Music Awards, the Academy of Country Music Awards, the People's Choice Awards, etc) remind me to dream…they remind me that I'm not too old I must stop dreaming. I will always be the girl who knows she could handle the Red Carpet. I would interview each and every celebrity who came my way, do it well, and have the time of my life.
The Ocean – the one place on the planet that I feel most centered. I'm grateful for the sound of the waves – it soothes me. I'm grateful for the sand between my toes. I'm grateful for the salt in the air. I'm grateful for the way it makes me feel so big and so small at the same time.
Tulips – While they aren't my favorite flower, they are lovely and I'm grateful for what they signify in the Midwest….the beginning of Spring. The moment they start to bud, I feel a level of hopefulness…I know that the brutal cold of Winter is finally beginning to fade. And that is tremendous. I'm counting the days.
Sea Glass – this falls in to the 'small category', but I'm grateful for the ocean's ability to take trash and turn it in to a treasure. Sea Glass comes in the most lovely shades of blues and greens and reminds me of vacation….so I try to keep some in my office.
Hot Tea – I've taken to making hot tea in the afternoons and end of my day. I'm grateful for the ritual it affords and its ability to make me feel both calm and motivated.
Our New Hamster – why would the girl who dislikes rodents be grateful for the small girl's newest pet? Because this little guy represents Delaney not only tackling her fears of speaking in public to compete in the All School Spelling Bee, but winning.
Yoga – I have never been a lover of exercise. Anyone who knows me can attest to that. However, I'm grateful for a form of exercise that allows me to feel stronger in both body and mind. And…I'm grateful that I can do an abridged version and still feel as though I'm doing SOMETHING good for me.
Water – Ok…so, at the very base level, I'm grateful to have clean water unlike so many other countries in the world. It is so easy to forget that water is such an incredible luxury. And it is one that I have, for years, neglected to take advantage of. I'm grateful that I can see the difference a hydrated being can have.
Movies – I have always been a movie lover, but when my small people were little, my time to watch felt so limited. So, I gave up trying. I've recently committed to going again – because I've always loved the escape and storytelling and I know I deserve to do something I love. I'm three movies deep in 2015 and just getting started.
Vacations – I have always loved having something to look forward to….and in the heart of Winter, I'm especially grateful to know that there is both beach and family time in my future.
Video – Every day, my small people ask for the 'video of the day' and I share something that makes them laugh (the Worst Beatboxer Ever), beg for a new pet (puppies vs. stairs), keeps them singing one of their favorites (Navy Baseball Players Sing Frozen) or reminds them that some of their favorite celebrities are, in fact, good people too (Sugar by Maroon 5 and Taylor Swift's 'Swiftmas'). I'm grateful that a medium I love to use to communicate is one that is so widely enjoyed and appreciated.
My Online Community – I'm grateful for the depth and breadth of friendships I have as a result of the online space. I'm grateful for how much I have grown and continue to grow as a result of the people I have met – how they have made me better and stronger, how many of them have pushed me to be a better version of me, how they have challenged me to seek an inner entrepreneur, to learn things about myself I didn't know and to have a desire to continue to evolve. There is a support network here, a collection of cheerleaders, people who will pick me up when I fall and remind me that I can keep going.
California – Though I wasn't born in this state, I will always be grateful for how I was shaped there and how it will always feel like home.
Facebook – Sure, Facebook has its quirks. Sure, the amazing can sometimes feel as though it is being drowned out by crazy, by the rush to report bad 'news' and by the many, many games…but there is so much good to be seen. I'm grateful for the glimpses into the lives of the people I adore – many I've known since I was a little girl. I'm grateful I can watch my friend's children grow from babies to toddlers, from toddlers to middle schoolers, from middle schoolers to teens. I'm grateful I can celebrate the first words, the first steps, the Back Tucks, the Soccer Goals, the Spelling Bee Wins, the art, the music and the acceptances to college. And I'm also grateful Facebook lets me know when I need to send love or pick up the phone.
Good News – I'm grateful so many of you not only tolerate, but celebrate the moments I ask for Good News. I don't know if you truly know why I ask – but there are three reasons: 1) I know many people hesitate to 'brag' about the good that has happened to them, so I want to give you that forum – I'm hopeful that if I ask….you'll put it out there – whether it's a promotion, your business growing, an opportunity to be on The Today Show, a winning lottery ticket or trip, a book deal, your child speaking for the first time, your sister having a baby, your birthday or your child going to college – share that GOOD. 2) I think it is important to focus on the big GOOD and the small GOOD. I hope, if you see me ask, if prompts you to think of the good in your world – and to find something, anything – even if it means putting your attention towards the hug you received that morning, the sun shining, or simply knowing there are only 45 more days of Winter, and finally 3) Because often, I NEED it. Hearing your good news helps me to focus on what is good and beautiful in the world. The time I take to read and respond to your comments puts me in the very best mindset – which is exactly where I need to be. (so thank you!)
My Tattoo – I had been thinking about getting a tattoo for quite some time. This past Fall, I did it and I'm grateful, not only that I did it, but that I chose something that makes me happy. (good news, right? Since it is permanent?) The butterfly represents my commitment to constant evolution and growth within myself, the fleur de lis represents strength and 'enough' reminds me that 'I am' and 'I have'. Nearly 42 years and I now believe that I am enough (as a mother, friend, daughter, wife, business owner, individual) and I have enough – right where I am.
My Mac – Sounds silly to be grateful for my computer, I know…but I am. My husband always refers to it as my third child. I AM grateful for the connection, the business opportunities, the ability to work, the collection of memories that all exist within this machine. And I'm grateful for how much I have learned about technology by using it.
Time Alone – Yes, I'm a social creature….very much so. But I am truly grateful for the time I spend alone. I am grateful for silence, for time with my thoughts and the ability to be at peace. I need this time to refresh and improve.
The Caribbean – I'm addicted to the Caribbean. I'm grateful for the iridescent sand, the warmth of the sun, the welcoming nature of the people who live on the islands, the way it feels like home. I'm especially grateful for the island of St. Thomas as I spent some time there this summer and I am better for it.
Flip Flops – I have been staring longingly at the flip flops in my closet, knowing it will still be a bit before they are once again a permanent fixture, however, I am grateful for the ease, peace, sunshine and warmth they represent.
Hugs and Holding Hands – These past two months have been among the hardest I've experienced. Unsolicited hugs from my children as well as the moments they have reached for my hands…these have saved me. It has happened in the kitchen, on the couch, walking from the car to the store or simply while I am standing, lost, in my own home. This connection, this touch, has been so filled with love – my gratitude is boundless. I've always been a hugger, but this is something special.
Blacklist and Scandal – It is funny….even a short year ago, I considered watching TV a lazy activity as to do so would have meant I was NOT working or completing some other task I knew needed doing. Now? I'm grateful for the escape TV provides. Jeff and I have been taking the time to watch these two shows together and it has been fun to laugh, to debate, to be left cliff-hanging together.
Wine – I love wine. I'm grateful for the peace at the end of the day that the act of pouring a glass of wine represents. I'm grateful for the celebration that wine among girlfriends represents. And some day, I hope to learn even more about the creation process.
My Recently Purged Closet – Chalk this up under 'everything happens for a reason'. I was supposed to fly out of town for a job….one I was excited about doing, one I was hoping would put me back in the right mindset as I've been a bit off lately. It was cancelled at the very last minute. So, instead of putting my already-packed clothes away, I stayed up half the night and completed an 'organizational' task I'd long been putting off. I'm grateful my now immaculate closet reminds me that I wasn't supposed to leave home that day, but was instead supposed to embrace that moment.
Having a Job that Allows me to Work Around My Kids – I love my job. I love that I make my own schedule. I love, love, love that I have the opportunity to work around what is important to me and my children. I can work from 8pm to 1am so that I can attend the All School Spelling Bee. I can make a 4pm soccer game and an 8am Sunday game. That is a treasure. It is a gift. And for that, I am grateful every single day.
Music – I have zero musical talent. Nada. Zip. Zilch. But I recognize that music has the ability to fit my mood, shifting to fit the small of a sad space, lifting to fill the glory of success, dancing to a much needed mid-afternoon break and soothing as I scrape together the final words of a last minute post. I'm grateful that music can fill even the talentless souls, fix broken days, and make happy hours complete.
Sunsets – I know sunrises are glorious too, but I've always been partial to sunsets and lately I feel as though God has been painting them just for me -including the softness of joy and bruising of pain and yet reminding me through each day's multi-colored ending that the day will dawn bright again tomorrow.
Photographs – I'm one of those people who includes photographs throughout their home. We do family pictures each year and I'm constantly capturing moments – vacations, sports, milestones. I'm so grateful to have them. These moments are memories grabbed. The years with my small people (and clearly my very own years) are shooting past and yet, each moment has the ability to give me pause, smile and allow me to wrap myself in gratitude.
The People Who Live Under This Roof – It is so easy to go through the motions of day to day life without recognizing what is good and extraordinary right in front of you. It happens that you (and I) make lunches and dinners, shuttle from one sporting event, one guitar lesson, one airport to another and simply forget to be grateful for the squeeze of a hand, the opportunity to cheer on a child, to say prayers together, to witness one of your children encourage the other, to count freckles, to hear, 'Mommy…I love you' for absolutely no reason at all.  I have this….and at 42, I don't want to miss it.
Making this list has been the exercise in gratitude that I needed to begin my personal 'New Year'. I know you and I don't share the same list, but I hope it prompts you to focus on at least a few things in  your world that make you feel grateful. One of my goals for this year is to say 'thank you' more often.
Thank you for being here. I'm grateful for you, too.
What makes your gratitude list?