If you know anything at all about me, it is that I am quite clearly one of the least athletic people you might know. But I live and breathe sports on a daily basis. I'm married to a former sports TV guy. My small people both play three competitive sports each – and LOVE it with their entire tiny beings – and I was raised by a man who watched his teams religiously year 'round.
As a little girl, I would sit with my dad on Saturdays and Sundays while he watched his beloved football, hockey and baseball…my focus at the time was initially fixing his hair just to spend time with him, but you'd be amazed how much a girl can pick up about field goals, first downs, interceptions and blocked punts just by being in the room.
That little girl grew up and while her athleticism didn't much improve, her love of the game did.
This season something extraordinary happened with my family and I want to share a bit of that journey with you. You may have seen bits and pieces shared here and there on Instagram or Twitter, but as I wrap my brain around what this experience has meant to us, I think it is worth talking about how it has brought the four of us together. (Together? Weren't the four of us already together? We're a family, right? Yes… but bear with me.)
I'll start from the beginning.
For their 2014 campaign, the St. Louis Rams decided to create a 'Superhero' theme titled 'Defend Our Turf'  – aptly singling out some of their star players, Chris Long as 'The Beast', James Laurinaitis as 'The Gladiator' and Robert Quinn as 'The Machine'. But, as their goal is to show families that the sport can be an enjoyable experience, they wanted to include a family as one of the centerpieces of the campaign.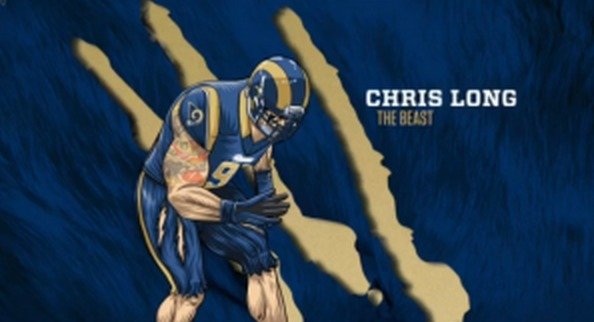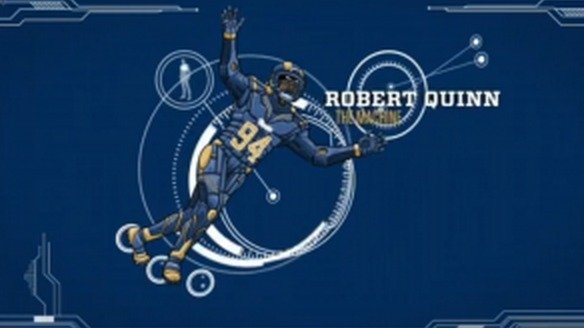 As I've done a little social media work with the Rams over the course of the past few years, Brian Killingsworth, the Vice President of Marketing and Brand Strategy called, told me a little about the campaign, mentioned they needed a family to complete the project. He asked if we would be interested.
Count my sports loving, football loving, St. Louis Rams loving family in.
ALL CAPS.
In the Beginning 
Know this: When we said yes, we had NO IDEA just what the 'campaign' would include. We were thrilled to be a part of what we thought was simply going to be 1-2 commercials and maybe a static advertisement supporting a team we loved.
We were giddy we were going to be able to start going to the games.
Keep in mind that I grew up in Los Angeles… then the home of the Los Angeles Rams. Doing my dad's hair, watching and listening over his shoulder, asking questions as I grew to understand the game, I was a fan then…I was still a fan now.
My Rams moved to the Midwest with me.
All day, as we shot the spots, the vision became more clear, the kids were singled out for individual commercials. Cooper was a 'beast' as a mini Chris Long, even doing the ' Joel' – his traditional sack celebration .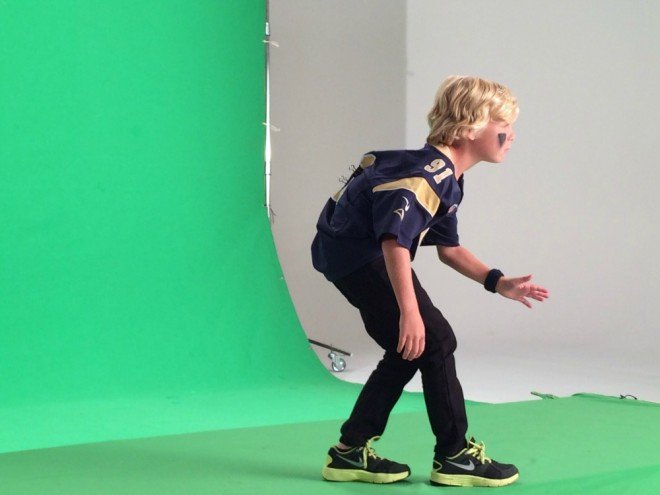 And Delaney was a small version of Robert Quinn, mastering the 'Bernie' – his signature move.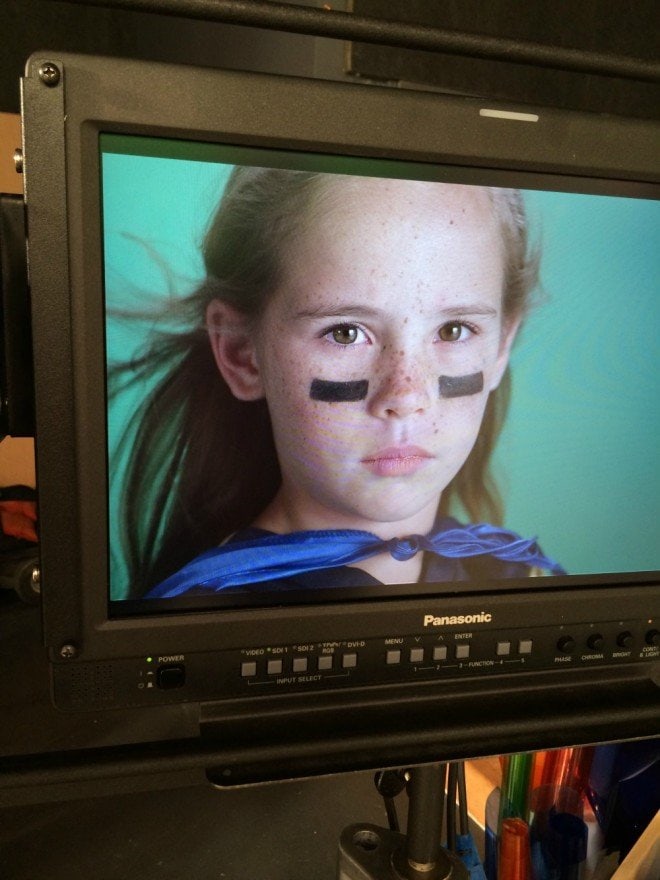 We posed as Superheroes for what would become one of the centerpieces of the Defend Our Turf Campaign.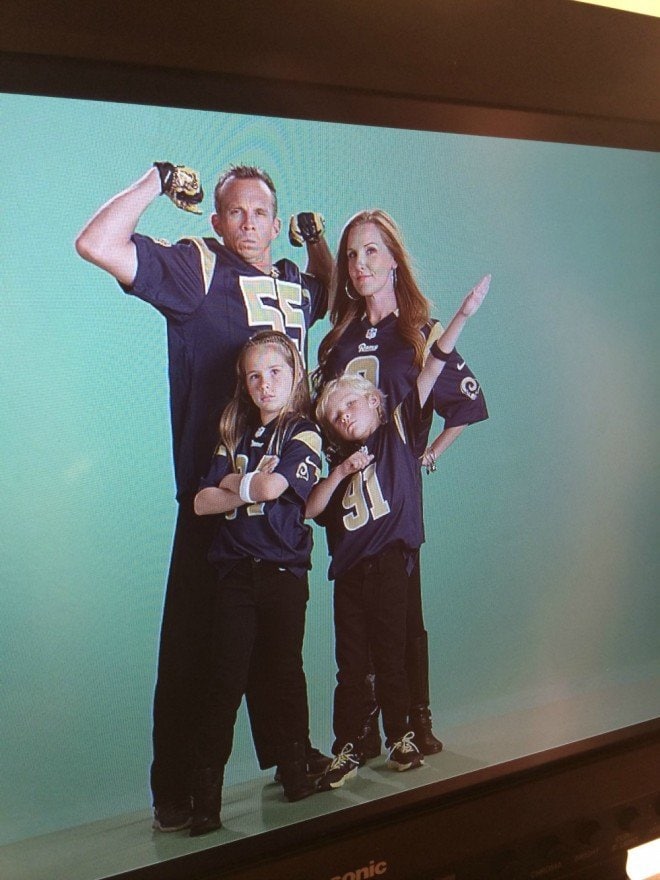 But in the studio that day, we were just having the time of our lives…had truly didn't know. We didn't know the campaign would be so big, so beautiful, so full of life and would hit a homerun on so many levels. We were given a sneak-peek just before it launched. To say we were excited was an understatement. Until that moment, we hadn't fully grasped the vision. We hadn't been able to picture ourselves as Superheroes. But there we were….Defending Our Turf.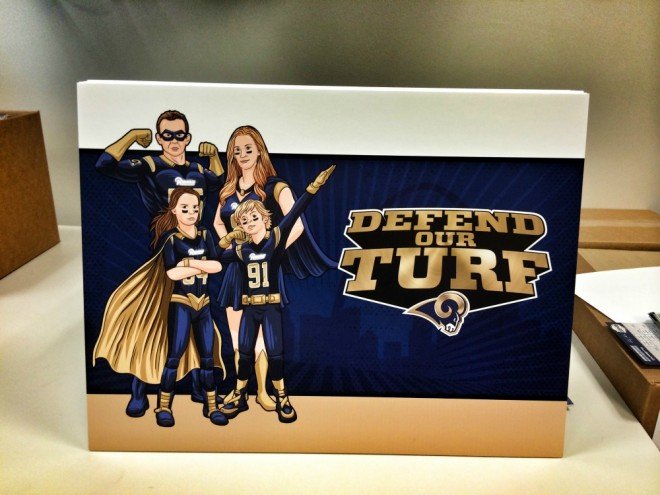 It was a campaign that continued to astound us with commercials (you can see all of them here) and then billboards.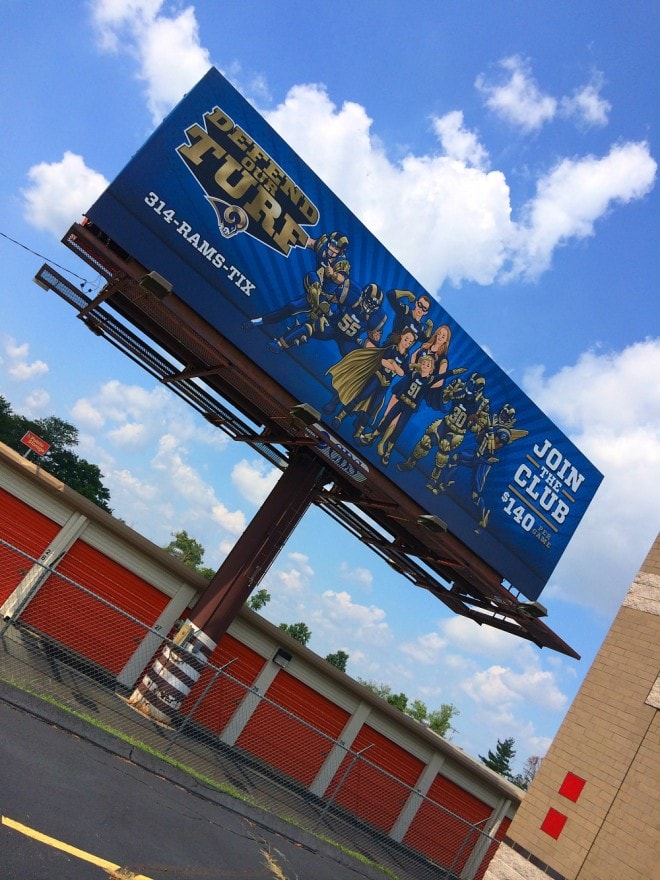 And then it was the radio spots – ALL of them were voiced by my small people – which was, quite honestly, the pinnacle of this for me. Up until this campaign, my small girl had been mortified at the very idea of speaking in front of people she didn't know. When she was required to do these voiceovers, she found a quiet, inner confidence I didn't know she possessed and she NAILED them. As she sat, alone, in the sound booth, I watched a group of adults applaud her.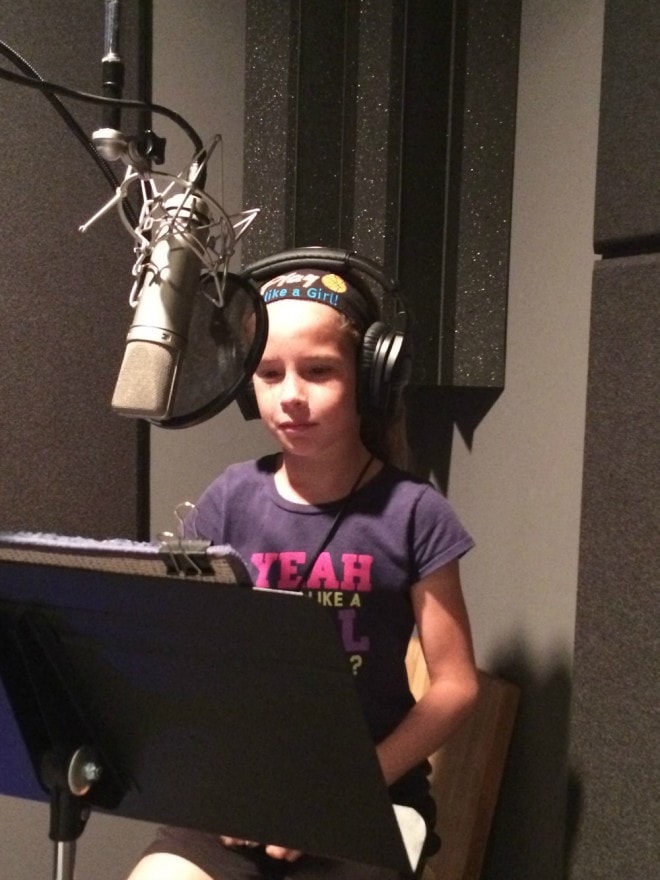 And then this… in the video below, you can see her hearing herself on the radio for the very first time. Color me proud…watching your child develop some self confidence is a beautiful thing. Her radio spots give me chills every time.
Close to the end of the season, Brian surprised us with two more bits of fun campaign pieces: an ad in the St. Louis Rams Program.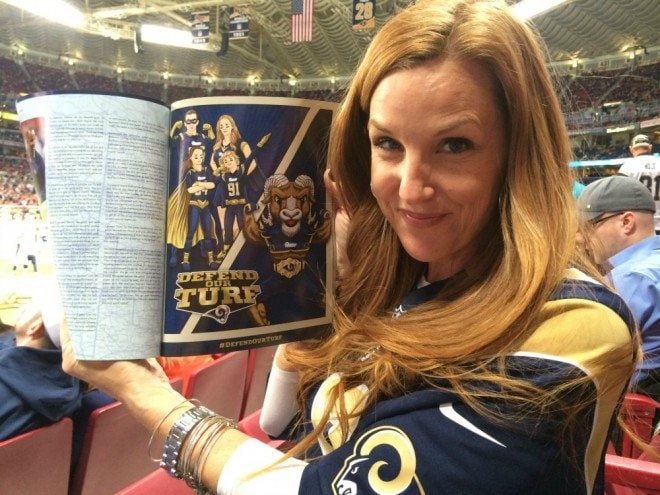 And – probably the most exciting piece for the kids: our very own Topps Trading Card.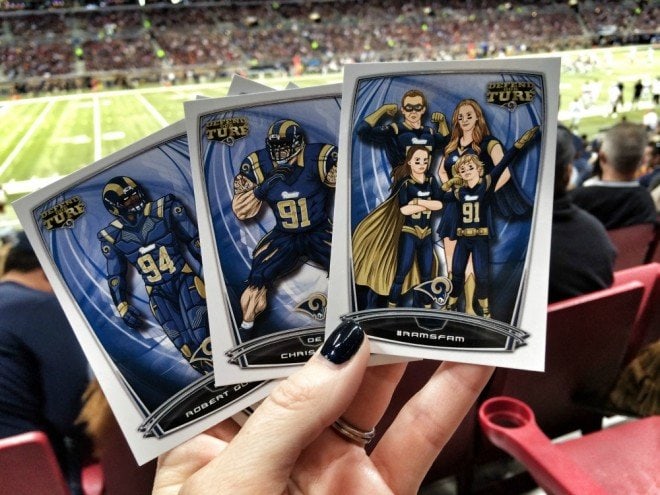 The Campaign and Why it Works
I realize that I am biased, and I know that the St. Louis Rams did not have the season that we all hoped, but I love this campaign.

Defend Our Turf does EXACTLY what the St. Louis Rams intended for it to do.
Defend Our Turf puts Family back in Football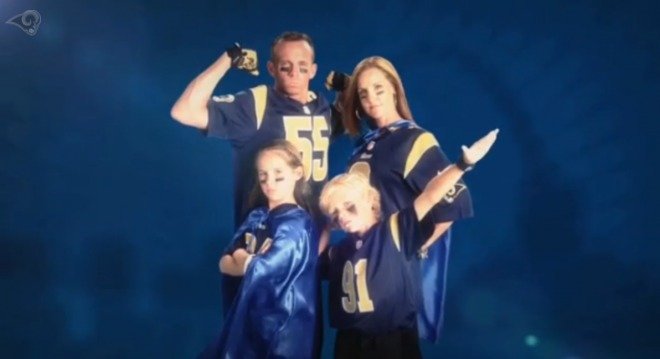 For the longest time, football has been seen as a predominantly 'male' sport. Men play it. Men watch it. Men love it.
But here's the thing…I love it. As a woman, as a mom. My daughter loves it. My son and husband love it.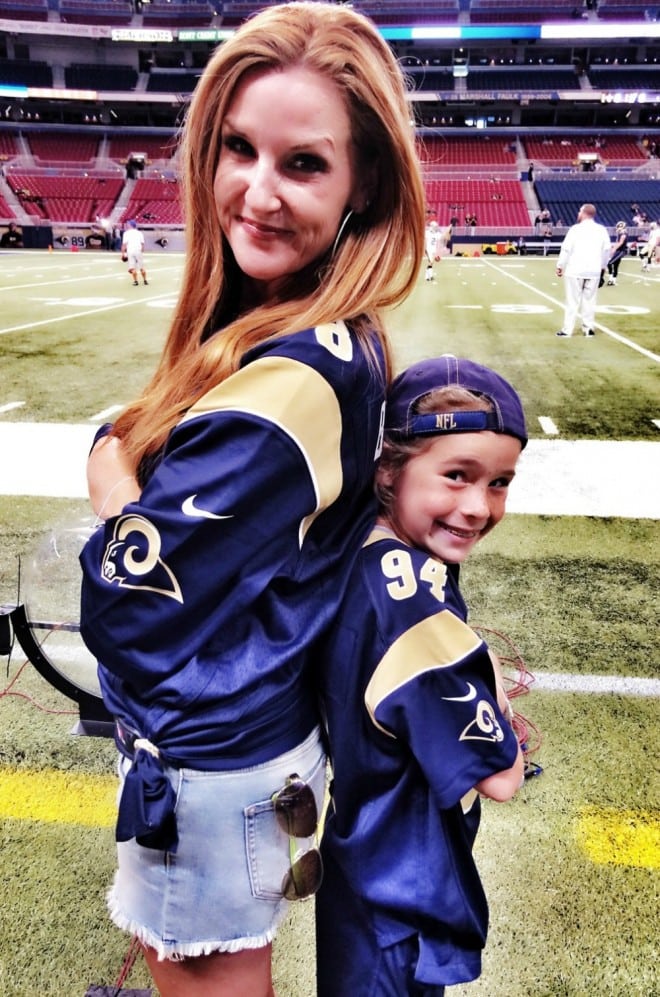 We love it as a family.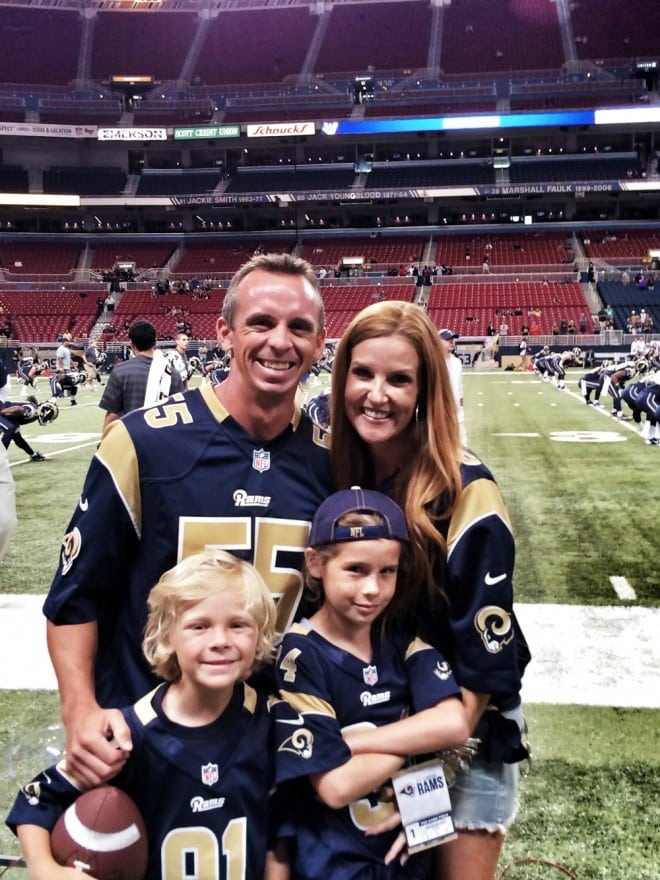 By far my favorite experience is actually seeing the positive effect the campaign has had: As the spot airs in the Edward Jones Dome on the big screen, people would turn to us, families would turn to us, men would turn to us and ask, 'is that you?' and then turn to their sons and say, 'did you see that little girl in that commercial? She's right there. See? I TOLD YOU. GIRLS LIKE FOOTBALL TOO.'  I almost cried the first time it happened.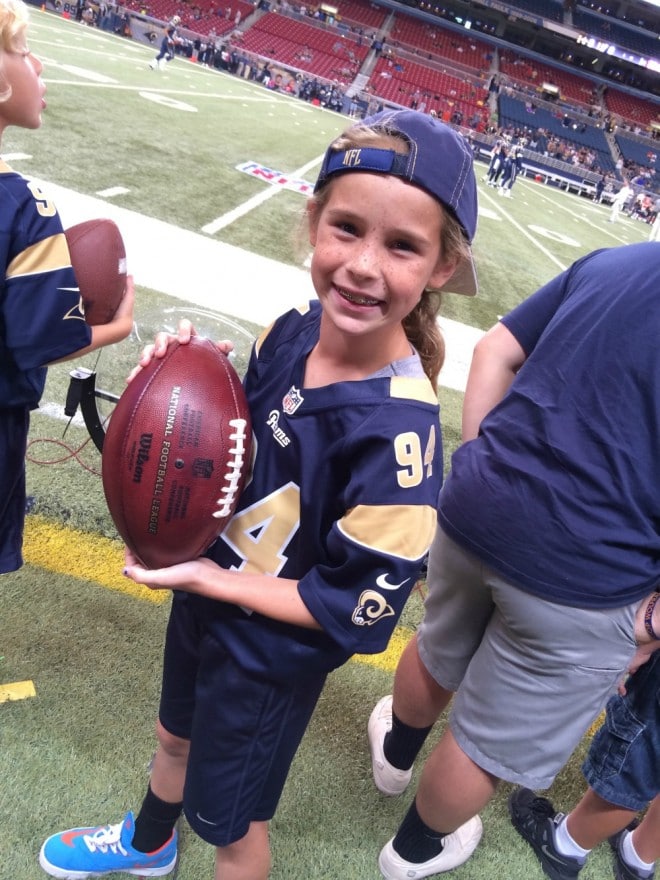 And I've heard from people who don't even live here in St. Louis that they LOVE the campaign – that involving families – everyday families – is GOOD. And I agree.
We go to the games. We are there early and we stay until the very end each and every time. Certainly this season has been unlike any other for us….my small people have been spoiled by the experience. They were beyond thrilled to meet Robert Quinn and Chris Long (and to do those signature moves for them just like they do in the commercials), but for me – I've watched my kids grow.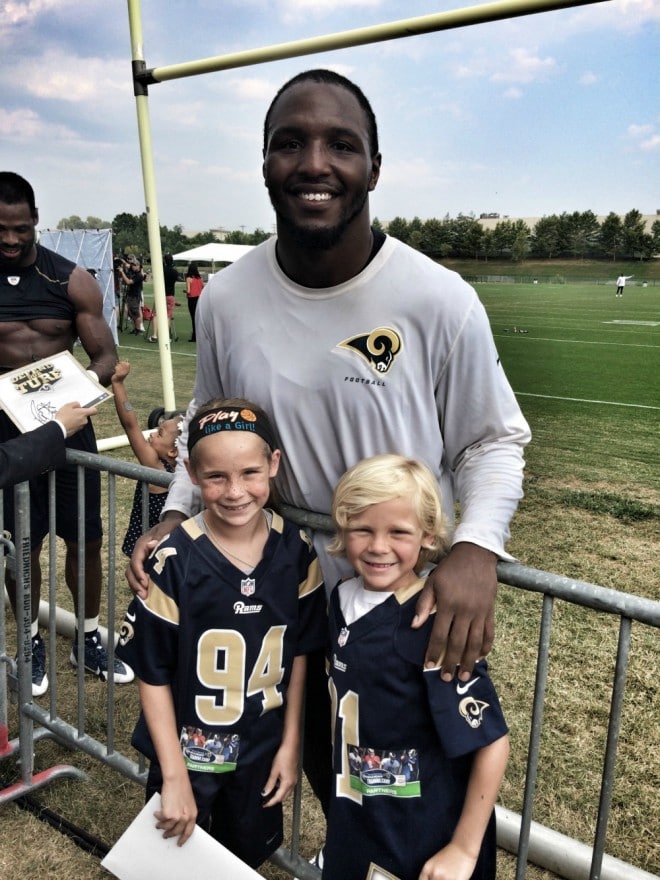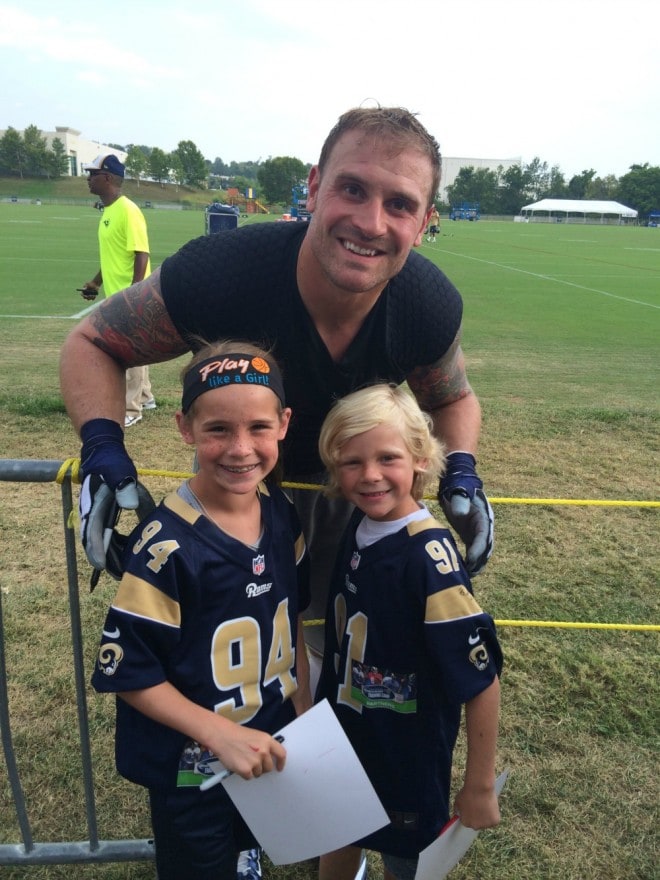 They are stronger, they are proud of this work they have done and will look you in the eye in a way they hadn't previously. This has given them some extra self confidence, which is especially amazing for my small girl – the one who would previously struggle to make eye contact when anyone she didn't know would talk to her.
The St. Louis Rams Football Experience
My family feels as though our St. Louis Rams season ticket experience has been like an extended family. We sit by many of the same people. We see many of the same people – around us, on the big screen, at the concession stands, even as we wander around the Edward Jones Dome.
There may only be eight regular season games, and the season may not have been the winning one we hoped to have, but the St. Louis Rams give you a fun, committed, exciting environment while you are there.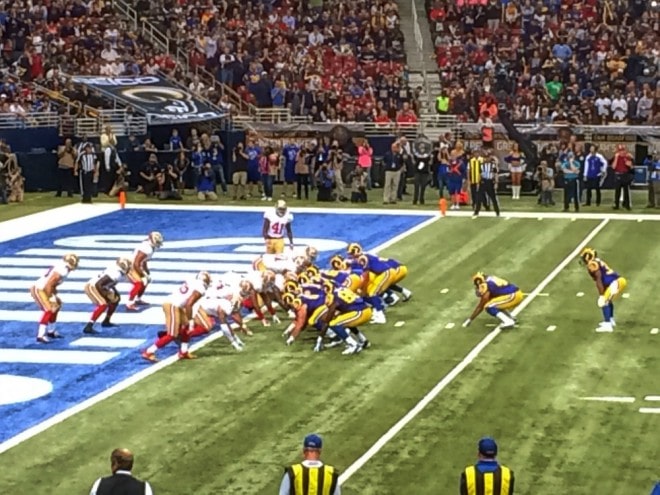 From the team's grand entrance before each game to the many St. Louis local restaurants that were added this year (think Crown Candy, Sugarfire Smokehouse and Strange Donuts) to hearing the regular chants begin to play and the 'regulars' chant right back to by far, one of my FAVORITE moments – honoring a Veteran from the Wounded Warrior Project – imagine a standing ovation for that soldier each and every game. It is chill-inducing.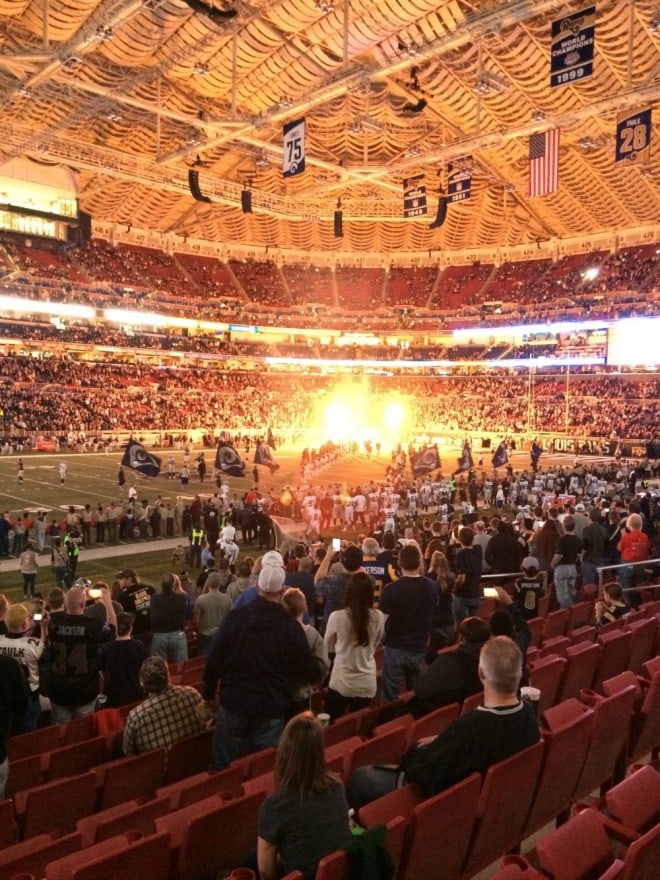 There are free after-game concerts and, if you are like us, with a crazy full schedule, you can always split your tickets…enjoy some with your family….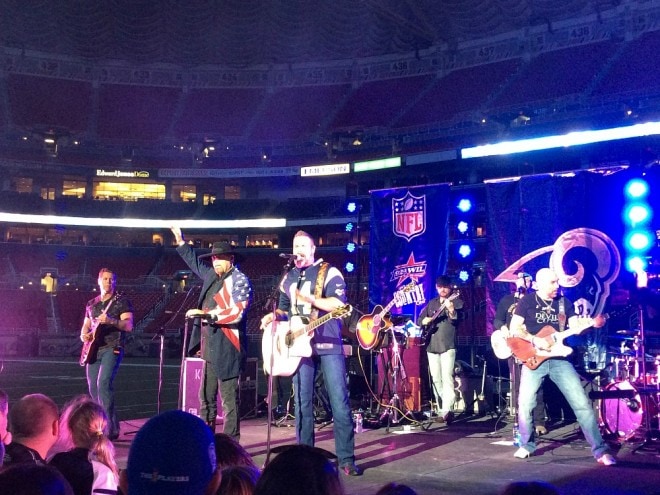 Bring Grandparents… (for this we bought a few extra tickets)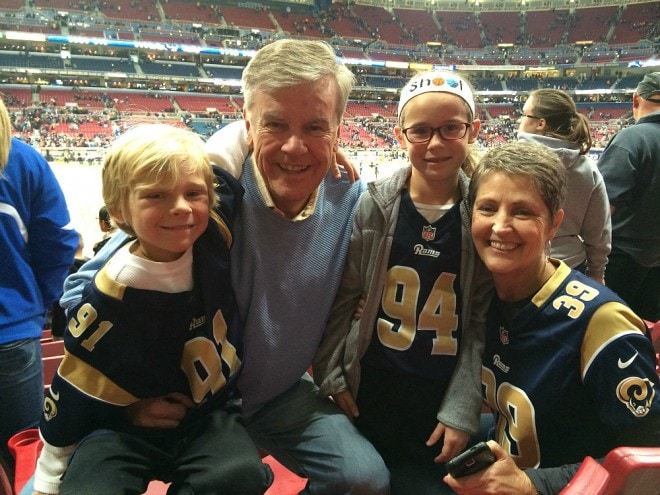 Make it a girl's day out…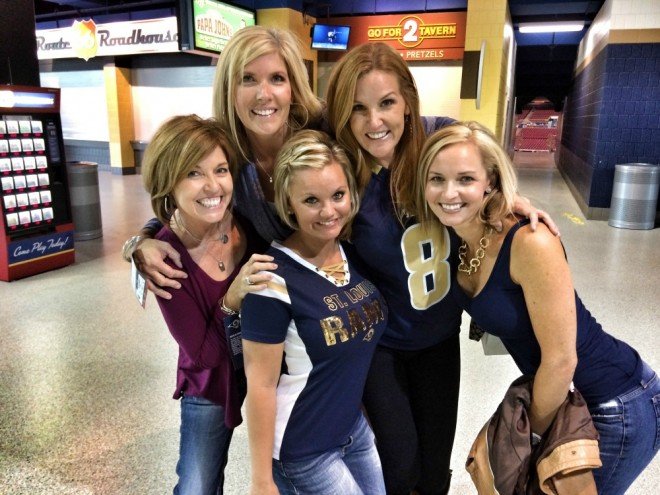 Or keep it as family time as we did for most games.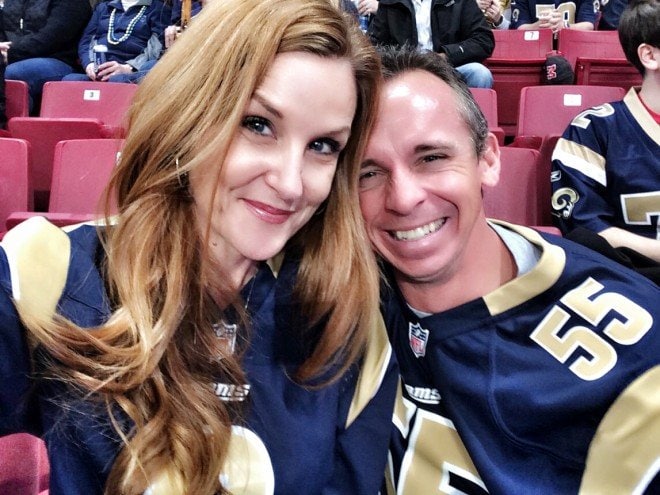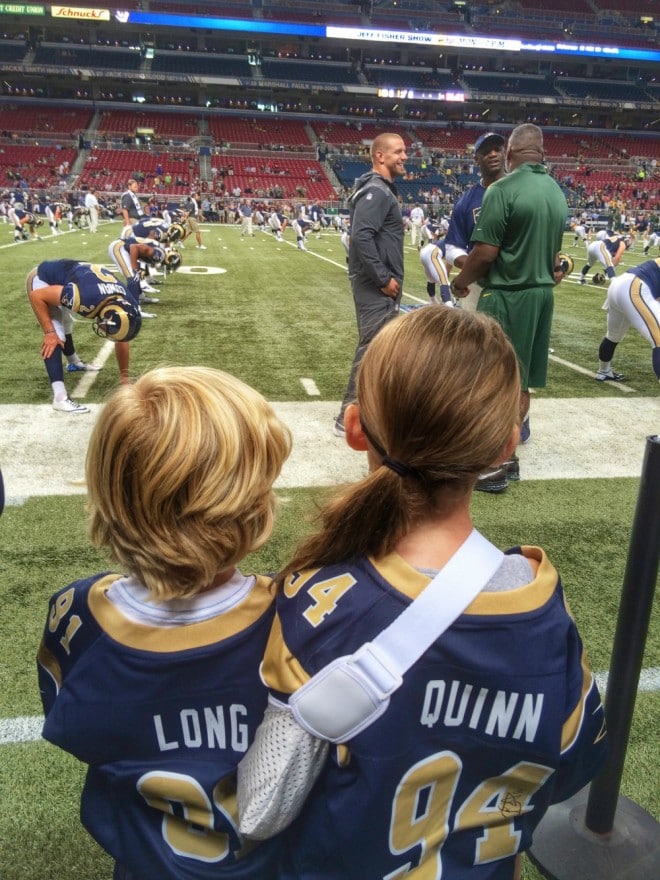 We have one more game to go this season and admittedly, I'm already looking forward to 2015.
I have to thank Brian Killingsworth and Lisa Boaz with the St. Louis Rams for having faith that my family would be good representatives for the team and for allowing us to be a part of this campaign for the season. We've had a remarkable time. We've watched the games from our seats and from home and have definitely done our best to Defend Our Turf.