You know that feeling of "I want to get to bed NOW because I cannot wait to wake up tomorrow."  It's 6pm.  You've already eaten dinner, taken a shower, brushed your teeth, placed your slippers at the end of the bed, hung your robe on the back of your door, and set your alarm for 4:29am. (Sidebar:  I've never worn slippers or a robe, but I look forward to that day) (Another Sidebar:  I wake up at 4:29am every day.  There's significance to the 4:29.  I'll explain further down).
My kids have that feeling on Christmas Eve, the night before their birthday, evening prior to heading out of town on vacation, day before first day of school, night before going to Six Flags, I could go on and on.  Wow, when we were kids, we had a lot of those.  So, what gives you that feeling?  I have one night a year when I get this feeling.
And, that night is tonight.
Tomorrow is Opening Day.  Super baseball fans will argue that the Mariners and A's have already played "games that count" last week in Japan.  True.  But, tomorrow is the first "regular season" game in the ole USA.  Major League Baseball Starts this season showcasing the World Champs, St Louis Cardinals, on the road in baseball's newest ballpark with baseball's only "renamed" franchise in 2012, the Miami Marlins.
It just so happens that the World Champs happen to be my team.  The last time that I was this excited was a late Friday Night this past October as I danced down Broadway in Downtown St Louis when "my team" won its 11th World Championship.  So, after the Champs open their season on the road, they'll return to Busch Stadium to open up the 2012 Home season celebrating last season's Championship run.  Who would pass up a chance to be at that celebration?
Well, me.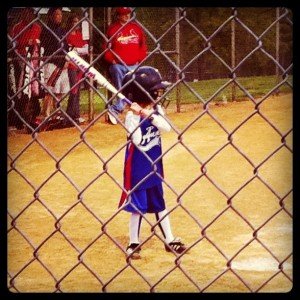 Quick story.  Buddy of mine calls today to say he has two extra tickets for next Friday's Home Opener.  Two hours prior to this call, I receive my 7 year old daughter's Softball schedule and she has a game that same night.  I'm not passing judgment on the majority of those that would rather go to the Home Opener, but that day has passed for this baseball (and now softball) fan.  I went to 9 straight Home Openers with my Dad when I was a young fan.  The best part of going to the game was NOT the game, nor the parade of Budweiser Clydesdales high stepping into Busch, it was going to the game with my Dad.  And, see, the best part of my life now is going to games with my kids and even better, watching my two all-stars play.  I love it.  I live for it.  (Dang, this post just threw a curve ball at you, eh?)
So, while I contemplate going to bed right now (It's 4 o'clock in the afternoon as I write this), I know that I have another one of these nights coming in one week, as my 7 year old shortstop plays her season opener, then, yet another 3 weeks after that as my 5 year old future Major Leaguer has his season opener.  Wow.  I am still a kid.  I do have a lot of these "nights" left in me.
Well, I just glanced at the clock.  It's 4:29pm.  I must wake in exactly 12 hours.  See, #4 is Cardinal Catcher, Yadier Molina and #29 is Cardinal Ace, Chris Carpenter, best battery in baseball.  I wake everyday thinking about my favorite game, and I go to bed tonight dreaming of tomorrow, Opening Day.
I would turn back the covers right now, but I have to get to a Little League Baseball practice then over to a Fast Pitch Softball scrimmage.  Once we've touched those two bases, I have a game of my own.  Yes.  I still play baseball.  Then, it'll be time to head for home…to score some sleep before tomorrow's big day.  I cannot wait…
Sincerely,
A Baseball Fan (and Daddy)