Let me tell you a little story…one about a friend, a book and some astonishingly happy children.
Not that long ago, this beautiful book arrived in my mailbox. It was a children's book, I was expecting it and I suspected that I would love it. But what I didn't know was the impact that one little book would have on the people around me.
Here's the thing – Matthew Paul Turner is husband to my beautiful friend, Jessica. He wrote this lovely book called God Made Light, but as it was not initially picked up by a publisher, Jessica and Matthew, believing in the power of this story, decided to find an illustrator and self-publish.
Good move.
The result is magnificent.  God Made Light is lovely and gentle, it is inspiring and good-hearted and will be one that will turn ragged in your hands and the hands of your small people as the pages are turned and the story is read over and over. I have always loved watching my children read to each other, but there was something glorious about hearing Delaney annunciate, "Light glared and glimmered. It flared and sparked. And wherever light shined, it stopped being dark."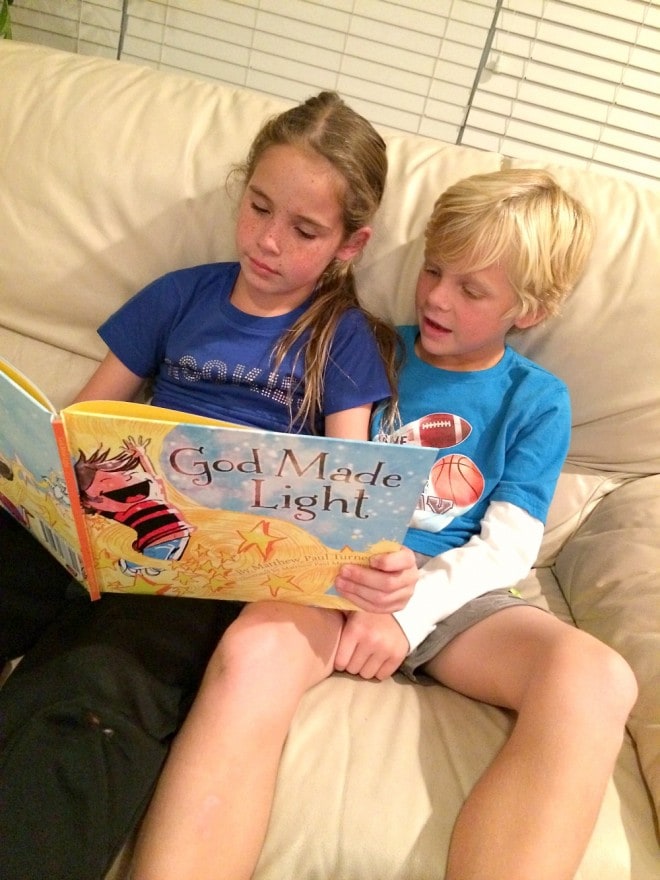 God Made Light is both poetic and smile-inducing. It is impossible to read the words and NOT feel light in your heart.  As my kids read, I knew I wanted the book in more hands…so I purchased a dozen of them to give to our school during a recent Trivia Night Fundraiser. A few ended up in the hands of parents and children, while others made their way in to classrooms.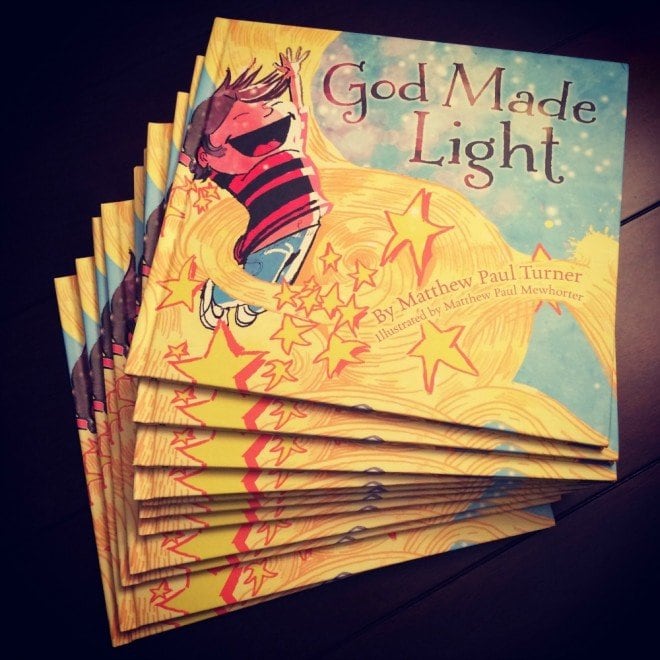 But the beauty has existed in the way both teachers and moms and dads have sought me out – at school drop off, during after-school meetings and at sporting events simply to tell me how God Made Light has been magic. Families have read it together and passed it on to other families to share the experience and teachers have been thrilled by classrooms full of attentive listeners, question-askers and requests for a re-read.
And to make it all even better – the book has accessories to accompany it – a floor puzzle, a night light and encouragement notes.

As I've seen so many people moved by their experience with this book, I'd be silly not to suggest you add it to your family library as well – or give it as a gift for the holidays. As someone who is so proud of the work Matthew and Jessica have done, I am an affiliate for their book and accessories, but you also have the option to purchase God Made Light through Amazon… either is good – for your little readers and for my friend.
If you've had the opportunity to read the book, I'd love to know what you thought – or if you are simply thinking of sharing it with someone – who is the perfect recipient?
Thank you for supporting my friend Jessica and her family's dreams of spreading a little light around the world.
Disclosure: I was given an early copy of the book but all subsequent purchases were my own. As always, all thoughts and opinions are mine and mine alone.