For close to seven hours I was glued to my television and computer.
It was the only option. Since I wasn't on the Red Carpet to observe the fashions, since I wasn't in the audience to listen in person, I did what I do best during Awards Season – I stare in awe, I ask questions of the stars from my couch, I smile coquettishly at their answers, I laugh and I fall in love all over again with all-things-Hollywood.
For the first time ever, my family watched with me absorbing the entire experience – it was delightful.  We ohhhed and ahhhed at the Red Carpet, belly-laughed at Tina Fey and Amy Poehler and then rooted for our favorites during the actual show.
I have a video recap of my thoughts of the entire night and my highlights and low-lights (There were definitely a few!) from the Red Carpet after that.
I've even included a clip of one of my favorite portions of Tina and Amy's dialogue – favorite because it was clearly ad-libbed and incorporated a portion of what had happened during the night. They were edgy, included more than a few zingers and kept the audience involved as they jumped down repeatedly to join them throughout the show.
Let's Talk Red Carpet…
Now on to the Red Carpet Recap:
Before the festivities even began, we heard, 'Color! Color! There will be so much COLOR this year!' And yet immediately we saw very little.  Blacks and neutrals seemed to dominate. Amy Adams, when asked by Ryan Seacrest, referred to her Marchesa dress as 'Ballet Pink'… and she wasn't the only one wearing it.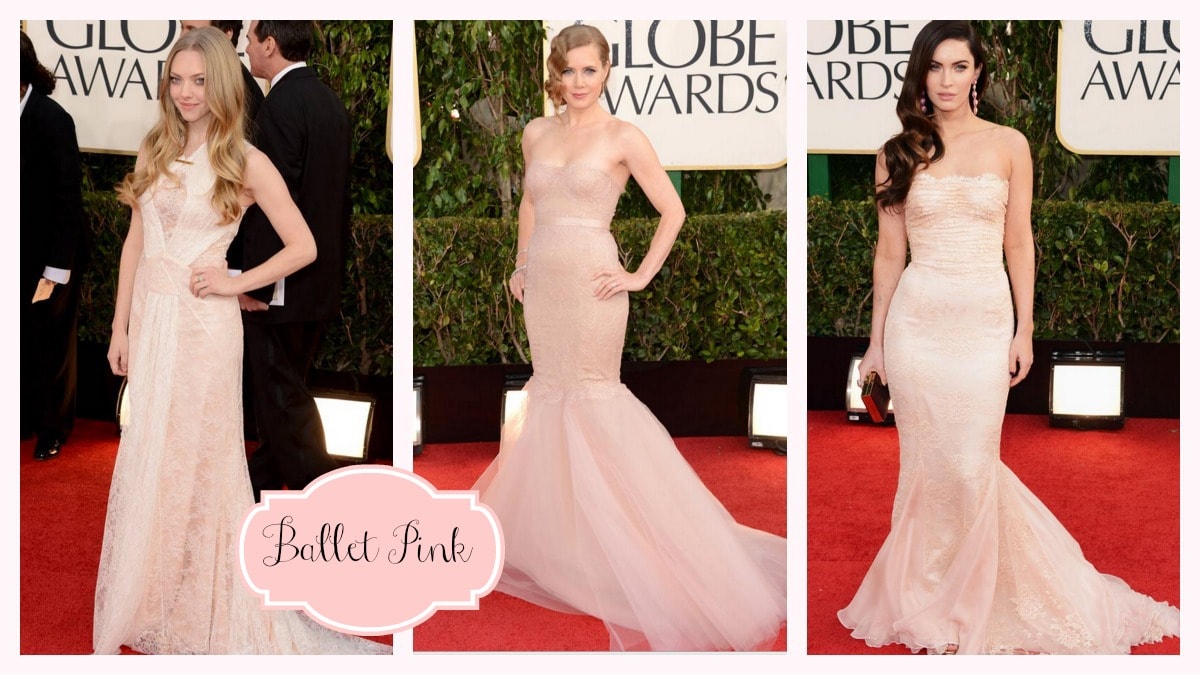 But then the REDS started to show up. All three are beautiful, but there is a standout in my mind.  Of these, Zooey Deschanel was my clear favorite.  She was not only comfortable in her own skin, having so much fun in her Oscar de la Renta dress, but it was classic and beautiful.  However, Claire Danes gets a high-five, not only for her Best Actress Award for Homeland and her eloquent acceptance speech (easily one of my favorite moments of the night), but for looking so dynamite in Versace after having a sweet baby only one month ago.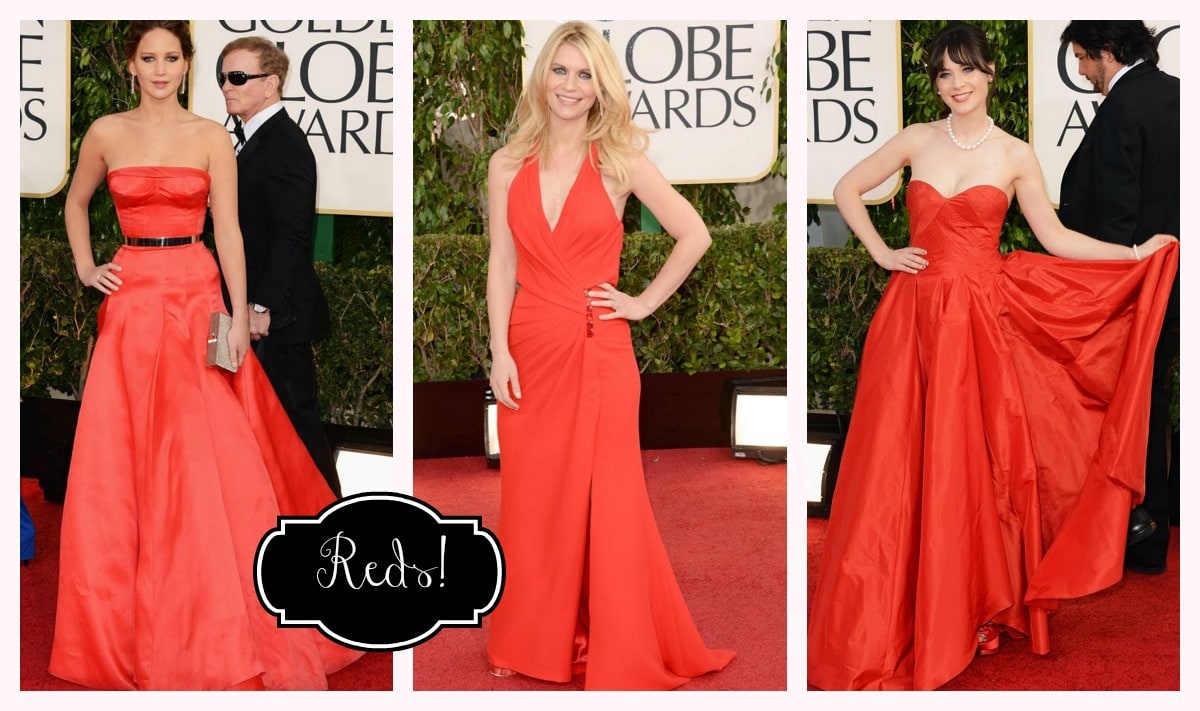 Now… the most revealing dresses of the evening, I actually found to be some of the most stunning.  Kate Hudson in Alexander McQueen, Katharine McPhee in Theysken's Theory and Eva Longoria in Emilio Pucci made quite an entrance, each in black, each showing skin in a strategic way.  All three looked sexy without being over the top.  If I could pull off those dresses, I most certainly would.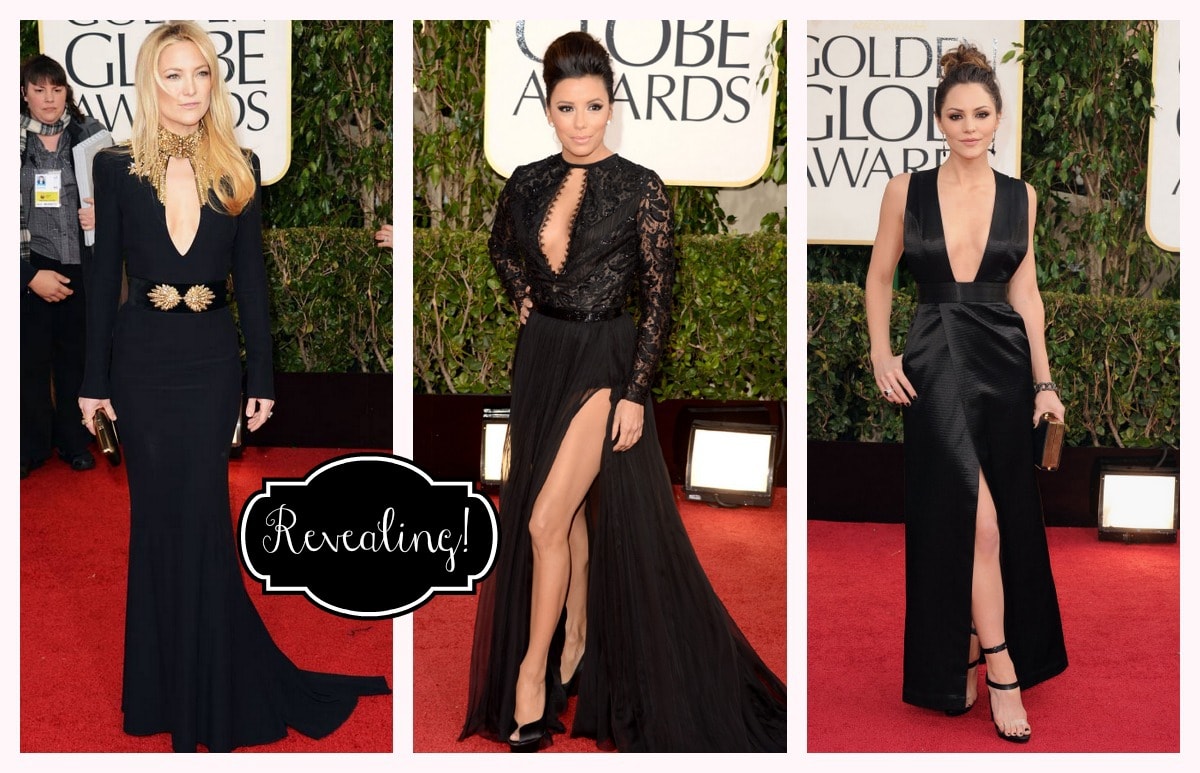 Now finally… my favorites and well, least favorites.  Let's start with the 'what-were-they-thinking?' category.
Admittedly, I was initially concerned by the number of dresses I was seeing that made me want to start calling stylists to question their judgement.  Let's start with Jessica Chastain.  I was perplexed by the entire thing – the color, the fit and good heavens – HER HAIR.  Was there a part in the middle?  Alyssa Milano was wearing what some called a 'fresh pop of color' and I just found to be an unflattering fit and mix of jewelry.  Strangely enough, my husband and I disagreed on Lucy Liu's Carolina Herrera dress – he actually liked it (so rare for him to express an opinion like this AND to choose a bold style!) but I thought it looked like my grandmother's curtains.  Jennifer Lopez is beautiful.  Her figure is extraordinary.  I loved her hair, but that Zuhair Murad dress was horrendous.  The color, the fit – nothing about it flattered her as she deserves. And finally, Sienna Miller.  I'm not sure if I should just say her dress was too casual and leave it at that?  the flowers were baffling, the two pieces were off-putting.  It was 'frock-ish'.  The colors weren't bright and bold, but scattered spring-like, as though she was on her way to a tea.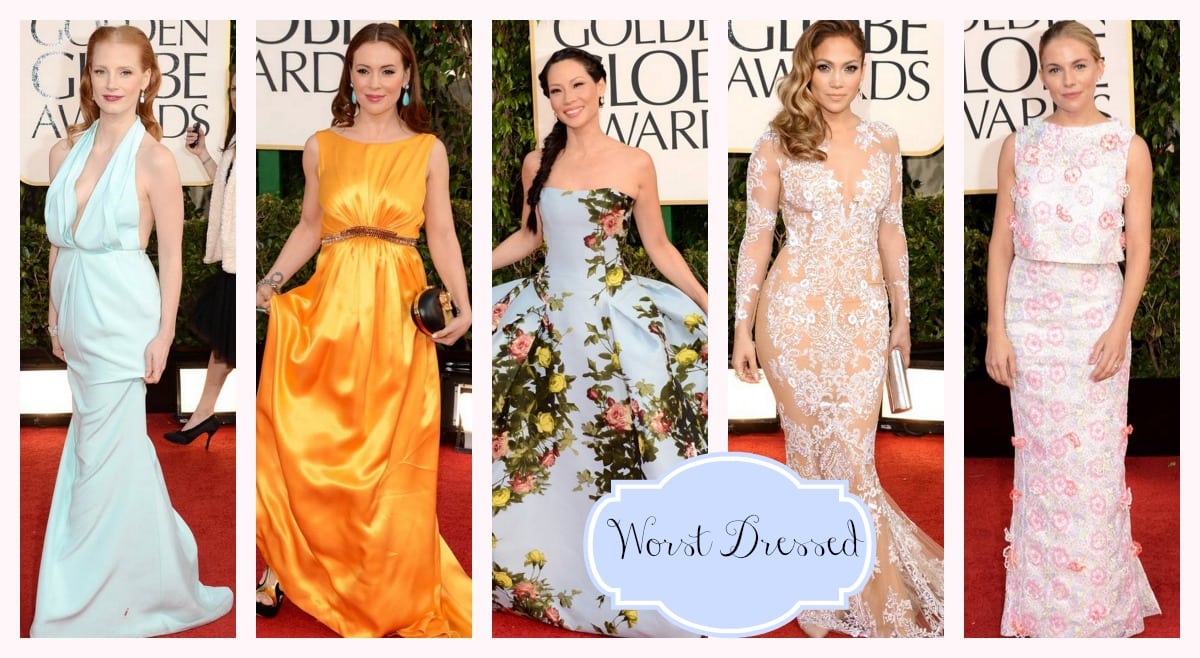 The Best-Dressed, on the other hand, were glorious.  Sophia Vergara is a stunning human being.  She looked like she was poured in to her Michael Cinco gown.  And yet it appeared to effortless.  The color didn't 'pop' but she did. I know not everyone loved Halle Berry's choice for the night… in fact, I see she has made more than one 'Worst Dressed list', but I loved it.  I thought is was bold and beautiful.  Kate Hudson in Alexander McQueen, said she dressed for comfort.  And maybe style?  Or to completely 'wow' all of us?  Whatever the reason, it worked.And finally, Taylor Swift.  Isn't she lovely?  The young starlet looked Hollywood glamorous in a backless plum Donna Karan Atelier gown.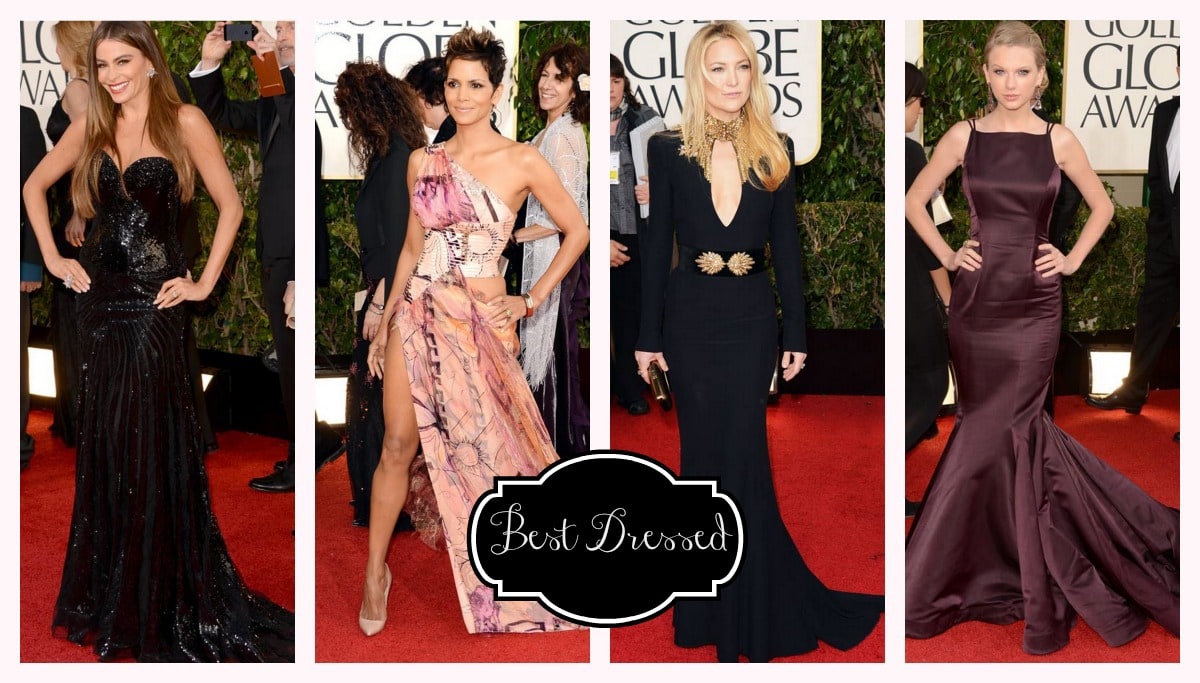 All in all… I couldn't look away.  From the Best to the Worst, from the laughs to the confusion, I can't wait for Awards season to continue.  If I could choose any of these dresses to wear…. I'm not sure I would know where to begin, but I have to admit, if I could pull off Katharine McPhee's I would try 🙂
And for fun… here is that moment of Tina Fey and Amy Poehler I mentioned.  It is shortly after Lena Dunham's acceptance speech (she beat both of them) during which she mentions being influenced by both Poehler and Fey in MIDDLE SCHOOL. Priceless.

Happy Awards Season, Friends….
Photos courtesy of Getty Images