Let me set the stage for you….the lights are dim, you can smell gingerbread (as if I am baking – though I am not) and you hear:
"Juuuuuust hear those sleigh bells jingling….ring-ting-tingling too….." If this was my childhood, the voices would be those of The Carpenters – and it would be on a record.  Instead it it satellite radio and the voices change from Natalie Cole to Beyonce to Carrie Underwood.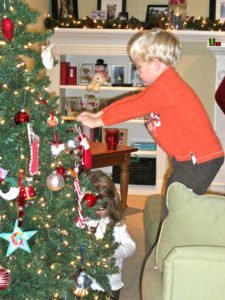 We are decorating for Christmas.  I love all things to do with this holiday.  It is a sensory experience – I love the sight of holiday lights, the smells of gingerbread, cinnamon and evergreen, the music and laughter that highlights my memories and whips me swiftly down memory lane.  It is those same memories that provide the soundtrack path for the moments I want to create with my family.
I have come full circle.  I used to tuck under my dad's arm on Christmas Eve while he read Twas the Night Before Christmas.  I now watch my husband intone the deep, 'Ho, Ho, Ho' that accompanies the story.  I used to wake at 4am, only to stare mournfully at the clock, counting as the minutes ticked by to the time I was allowed to wake my parents – 7am. Now, I am jostled awake (at 6am, mind you) by the small people as the Christmas twinkle in their eyes lights my darkened room.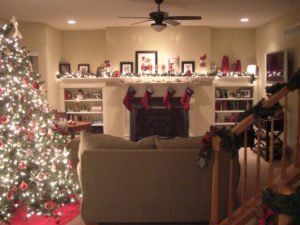 And I love it.
I love my home at Christmas time.  I love the joy of counting down the days.  I love that we have committed to a Christmas Change this year – spending less and giving more.  I love knowing that my kids, like my brother and I, will fight over who gets to put Baby Jesus in the Manger on Christmas Morning.
I love that I will lock eyes with my husband at the end of the day – knowing we have given our children the most amazing Christmas gifts – ones that they will remember long after the wrapping paper is tossed – moments, memories and magic.