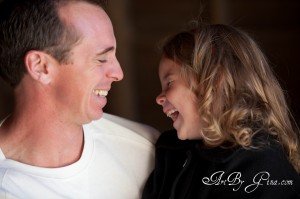 When is a little girl old enough to enter a public restroom by herself?
That's the question I was posed this week. The women's restroom is uncharted territory for this Daddy (rightfully so). It reminds me of Noah's Ark.
Users enter in pairs. They're gone for what seems to be 40 days and 40 nights (what takes so long?). And, when they exit, tears of laughter or tears of some sob story that I don't usually understand are raining down their freshly powdered faces. I'll take my chances in a flooded men's room.
So, on Monday night, my 5-year old daughter, 3-year old son, and I went to Home Depot. We're there about 8 seconds when both of them need to use the potty. Cooper comes with me, and Delaney says "Daddy, can I use the girl's room by myself?"
What? Really? She's 5. Isn't there an age requirement? You know something, she said "girl's room" and I said "potty." Maybe she is old enough, and I'm the one that needs to grow up some (that's true, but a story for another Daddy Diary).
"Okay, honey, but don't read the walls, stare straight ahead, and don't look down." Oh, she's going into a women's room, not a men's room. "Just make sure you wipe the seat (do you women do that too?and every time I guess?, huh, wild).
Cooper and I leave the restroom in about 3 minutes, and Delaney is no where to be found. Oh geesh, what have I done? She was too little to go in there by herself. She must have fallen in or worse, she's listening to some story that a woman is telling from watching Oprah. Oh, no, I'm a terrible Dad.
The Women's Room Door opens. "Hey Dad."
"Are you okay?" I ask.
And, I want to ask all of these questions that I've always wanted answers to. What was it like? Are there groups of women in there telling stories? Are there really no urinals? Are the walls all freshly painted? Is there no graffiti? Does it smell like a rose garden? I start to ask…and you know what she says.
"Yes, Dad, I'm fine. I just had to use the girl's room. Where did you think I was going? On a boat ride to the Zoo?
Ah, kid's imaginations are a wonderful thing. She read my mind.