There are exactly thirty-three days left until Christmas….
That is thirty-three days to bake, shop, and decorate.
Thirty-three days left to create memories and even less time to capture some of those beautiful memories and turn them into better-than-chocolate gifts.
Every year, I ask my parents and my in-laws, "What do you want for Christmas?" and while they always give me a few small ideas – I know what they are REALLY thinking – anything memorable that focuses on their grandchildren.  They want pictures and calendars, ornaments and hand-made gifts.
The gifts that always get the most 'oooohhhs' and 'aaahhhhs' are the most creative.
But, maybe – just maybe, you don't consider yourself creative? Or maybe you are looking for additional inspiration.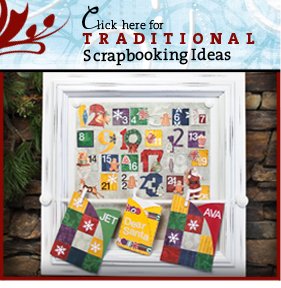 I have found the Creative Memories Project Center can snap me out of a Creative Brain Freeze in absolutely no time at all.  There are ideas for holiday cards, ornaments, and wonderful, memorable gifts.  You can even find suggestions for ways to spice up holiday parties with snazzy place cards.
There are two separate design teams at Creative Memories – one working on Traditional Project ideas and the other focuses on Digital creativity.
Every single day there is a new idea on the Creative Memories site. And what I love most?  You don't have to be a professional at scrap booking to find inspiration.  (Not to mention – there is an entire section dedicated to down-loadable 'freebies' that can easily motivate you to create the most memorable gift yet!)
And even better – enter to win a Creative Memories Prize Pack!
This post is a part of the Creative Memories–Blissful Media campaign. This post is sponsored but as always my opinions are not.