Sweet.  Sassy. Spunky.  Smart.  Silly.
Funny.  Fabulous.  Fantastic. Fickle. Going on Fifteen.
Delaney is all of this and more.  She is one of the youngest in her grade.  She is a kind soul and prone to checking with her friends before she makes a decision.  She feels deeply.  She is emotional and sometimes has a hard time sitting still. She is good at soccer, excellent at softball so-so at math and has the voice of an angel. But don't ask her to sing, she hates the spotlight. She is quickly learning that working hard can mean beautiful results.
And I wouldn't change a single thing about her.
In this picture, she was deliberately posing for me.  This is 'her' simply having fun.  She is not worried if she 'looks ok', 'sounds ok', is dressed 'just right' or if anyone else is watching.  She was just being Delaney in all her beautiful, freckled, messy-haired (and apparently gansta'-posing) glory.
As she gets older and starts to worry about all of the external things that attempt to tear away from our small people's desire to stay true to their heart – I will pull this out to remind her of her 'silly', of her 'sassy', of her 'Delaney'.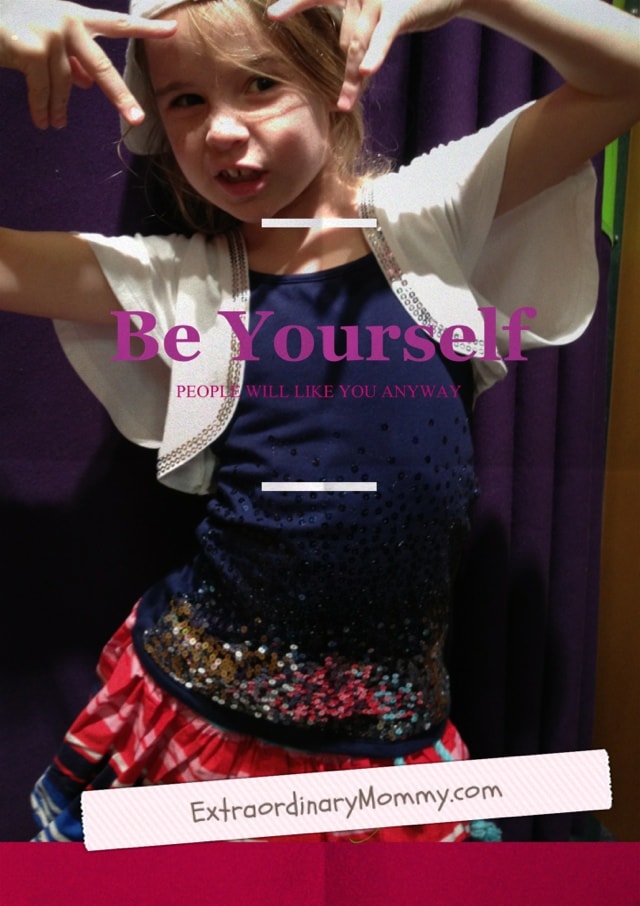 I believe "Be Yourself" Should Be the Motto My Kids Live…
and that means it should be the one I LIVE as an example.
What do you believe?