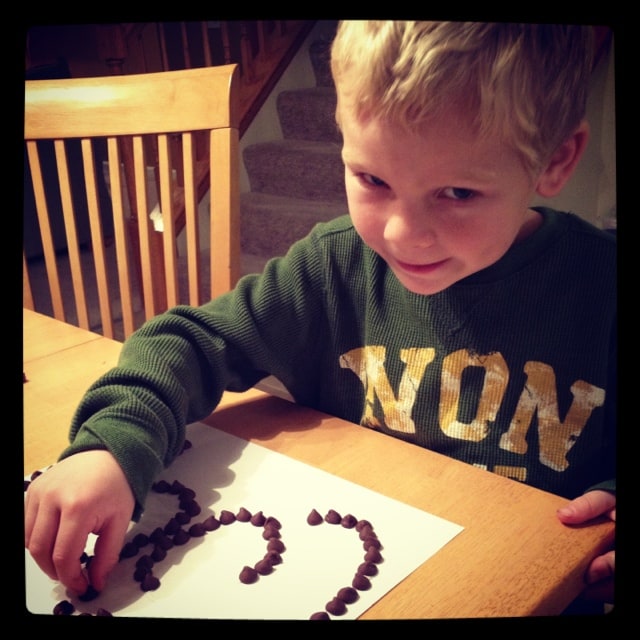 It may be hard to believe based on the sneaky little smile on my small dude's face…. but this little guy actually stayed home from school today.  It was a headache.  Yes, just a headache.  Normally, I might have dismissed it, but the first words out of his little mouth when I woke him for school were, "Oh, Mommy…. my head hurts so badly!"  So, I knew he didn't have time to form a fib.  And he held his head the entire time he was getting ready for school.
Did I mention headaches make me nervous?  So, home and snuggles for the small dude.  Oh…. and a FOUR HOUR nap in the middle of the day.  At the very least, he must have been behind in sleep, yes?
So…. he missed his 99th day of school, but he will be present and accounted for on his 100th day.  And he will have his 100 Day Project in hand.  We debated: Cheerios?  (Nah… everyone will do that) Peanuts? (No can do: allergies) Marshmallows? (Big sister did it last year) Collect baseball cards? (Not edgy enough – they'd just be in a stack because good heavens, Smith boys don't put tape on them!)
We finally – thanks to Delaney's brilliant thinking, settled on making the small dude's name out of 100 chocolate chips.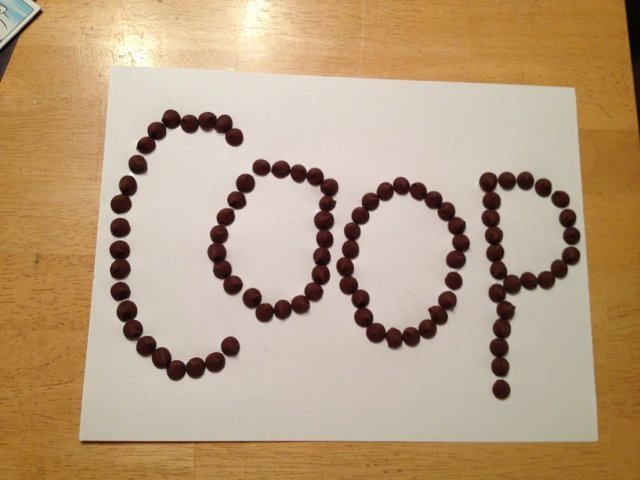 Now…. we could have done his full name: Cooper… if we wanted to use a) a bigger piece of paper or b) make his name smaller.  Coop wasn't having any of it.  He counted the chips, chose the paper and put his name on it.  I negotiated a little help with the glue because I didn't want chocolate chips glued to my kitchen table.
I'm fun, but not THAT fun.
Are you doing any 100 Day Projects?  I would love to see them – and I know my small people would too.  Share the links in comments!