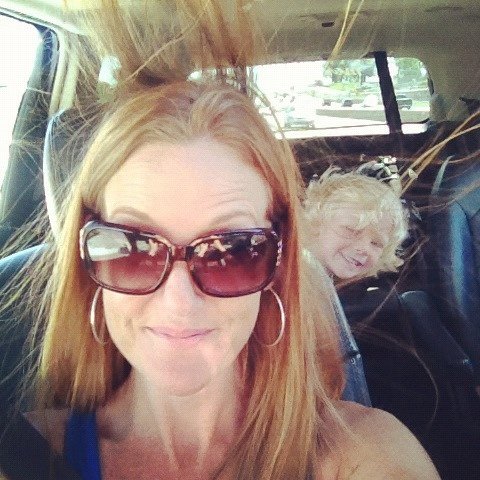 Before small people, I never considered myself a silly or goofy person.  I don't think I was too serious or intense, I just wasn't prone to making faces, to taking pictures of myself making said faces, or with my hair flying out of a car window.
And yet, here I am.
It is amazing how my barometer for entertainment shifted when I was given the opportunity to illicit laughs from those little-bitty people.  I actually remember the moment it happened: Delaney was about 9 months old – her giggle infectious.  I wanted to make her laugh.  I needed to make her laugh.  Her smile, the sound of her happiness, filled me in a way I never imagined.
We had stopped to get gas and I found myself running around the outside of the car playing peek-a-boo with her while she sat in her car-seat inside.  Every time I reappeared, I was rewarded with a belly laugh.  The sillier my facial expressions, the louder my 'boo!', the bigger the giggle.
The laughter was worth every strange look, every sidelong glance, every curious stare I received from other patrons getting gas that day.  It may seem bizarre, but that was my 'moment'…. the day I realized I do have inner silly.
I can let go. I can laugh and be goofy.
Even better: I can laugh at myself.
This realization, I think, makes me a better parent.  Kids love to laugh.  And having a mom who will lighten the mood, who will giggle with them, who will START the play?  It keeps our home light and beautiful.  And the underlying lesson, one I didn't learn as a child (one that I actually learned from my husband) but I so hope to pass on to my small people, is that it is important to be able to laugh at yourself – it is crucial that you know when NOT to take yourself too seriously.
I believe laughter, silliness and play are the center of family.
What do you believe?
5 Ways To Embrace The Fun in Family
1) Declare a Messy Day – Let the kids know you can relax too.  Don't follow along behind them cleaning up after everything they do.  In fact, add to the mess yourself.  Leave the couch pillows on the floor, let the dishes stay in the sink and even let them skip making their beds – JUST for today.
2) Play charades – This is a sure way to get in touch with your silly and goofy. When you have to act out your favorite animal, that movie you just saw as a family or the sport you hate the most, you can't help but embrace all-things-laughter.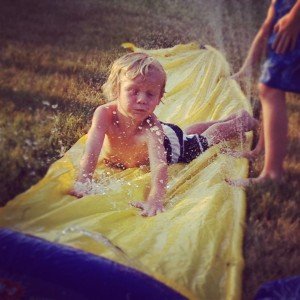 3) Take it Outside – Not only are you going to head outside, but you are going to let the kids decide the game plan.  Will you play tag? Draw with chalk?  Tackle in the grass? Have a picnic?  The only rule: no time online – you can only use your phone for snapping pictures!
4) Everything is Fun with Water – put on the clothes you don't care anything about and have a water fight!  Water balloons?  A Slip n' Slide? Or maybe just the hose.  As long as everyone participates, you are guaranteed to laugh the entire time. (there will be ALL KINDS of fodder for bad hair pictures after this!)
5) Make it a 'Yes!' Day – Want an ENTIRE day of fun and laughter?  Declare the entire day a 'yes' day.  This means everyone says 'yes' to all suggestions.  Want breakfast for dinner? Yes.  Want to dance in the rain? Yes.  Want to make a family video of 'Call Me Maybe' – You bet!  Get those ideas flowing!
Have other laughter-inducing suggestions?  I would love to hear them!