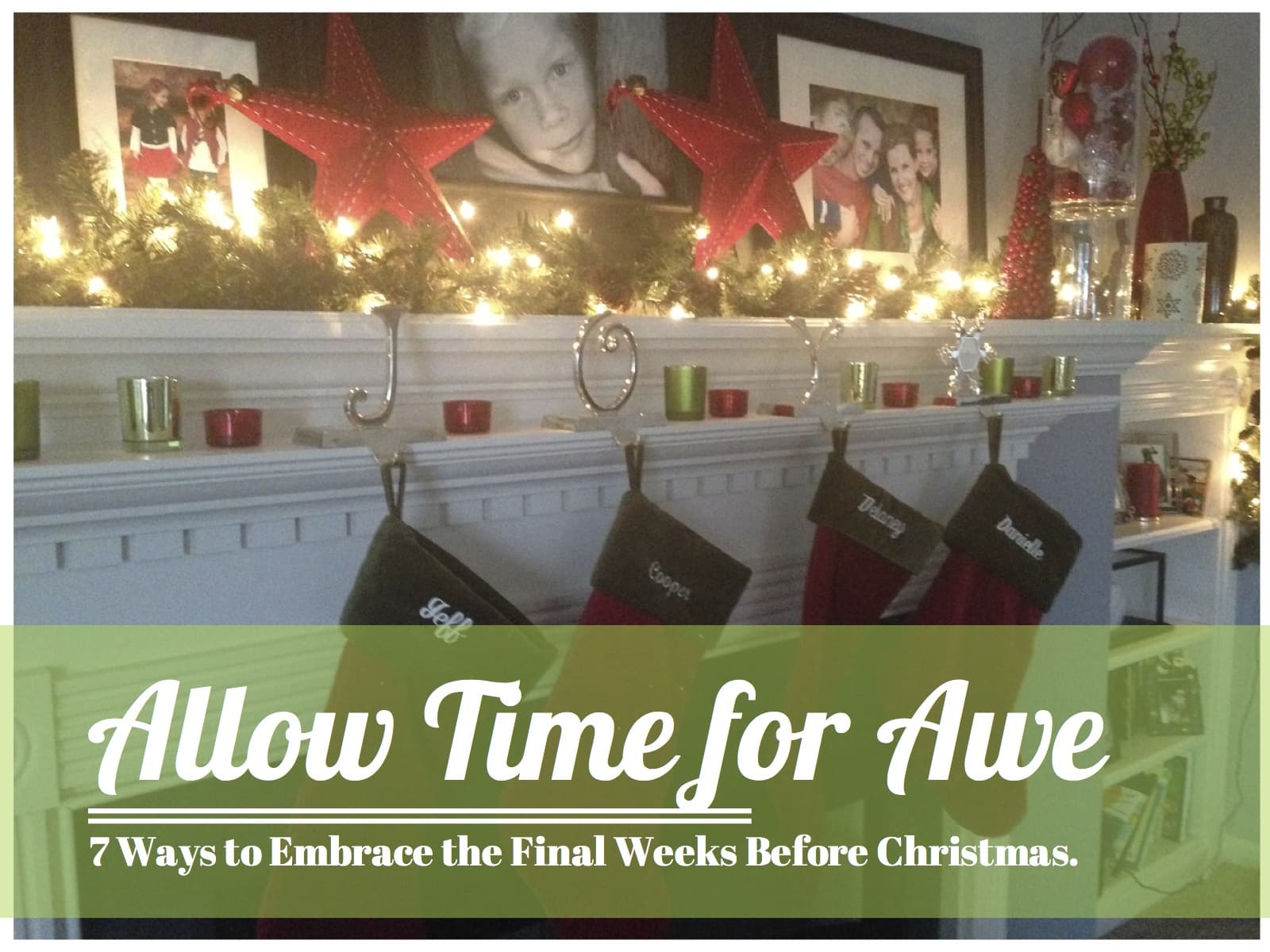 Fifteen days.
360 hours.
That's how much time there is between now and Christmas.
I can tell you right now, RIGHT NOW, that isn't enough time to do everything I had in my head that I wanted to do – present buying and wrapping, baking, mailing, online ordering, more decorating, card addressing….oh and everything life, family and work.
*sigh*
Not if I would like to be sane on Christmas morning.
Not if I want to enjoy any portion of this holiday season.
And not if I want to experience any fraction of the awe I see my children experience each and every day.  They count down with glee….another day closer to the 24th and 25h. I've found my chest tightening every time they announce another day gone.
So, I'm saying no.
I'm embracing enough.
I'm allowing time for awe.
If I say these things to myself enough times throughout the day, it will make it so, correct?
Here's how I'm really doing it:
Make a List, Check it Twice – Since there isn't a ton of time left in this holiday season, but admittedly there is a lot left to do, I'm prioritizing. I suggest you do the same.  Santa is doing it.  He knows who is at the top of his list. Your small people are doing it – they know what is number one. It is time you do it too.  If you could only do THREE more things between now and the 25th, what would they be? Make a gingerbread house? Order the annual family calendar online? Go holiday caroling? Sit by the fire and snuggle with your family? Make your list in order and put those items down in pen so you know they will get done. Add the 'other' things you want to do in around. If you get to them, bonus!
Ask for help – I know I'm not the only one who can shop for Christmas dinner, grab a gift for my child's teacher, wrap presents or clean the house for visiting family and you aren't either. You know this, right? Ask your significant other, your friends, and your kids to help out! I bet your small people would LOVE to learn how to wrap gifts – and their 'touch' around the holidays may make things less than perfect, but it will make it memorable. This is a good thing.
Let it go – This is a hard one, I know. But I've had to realize it simply isn't possible to be everywhere, to be everything to everyone. You didn't get the Advent Calendar together (I didn't either) and it is OK. You wanted to put the Christmas lights up and then it snowed. And it snowed again? Or you just ran out of time. It doesn't make you any less festive. It is ok. You were asked to volunteer for your child's Christmas party and you just.don't.have.the.time… IT IS OK – let it go.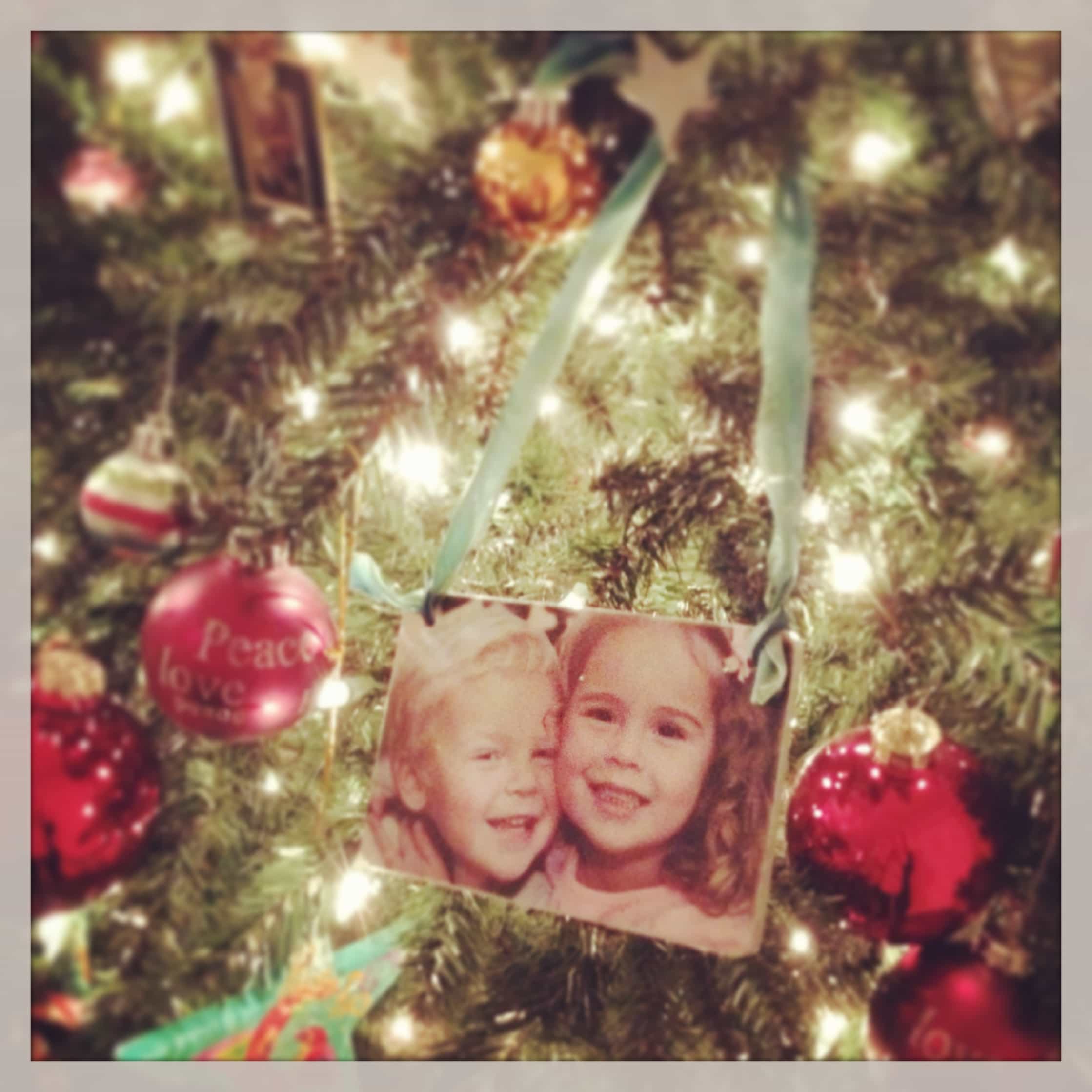 Give good – There are few things that feel more centering, more spirited, more lovely this time of year than finding a way to give. This season is FULL of getting, of asking for, of being pulled in so many directions, it does the heart GOOD to dedicate energy towards good. Donate toys, adopt a family, sponsor a child, pay off a layaway, offer to watch your friend's children so she can do last minute shopping, ask someone in your family what you can do to help them…. sometimes the gift of time is the biggest treasure.
Give In – This is similar to 'let it go', but, by this, I mean – I take the easy route: I buy the appetizer or dessert I need to take to the holiday party.  Or I offer to bring the juice boxes to my child's school event instead of making the craft. Participating doesn't mean dedicating hours of your time – your presence alone is valuable.
Memory Lane – To put myself in the spirit of this season, I pull out some old pictures or reminisce over special ornaments that hold cherished memories. One of the reasons this time of year IS special is that it is steeped in family, in love, in traditions and the opportunity to create new memories.  Take the time to remember why you work so hard to enjoy this time of year.
Allow time for Awe – I often spend so much time trying to create the magic, I forget to watch it happen. This year, I'm slowing down, listening to the music, looking at the lights, watching the movies, making hot chocolate, talking to our elf (YES, I LOVE OUR ELF… I'M WRITING ABOUT THAT NEXT!), and allowing myself to experience the awe that this time of year can create.
There are only 15 more days until Christmas.
Really.
There are only 15 more days until Christmas.…
And then it's gone. Until next year.