This picture right here was my tipping point.  Right before I snapped this shot I told Delaney, I wasn't going to work AT ALL that day – no phone, no computer – just us.  And this was her reaction.  She was, in a word, giddy.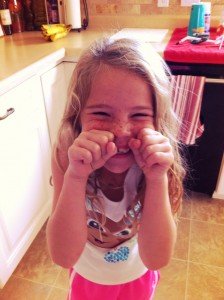 Up until that moment, I truly didn't realize she was registering every single second I was spending engrossed in my work.  And that 'engrossed in my work' to her, meant absent.  Sure, she understands.  Sort of.  But it doesn't mean she wouldn't prefer that I'm 100% engrossed in her.
On this day, I had just come back from being out of town.  She was glued to my side and desperate for my full attention.  A lot has changed since then.  At the time, I was concerned I might miss something – an opportunity, a project – if I wasn't fully attentive to my work.
I now realize my family deserves that same attention.
I don't want to miss something beautiful right in front of me.
I believe sometimes you need to unplug.  
And that is just what I'm doing right now…gone with my family for this week…. no cell phones, no Internet.
Just us and a lot of that face up there.
I won't miss a thing.
Have a beautiful week.