My small dude is sick.  His temperature soared to 103 last night (and that was under his arm).
And it was after Motrin.
I struggled with that 'helpless mom' feeling….should I alternate Motrin and Tylenol?…..does this have anything to do with bonking heads with another little boy at the park?  A lukewarm compress?  A cool bath? Should I worry that he is hallucinating a little? (he asked how long we had been at the doctor's office when he was lying on me on the couch)
He's better now, but that helpless feeling is the worst.
I imagine that is the same kind of helplessness that wraps itself around a mom who can't feed her child. Since there are 17 million kids right here in the U.S. who are hungry….there are also millions of moms haunted by that very emotion.
I looked in Cooper's eyes and saw fever.  I can't imagine seeing hunger.
Once you learn something horrible, you cant 'un-learn' it.  Now that I know one in four kids doesn't know what their next meal might be…or even IF there is a next meal….I am compelled to do something about it.
For the past 6 weeks, I've done videos and written posts about the Child Hunger Ends Here campaign. Because I want to make a difference.  Because I think YOU should know 1) that it is a problem and 2) that you can help.
Child Hunger Ends Here is supported by the Con Agra Foods Foundation and directly benefits Feeding America.
The Child Hunger Ends Here campaign asks you to do a few very simple things (to clarify – I think they are simple and you don't need to do all of them to make a difference)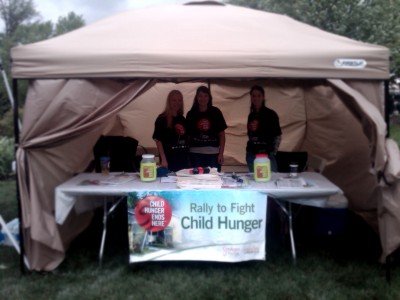 Fight Child Hunger
Turn an event you are already hosting/joining into a Neighborhood Rally to combat child hunger. (So, if you are ALREADY having a garage sale, a bake sale, a  donate a portion of the proceeds – even 10% would be amazing)
Register your rally online – you will get a rally kit (a banner, some posters etc.) – and any money donated will stay in your local community.
Tell someone, anyone that child hunger is a problem.  Tell them it effects 17 million kids – kids who are trying to learn, trying to grow.
Donate One Dollar. Just One.  When you give One Dollar – you give SEVEN meals – one child can have lunch every day for an entire week because of YOU.
Buy any of these Con Agra Brands (Peter Pan, Banquet, Healthy Choice, Manwich, Marie Callendars, Orville Redenbacher, Chef Boyardee) before May 31st and One meal will be donated to Feeding America
I committed to doing a local rally.  In fact, I'm doing two of them.  The first will be this weekend.  (the next will be June 19-20  – a Food Drive at Assumption Church in O'Fallon)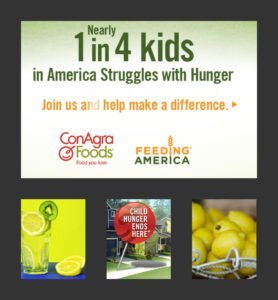 My Neighborhood Rally
What:  A Lemonade Stand
When:  This Saturday, May 22nd.  9am-12pm
Where: The Turtle Creek Subdivision in O'Fallon, MO – between the 8-9th hole of the Golf Course
Why a Lemonade Stand:  1) It is important for my children to be involved – a Lemonade stand is easy – even for small people and 2) I want  you to know that your rally doesn't have to be a large scale event bringing in thousands of dollars to make a difference.
I know most of you can't stop by to see us….but consider spreading the word, would ya?