In Southern California, it doesn't get that cold.  But he always wore a coat.  And his hair was rarely combed.
He carried a reused brown lunch bag with him, crumpled from being gripped by too-tight hands. There wasn't ever much in that bag.  Half a sandwich, maybe. But he never, ever complained.
When you are in third grade, you notice the lack of showering, and maybe that he kept his coat wrapped tightly around him, but it isn't until you are older that you realize Thomas* was hungry. Really hungry.
I wish I'd left an apple at his desk every day.  I wish I'd stuffed the outer pockets of his backpack with grapes and granola bars and whatever else I had in my lunchbox.  You know I probably complained…wishing I had cookies instead.
I bet Thomas* would have been grateful for any of it.
I may not have been able to make a difference then.  But I can now.
Thomas* and millions, that's right, MILLIONS of children living in the neighborhoods around us in the United States live with food insecurity daily.  What is 'food insecurity' you ask?  It means they are hungry or in danger of starving.  Many don't know where their next meal is coming from – or if it is coming at all.
Almost 17 million kids in this very country of ours are at risk for hunger.
That means ONE CHILD IN FOUR IS HUNGRY.**
Maybe a kid on your street?  One sitting next to your child in class? A little girl you see at the park?
Hungry.  For me and many of you…..hunger is a cue to walk to the kitchen or pantry and get something to eat.  An apple, a cookie, last night's leftovers.  For these kids that is not an option.
And that is NOT OK.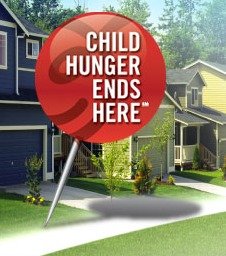 So, from being disgusted by this issue to being committed to taking action – here I go.
I am raising my right hand in the universal sign for 'stop' and joining Con Agra Foods to say Childhood Hunger Ends Here.
So, what does that mean?
It means Con Agra Foods is reaching out – via a few people like me as well as some of their brands to encourage people to turn their neighborhood events (something you are already doing – a food drive, a rummage sale, a lemonade stand) into a Childhood Hunger Ends Here Rally by donating a portion of the proceeds from that event to Feeding America.
Can you get involved?  You bet – and easily too.  Head to Childhood Hunger Ends Here, register your local rally, and Con Agra Foods will send you a 'rally kit' to make your event a success.  After the event, you simply jump back online to make your donation.
If you are feeling especially passionate about this – you can organize your own event – plan a neighborhood block party to celebrate Spring and ask your neighbors to donate a can of food, have a dinner party and do the same, rally the members of your church, get your kids involved.
The money you raise and the food you collect will stay in your own community.
You must make your donation online after your rally to keep your donations local.
Missouri – 20% of your kids are hungry
Texas 22% of your kids need your help
North Caroline – 19.4% don't get what they need to learn in school.
Your state, your community, your kids.  Help them.
In addition to the rallies, Con Agra Foods has committed to donating one dollar ($1) for every single purchase of a participating brand, from March until May, up to $2.5 million.  Each dollar donated actually provides SEVEN meals. What brands are participating?
Healthy Choice, Manwich, Orville Redenbacher, Marie Callendar's, Peter Pan Peanut Butter, Chef Boyardee and Banquet.
Con Agra Foods relationship with Feeding America is more than 15 years in the making.
Marie Callendar's is already donating 18 truckloads of food to Feeding America – that's 230,000 meals – WOW!
Peter Pan Peanut Butter recently made a donation that will provide more than 1 MILLION meals  to Feeding America.
While this particular initiative lasts through May, Con Agra's relationship with Feeding America has already resulted in donations of more than $27 million.
Con Agra Foods has committed to $10 million over the next 5 years.
Get to know Feeding America
Feeding America provides food for low income families – providing the nourishment they need to thrive together.
37 million – that's how many people Feeding America feeds each year.  Included in that number – 14 million kids and three million seniors.
There are more than 200 food banks within Feeding America.  Those food banks support 63 thousand agencies fighting this hunger epidemic
If you are planning a neighborhood rally – please share with us here (naturally, in addition, to registering in the Childhood Hunger Ends Here site)
Follow this campaign on Facebook or on Twitter for the latest information and more ways you can help.
*Name has been changed to protect anonymity
** Source: USDA Economic Research Service
ExtraordinaryMommy.com was chosen to participate in the Childhood Hunger Ends Here Campaign.  We are receiving a stipend for participation, though opinions expressed in related posts are ours and ours alone and can not be influenced in any way.