Like so many people in this current economy – you may not have much money lying around that you can donate to even the worthiest of causes….but I bet you have ONE DOLLAR.
You know I am moved by causes that specifically effect children – they are our FUTURE for heaven's sake!  When I learned that there are nearly 17 million kids in our country who are hungry – I knew I had to do something.
I sharpened my vocal cords and my typing fingers and have set out to make sure you know ALL ABOUT Child Hunger Ends Here – a campaign designed to, obviously, eliminate hunger in kids.  The campaign has been put together by the Con Agra Foods Foundation and benefits Feeding America.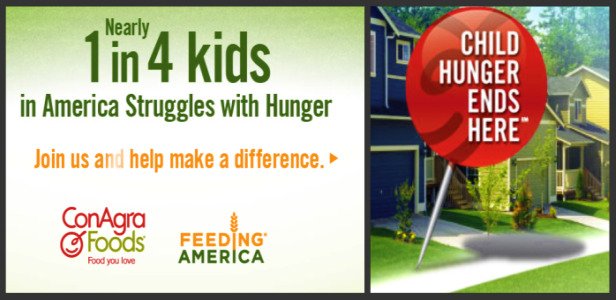 You know we aren't talking solely about children who are homeless, right?  If one in four kids is hungry, it is a guarantee that there are kids sitting in class with your kids right now who don't get enough to eat.
That is miserable.  That is wrong.
So think about the SMALL things you could do.
You could donate one dollar to Feeding America through Child Hunger Ends Here.  When donating through the site – the money you give STAYS in your area.
You could host a neighborhood rally – turn an event you are already having – a bake sale, a garage sale, a food drive into an event that helps Child Hunger Ends Here (you could choose to donate even a portion of the proceeds). Register your rally on the site, you'll get a rally kit to help you prepare AND the money you donate stays in your community.
Visit the Celebrity Auction benefitting CHEH for the chance to bid on some great stuff – Dana Delany's Christian Dior Dress, clothing from David Arquette and Courtney Cox Arquette, an Olypmic Jacket from Gold Medalist Evan Lysacek – and so much more!  You have until May 11th to bid.
You could join in with local events like Lemonade Stand Saturdays – so easy, and such a perfect way to get your kids involved.
Visit this post to see dozens of rally suggestions from commenters
You could purchase participating Con Agra Brands(Peter Pan, Banquet, Healthy Choice, Marie Callendars, Manwich, Chef Boyardee , Orville Redenbacher)- for every sale, one meal is donated
If you are in St. Louis – you can stop by the Child Hunger Ends Here booth at this Sunday's Earth Day Festival in Forest Park.
Visit the CHEH Facebook Fan Page for updates
Or….how about this….simply spread the word.
I have to tell you – a master at spreading the word is my new friend, Nancy Rice.  Nancy is here in the St. Louis area – she has been recruiting ambassadors (62 and counting!!) to work on this campaign….let me share a few of the highlights….
Nancy has secured a proclamation with the city of St. Louis, where Mayor Slay will designate May 1 as Child Hunger Ends Here Day in St. Louis.
A booth will be on display at St. Louis' Earth Day Festival (on a good weekend, this event draws 25K people)

"Hitting for Hunger'

is a volleyball tournament that will be held at Demos Sports Bar in Belleville on May 23rd

A bowling Tournament is being planned for June with a portion of the proceeds going to CHEH
A local college graduate returning to St. Louis is planning to sell her apartment furniture and donate the money she makes
It is simple, right?