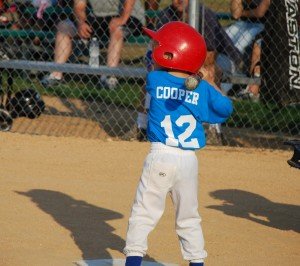 Let's be clear.  My small people have more athletic ability in their pinkie toes than I do in my entire body.
My brief, but traumatic, athletic career included a broken knee cap, a broken wrist, a sprained knee, a sprained wrist, three broken fingers, a concussion and a knocked out front tooth. All by the time I was nine.  It is, therefore, no surprise that I still duck when I see a ball coming my way AND my five year old son is apt to correct my form.
And by correct, I mean roll his eyes and then approach me slowly to actually SHOW me how it is supposed to be done.  And this includes all sports.  I have been coached on throwing a baseball, kicking a soccer ball, and RUNNING.  I am a sad, sad specimen of an athletic wannabe mom.
So the small people who excel at all-things-ball-bat-and-running related?  I, at times, have feared their DNA does not include ANYTHING from me.
Well, I did fear that. But not anymore.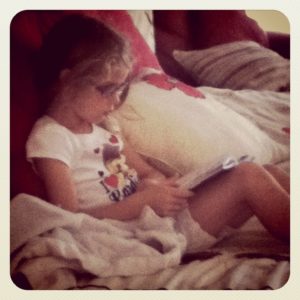 I am raising a READER.  And you know what?  Excuse me while I yell this from the top of my house: She gets that from me.
My small girl started to read in Kindergarten. Last year, in first grade, she developed an aptitude for it and began to ask for books. But, at the time, she still preferred to have me read TO her.  But now…. that has changed.  Books are first on her list of, 'may I please have'….AND she now begs to read TO ME.
And even better?  This picture was taken today.  She curled up on my bed with a book of her choosing and she read peacefully.  She is on page 220 of a chapter book she started on Friday.  **beams with pride**
At her age, I LOVED to read.  At bedtime, I used to sneak into the bathroom, faking a tummy ache, just to continue to be lost in one story after another. And now?  Guess who is turning her light back on to read after lights out?
Maybe we do share a little DNA.