I'm the mom who read to her pregnant belly.  So, it should come as no surprise that reading to my actual small people brings me great joy as well. For me books have always been a great escape.  I can get lost in the words, in the story, in the art created on each page by yet another brilliant author.
My husband hopes to pass on his love of all-things-sports: baseball specifically. Me?  I want to raise readers.
I think a love of reading is a gift.  It is a journey, an adventure, a full-life expansion of your imagination.
And friends, the joy I felt as first my small girl began to read words aloud – slowly forming sentences….the comprehension dawning on her face like morning sunshine? There is no comparison.  And now, my small dude is experiencing the very same thing.
We read to them.  They read to us.  We read together.
And it is divine.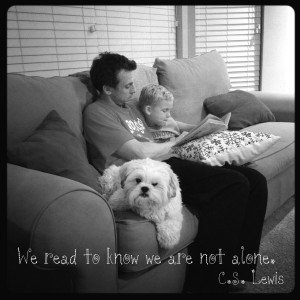 Is it not?
My small girl is now devouring a few chapter books each week.  She comes home from school with stories about BOOKS.  She asks to 'stay up for just a few more minutes to read'.  I am raising a READER.  This is good.
I believe reading to your child and with your child is a gift…. a gift of emotion, of self, of love and of future experience.  You are setting them up to learn, to grow and believe in something bigger than themselves.
What a treasure!
Do you have a favorite book to read with your small people?  When mine were itty-bitty, I loved, "Goodnight, Moon", but "The Velveteen Rabbit"  will always be my favorite.