A million years ago someone asked me what I wanted to be when I grew up. When I finally realized I was never going to be a Solid Gold Dancer and my love of talking AND listening might actually form itself in to a career, I landed on television anchor and reporter. A few dads from my 7th grade class constructed a 'news' set and our class rotated teams daily delivering news, sports, weather and special reports.
I was hooked.
I was positive I was destined to hold a mic, ask the questions, really get to the heart of the story and then deliver it when the red light came on.
High school. College. Interning at the local ABC affiliate in San Diego. I stayed focused.
The weekend team at KGTV in San Diego adopted me, teaching me the art of storytelling, how to know what questions to ask, how to know when to be quiet and listen and just as importantly how crucial it is to work as part of a team: reporter-photographer.
One of the first stories I ever covered was the opening of Planet Hollywood in San Diego and my first ever interview – even as in intern – was Sheryl Crow. I was both terrified and thrilled.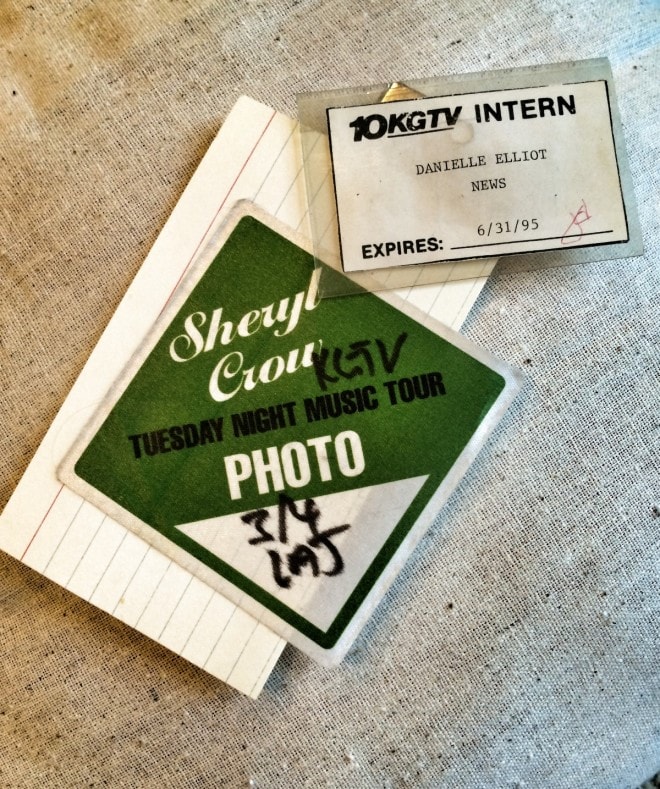 That same KGTV weekend team, specifically one photojournalist, Tim, helped me to create the tape that eventually, eleven months after college graduation, landed me a job at the NBC affiliate in Yuma, Arizona….just two and a half hours southwest of San Diego. In that eleven months I had been told I talked too fast, I looked and sounded too young and my overall 'look' was a 'dime a dozen'.  (that last barb came from someone I knew who had already landed a job in the industry). The News Director who hired me offered me $16,000 a year and told me there would be no negotiating because there was 'a stack of tapes as tall as me of people who wanted the job if I wasn't willing to take it' for that compensation.
I took it and initially had the time of my life sometimes working twelve hours a day.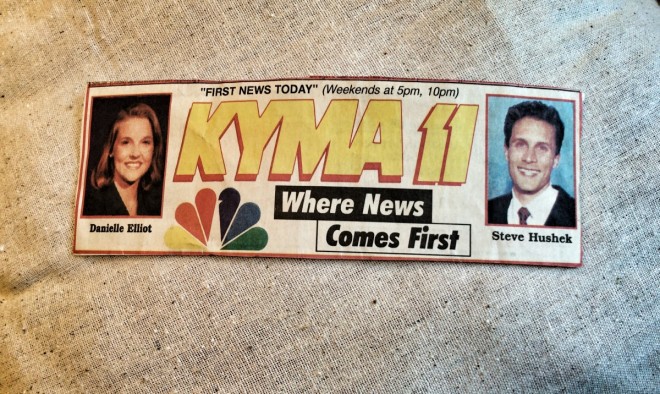 (It is pretty fantastic when your name is spelled wrong in the promo ads that run in the local newspaper)
Yuma is on the border of Mexico and California and is the home to two military bases – the Marine Corp Air Station and the Yuma Proving Ground – an Army Base. I learned more in the two years I lived there than I ever expected. I covered county fairs and elections, illegal and often heart-breaking, deadly immigration issues, military issues, plane crashes and even a hurricane.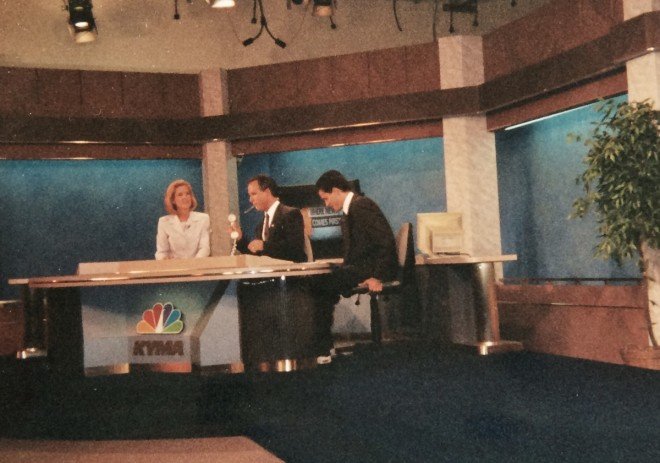 I flew with the Marine Corps in to the base of the Grand Canyon on a CH-46 Sea Knight to deliver toys with Santa Claus to an Indian tribe.
I met Toby Keith at the County Fair before he was Toby Keith the country super star we know now.
I worked with the Make a Wish Foundation to raise money for a little girl dying of leukemia. The family called me the morning she died. I cried with them.
I met Senator John McCain as he came through our station to be interviewed.
I met the crew of the Enola Gay and witnessed the moment THEY saw a Harrier levitate for the first time.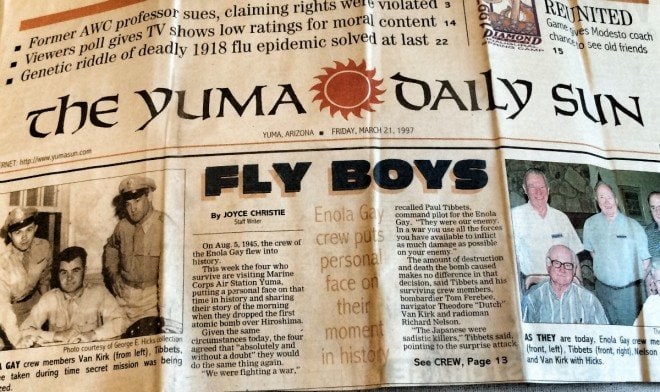 All of these moments added to the AMAZING that was being a reporter. Sharing joy, helping people, contributing to a greater happy, spreading good. But for me there was a darker side to this and it ultimately lead me to make the decision to leave the industry. I decided I didn't have the consititution, the stomach, to knock on doors and ask people to talk about the tragedies that had permeated their lives, that had unlocked their soul- no matter that I had been trained to frame it 'for the good for all'. Sure I could do it. Sure I HAD done it. I interviewed the mother who had held her dying newborn baby after her husband had shaken her. I talked with the families who's loved ones had tried and failed to swim across the border. And I was confident and I had been kind and respectful, that they didn't feel taken advantage of, or that I had overstepped during our talks. But it didn't change how I felt.
And I went on to take another reporting job after Yuma, at the ABC affiliate in Springfield, Missouri. I met my husband there. We anchored the weekend newscasts together – I did news and he did sports. I MC'd parades when the Missouri State Lady Bears joined the NCAA Sweet 16, welcomed Brad Pitt back home for the premiere of Meet Joe Black, did live cooking shows, milked cows (unsuccessfully) on air, rode in Monster Trucks and all-together fell in love with live television. But I also did my share of those heart-breaking interviews I mentioned above when unthinkable murders happened, covered the funeral of Governor Mel Carnahan and never recovered when I was forced to tell golfer Payne Stewart's sister (before they had been notified by the authorities) that he was flying on an unmanned plane.
How, you ask? Payne Stewart was from Springfield, Missouri. Like all newsrooms, ours monitored all the major news stations. Mid-day on October 25, 1999, CNN began to report that they had unconfirmed reports that Payne Stewart was flying on an 'unmanned' flight – meaning no one could contact the plane. Immediately, our Assignment Editor told me to call Bea, Payne's mom (active in the community and founding member of the local League of Women Voters). I refused. I knew 'unmanned' likely meant the passengers on the plane had died and did not want to be the person to tell a mother her son might be, or was dead. I refused to make the call three times. So the Assignment Editor had a 17 year old intern call.
I turned to hear my name and see the intern crying and motioning for me saying, 'they don't know!' over and over again.
I grabbed the phone, only to hear Payne's sister say, 'I don't understand….he said something about Payne and CNN and a plane?" I identified myself and said, "I am so very sorry to be the one to tell you this, but CNN is reporting – that they have unconfirmed reports Payne's flight is flying unmanned over the middle of the United State." She replied, "That's impossible…Payne is on his way to Spain right now….. right, Mom?" And I heard Bea say 'no…."
The next sound she made is one you hear in the movies…..the sound the heart makes when they find out someone they love has died. She mumbled, "I'm sorry, I have to go…."
I whispered, "I'm so very sorry", hung up and cried at my desk.
And I knew. That was my moment. This wasn't the path for me. I could do happy. In fact, I LOVED happy. I loved live. But this was something else altogether.
The hard news gods knew it too. I was one of five people let go later that year within two a two week period: the two main anchors, the main sports guy, the weekend anchor (me), and the weekend sports guy (my soon-to-be husband).
And now this is my path. And there is storytelling. And interviewing. And live TV. And even Red Carpets which I REALLY love. And just video in general. And it is good. And I want to do more of it.
My life lessons through all of this?
It is ok to suddenly take a left on your life path when you thought you had it all figured out. I learned that I love television, especially live television. And I am finally, after all these years, comfortable saying I'm good at it – having learned to slow down when I speak and realized that my 'dime a dozen look' is all I've got. Storytelling fills my soul, most specifically when the stories are uplifting, have a lesson, or can make the world a better place.  I learn something every time I speak to someone new and that is a good thing.
Each step you take prepares you for the path you are on. If I hadn't become a reporter and then an anchor, I wouldn't have developed the early on-camera, video, editing, producing and media training skills that have helped me to evolve in my current career and are STILL helping me to continue to figure out 'who I want to be when I grow up'. I love that I have the opportunity to continue to take left and right turns as I go. I can feel a few turns coming in the future.
Every person I meet is a lesson and some are extraordinary. Some remind me to trust my gut – the first time, while others deepen my faith in the pure goodness of the human soul. I have often been told that one of my flaws is that my expectations of people are simply too high – that I always assume people will treat me as I would treat them and I end up disappointed. But then two people come along and surprise and amaze me so deeply that I have both cried and laughed myself silly in just the past few weeks. And, yes, it does all circle back to my life as a television reporter.
Just more than a year ago, Bridgette Duplantis and Cecelia Mecca were kind enough to invite me to be the keynote speaker at iRetreat just outside of Atlanta. While I was there, I met this kind and brilliant guy by the name of Dan Morris. While we chatted, we talked about my prior life as a reporter and Dan asked what my 'favorite' story had been. I told him interviewing the crew from the Enola Gay. I went on to explain, this group of gentlemen was everything you might imagine, proud, but kind….matter-of-fact men who never for one second questioned their actions in World War II despite the number of times reporters 1/4 their age had asked silly questions. But to stand behind them as they witnessed the technology of the harrier was magnificent. I told Dan the day I interviewed them,  I took a picture with them. It was taken by the Marine Corps Photographer and sent to my TV station. The station refused to give it to me when it arrived (via mail) and again when my contract was up. It is, admittedly, disappointing, that I don't have that memento from that time.
Fast forward to a few weeks ago: Dan and his beautiful business partner, Rachel Martin (who I have not met in person, but who inspires me daily and who I've enjoyed communicating with online) are traveling around the country helping bloggers grow their businesses as professionals with Blogging Concentrated. They were in Phoenix and on their own decided to drive the two and a half hours south to Yuma, to my old station, KYMA. Why, you ask?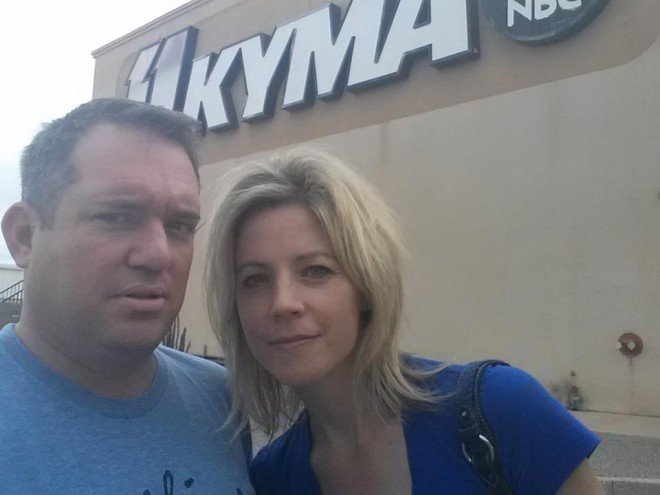 All for my Enola Gay picture.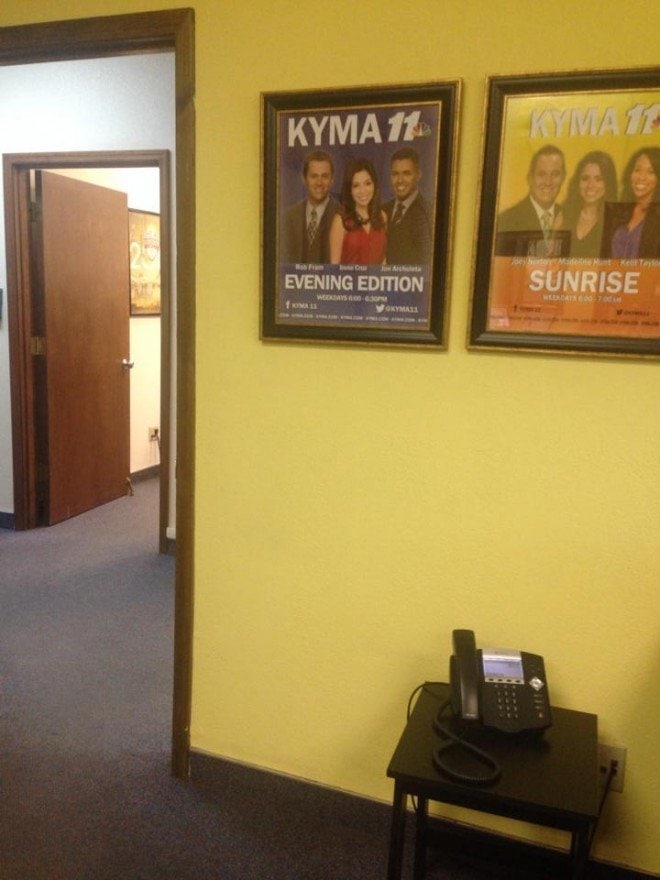 They introduced themselves. They told the story. They asked for the picture. This was the message the two of them sent me on Facebook as a surprise earlier this month. Yes, I cried.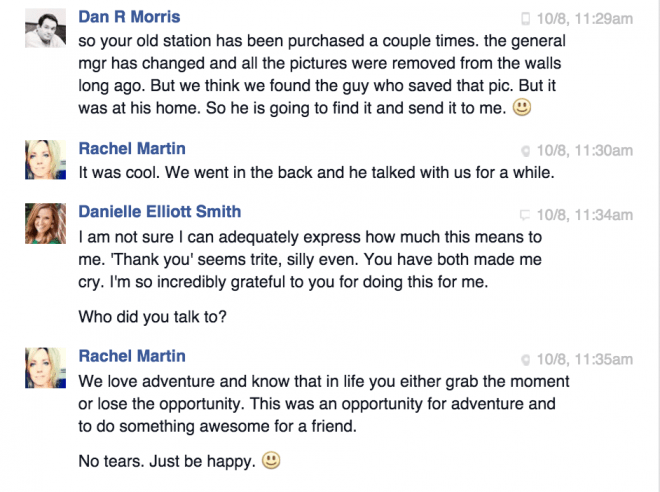 Dan messaged today to tell me he was told the picture is gone. But in so many ways it doesn't matter. I don't have the picture. I DO have the memory of that experience, but even better, I have people….AMAZING people who did something like this just because…people like this who remind me there is so much good, people who remind me why I love storytelling, why I love taking a left turn, changing my path, evolving and keeping my head up.
Cheers to all of this….and to the beauty of an online space that makes it all possible.
And most of all…..thank you to Dan and Rachel for the happy tears, the smiles and reminding me that my left turns have been good ones (so far) and giving me the faith to keep making them.