We 'fell back' this weekend. For me, that is the first sign that the holidays are no longer something long in the future, but rather a reality I need to begin planning for. In fact, they are my FAVORITE thing about this time of year. Anyone who knows me is fully aware of my aversion to the cold, but love of of all things holiday related – the the time with family, the decorations, the gift-giving, the opportunity to teach my small people to be charitable and yes, the food, the food, the food.
One of the things I have always loved MOST about the food is the way it brings everyone together….the sharing of recipes, the traditions, the time spent in the kitchen and absolutely the opportunity to get back to the table and enjoy the meal and each other.
From the time I was a little girl, my mom and I would spend a portion of Thanksgiving and Christmas Day in the kitchen cooking for the rest of the family and I've always loved it. Now I share some of that same time with my small people. And even better? We are using the very same recipes. While I have never considered myself a gourmet chef (my brother – the one with the talent and the job in New York City – he has that title) however, I still love the time in the kitchen and the way everything tastes when we sit down together.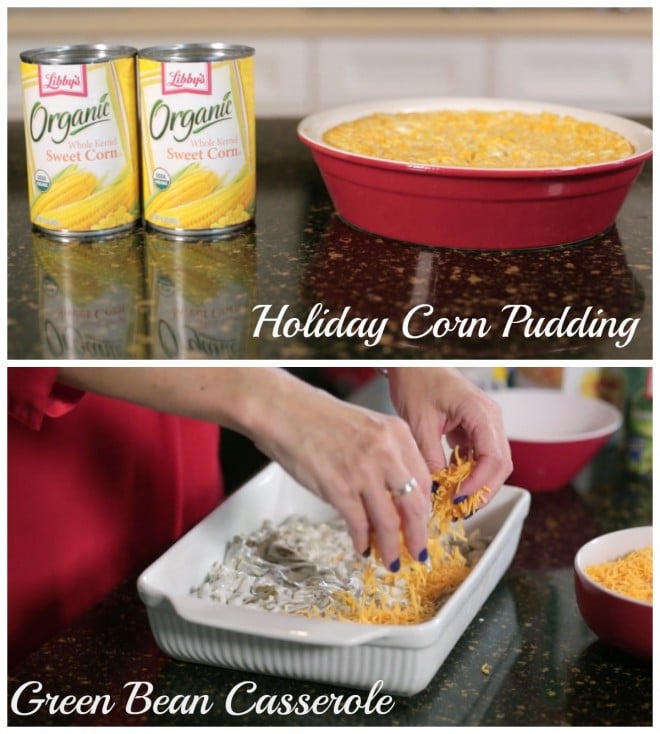 This year, working with Libby's Vegetables, I wanted to share two of our family favorites – not only are they easy to make, but they are the dishes I'm constantly asked to bring to every holiday gathering: Green Bean Casserole and Corn Pudding. In the video, I show you the process (just so you can see the ease!) and then I have also shared the recipes below.
Don't forget to come back and tell me what you think!
[amd-zlrecipe-recipe:11]
Libby's Holiday Green Bean Casserole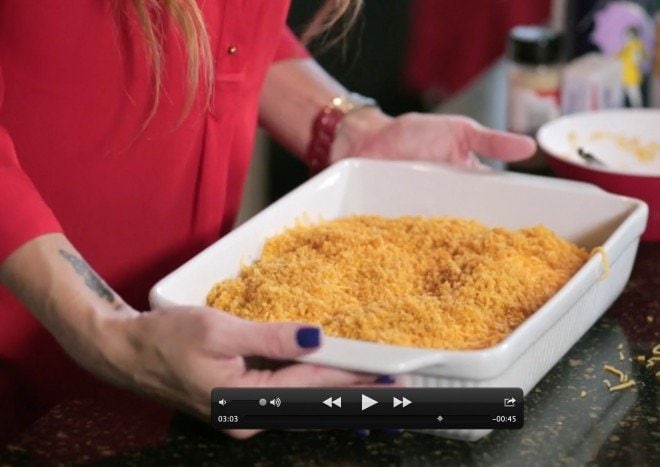 Ingredients
3 tablespoons of melted butter
2 tablespoons of flour
1 teaspoon of salt
1/4 teaspoon of pepper
1 teaspoon of sugar
1/2 teaspoon of grated onion
1 cup of sour cream
2-3 cans of Libby's Green Beans
1/2 pound of grated cheddar cheese
1/2 cup of corn flake crumbs
Instructions
Combine 2 tablespoons of melted butter with 2 tablespoons of flour over low heat. Cook gently. Stir in seasonings and sour cream. Fold in green beans gently. Place green beans mixture in shallow casserole dish. Cover with grated cheddar cheese. Combine remaining melted tablespoon of butter with 1/2 cup of corn flakes. Sprinkle mixture over casserole. Bake for 30 minutes at 350 degrees.
Enjoy!
As I shared….one of the things I love MOST about the holidays is the chance to give and teach my small people to do the same. I'm thrilled to share that having partnered with Libby's this season, they are doing just that: giving. Here's how it works: It is so simple….it's called #CansGiving…and it promotes, guess what? GRATITUDE and GIVING! I love it. You can enter the #Cansgiving sweepstakes via Facebook, Twitter or Instagram by submitting a photo of what you are most thankful for this holiday season, and including the hashtag #Cansgiving. Libby's will then award ten participants, chosen at random, a grocery gift card worth $350 toward their family's Thanksgiving meal, plus an assortment of Libby's fruit and vegetable products to help prepare your family meal. The sweepstakes opens at noon EST on Nov. 3, 2014, and ends at 11:59 a.m. EST on Nov.19, 2014. Official rules can be found here. Good luck and start sharing.
Disclosure: I'm thrilled to be partnering with Libby's this holiday season – not only to share these holiday meals with you, but also to tell you all about #Cansgiving. (you know I love anything and everything that spreads a little gratitude and giving). As always, all thoughts and opinions shared are mine and mine alone.