EDITED TO ADD:  Winner is #34 'Katie'~  Thank you to everyone who shared their amazing suggestions!

I've been sharing my commitment to end Childhood Hunger. I have partnered with Con Agra Foods and Feeding America to tackle this issue. I have promised to have a local rally to do my part.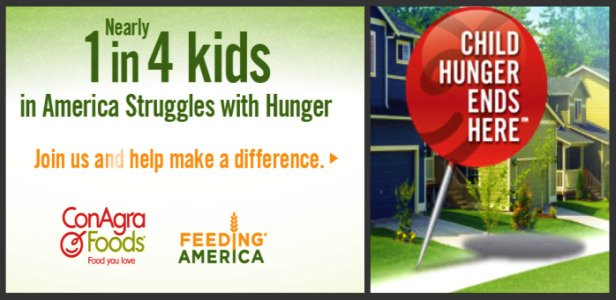 I've told you about the nearly 17 million kids in the United States who are HUNGRY.  I've shared the stats (that's one of every four kids) both nationally and locally – in Missouri – we're talking about nearly 300-thousand kids.
It makes me sick to my stomach. But you know that.
So the question is….what AM I GOING TO DO ABOUT IT?
I'm excited to announce I have two local rallys planned…..one would involve my church and I am waiting on final approval so I will have to share those plans (fingers crossed) at a later date.
But the second idea is close to my heart.
It isn't news that I think kids should learn how to help others.
Kids Learn to Help Others From YOU
*By seeing you help others
*By actually doing
*By doing often
Naturally, they have to be old enough to grasp the concept – but I think you can start young. (My kids are 3 1/2 and 5 1/2)
Our rally is simple, but powerful.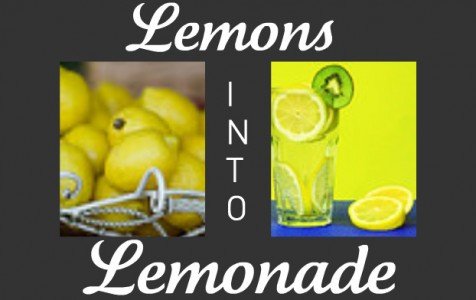 Lemonade Stand Saturdays in May
Choose any Saturday in May
Register your rally online to receive a rally toolkit – including a banner, four posters, coupons to share and a rally guide/information kit
Gather your kids
Squeeze some lemons
Set up a Stand and SELL SOME LEMONADE to End Childhood Hunger
Donate at least a portion of your proceeds online (this ensures the money you raise STAYS in your community)
I'm thrilled to have some local friends here in St. Louis who are already planning to join me by hosting a Lemonade Stand in their neighborhood.  I'll share dates as soon as I have them.
If you decide to rally with us, choose your date, post a comment.  I want to let people know what you are doing and when.
When you set up your stand, take a picture and email it to me – danielle (at) ExtraordinaryMommy.com.  I will post all pictures you share – I can't wait to highlight your rally.
Since we're talking about neighborhood rallys, the official launch of this campaign will take place this week in one of the most notorious TV neighborhoods around: Wisteria Lane.
Yes….with the help of Desperate Housewives' Dana Delaney, the campaign to End Childhood Hunger takes off this week.  I'll be in LA on Wisteria Lane for the launch and am thrilled we will also be heading to a local food bank in Los Angeles.
I can't wait to share video and pictures.
As a bit of additional incentive (I'm hoping you'll host your own rally – and remember it doesn't have to be a lemonade stand!!), I am excited to be giving away a Con Agra Foods Gift Basket filled with coupons, a reusable grocery bag, Desperate Housewives on DVD and other goodies.
Entering is SIMPLE: Suggest an idea for a rally and you will be entered to win.  (it doesn't have to be complicated and YOU will be inspiring others with your suggestions!) You have until April 26th to enter. Winner will be chosen at random.
ExtraordinaryMommy.com is not responsible for prizes that are shipped from outside vendors or sponsors. All entries will be pooled together and one (1) winner will be drawn. The winner will have two calendar days to reply via email. Unclaimed prizes will be placed for availability to newly chosen winners after that time. Giveaway is open to all U.S. residents only, must be at least 18 years old to enter. One entry per person, entries accepted through April 26, 2010 ending at exactly 11:59 CDT ExtraordinaryMommy.com was chosen to participate in the Childhood Hunger Ends Here Campaign.  We are receiving a stipend for participation, though opinions expressed in related posts are ours and ours alone and can not be influenced in any way.