It was a simple request:
"Mommy, can I ask you a question?"
"Of course, Buddy….  what's up?" I knelt down in front of my small dude.  This was clearly an important question.  He had stopped getting dressed mid-stream and was standing in front of me – all baby-man – jeans and no shirt.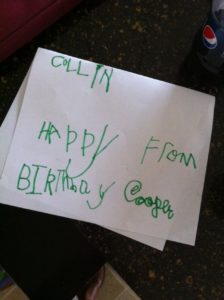 I stared into his sweet blue eyes and he looked earnestly back, "Mommy….  when I go to the birthday party today…. will you please leave?  I'll be ok without you."
I held my breath, knowing this was a hard one to answer. If I had reacted physically to the question, I would have fallen backwards…. from my knees to my bottom – seeking to stabilize the quickened beating of my heart.
"Are you sure, buddy?  You want your Mommy to leave?"
"Yes…..  I promise I will be OK."
It was at this moment that I wanted to yell, "No!!  You WON'T be OK without me – in fact you might not EVER be OK without me." But remarkably, I still possessed a morsel of sanity – and that morsel whispered softly, "You WANT to raise a strong, independent little man." Naturally the not-so-sane portion of my brain was demanding recognition – certain that I DID NOT, in fact, want to raise an independent child TODAY.
Today, I wanted him to hold my hand, squeeze it three times for our secret 'I-LOVE-YOU'.  I wanted him to look up at me, his blue eyes AND his sweet mouth saying, "I love you, my  mommy."
I managed to shake the tears as their tide rose in my eyes…. "Buddy, when did you get to be such a big boy?"
With a smile and silly shake of his head (one that could ONLY mean, 'mommy-you-should-know-this!') he said, "Mommy, Delaney TEACHED me."
Ahhhhhh yes…..  she TEACHED you.  My sweet little buddy IS still there.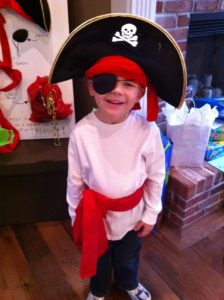 And while this story should end with the details of my sob-fest in the car after walking him to the door of the party and leaving him in someone else's capable hands…  I am happy, no, delighted, to tell you, that my small dude grabbed my hand as we walked through the door, as he donned his stellar pirate costume and said, "You know, Mommy….  you can stay after all."  After all.  After all the premature heartache.  After the tough guy bravado.  Even after being teached by Delaney.
He stayed.  I stayed.  He played, I witnessed.  I was there to re-attach his sword, to tie his sash, to adjust his eye patch and to hold tight to his mini telescope. Every time he sauntered my way, I knew – deep in my heart:
After ALL, he still needs his Mommy.  Which is good, because I still need him.