Do you know Life is Good? I mean the shirts, Jake, the good vibes?
If you don't, you should.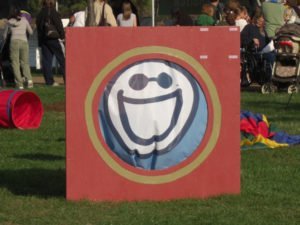 This is a company started by two brothers – it began with T-shirts -T-shirts they sold door to door in Boston 20 years ago.  They lived in their van.  They ate peanut butter and jelly.  They had big dreams.
In 1994, this lovable little guy named Jake changed everything.
Jake just knew that Life was Good.
And now….that T-shirt business is a monster company with a monster reputation for spreading goodness and love.  They still do T-shirts, but they also do tote bags, home accessories and clothes for the whole family.
But more than that – they live by the theory that 'Life is Good'.  Shortly after 9/11 – the company recognized that people could use a little more 'good' n their lives.  So they created the 'Life is Good Festival'  – an all day event centered around kids and family.  And the money raised benefits children's charities all around the country. Since the Festivals began, more than 300,000 people have come, laughed, played and raised more than $4 MILLION dollars for the kids who need it most.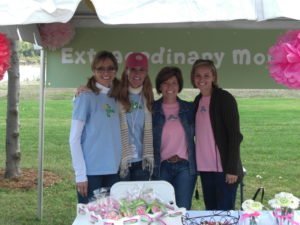 Last year, I was privileged to coordinate the volunteers for the St. Charles, Missouri Life is Good Festival (a suburb of St. Louis).  This year, the even is bigger and stronger.  And the money raised not only benefits kids – but it does so right here in the St. Louis area through Project Joy.
Project Joy believes it is the number one right of every child to experience joy. So, they will work with 30 childhood educators who in turn touch the lives of nearly 600 of the most impoverished children in the St. Louis area.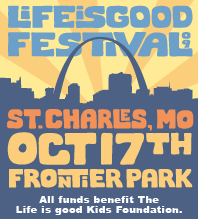 If you are free on October 17th, you must go to the Festival along the Missouri River in St. Charles.
It is amazing, invigorating and inspiring.
Entertainment includesBrett Dennen, Erin McCarley and Steve Songs.
If you are able, you just might want to join the 4K Walk (it starts at 10am). *benefits kids too!*
Register for the walk and find out more information here.
Oh – and by the way – the Festival is FREE! (though donations to the Life is Good Kids Foundation and Project Joy are accepted
Because Life is Good.