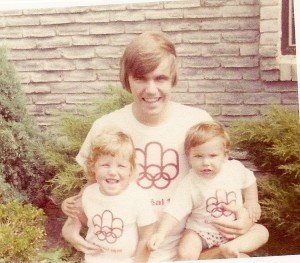 Sure, it may be cliche, but I will do it anyway.  I will call it a once-in-a-lifetime-experience.
I may have been just a mere three years old, but I remember bits and pieces.  I remember flashes of awe.  I remember the shirts we are wearing in the pictures.  I remember how beautiful my mother was in her multi-colored headband. (and how handsome dad was)
It was 1976. Montreal, Canada.  My parents ran the last kilometer with the Olympic flame, escorting it just before it lit the actual torch that burned the duration of the Summer Olypmic games.  They applied for this honor.  In addition to each person who carried the torch, six people were chosen to surround the flame during each portion of its journey.  But at the end, during the final leg, a few dozen – each bearing candles having been lit by the torch, joined the run.  My parents were two of those people.
Thirty-five years later, they still talk about it. And with every word they smile.
You see….  it was a once-in-a-lifetime experience.
And now, I suggest you offer a teenager in your life the opportunity to tell their children and grandchildren the same kind of story. (but even better!)
Coca-Cola is looking for teens who Live Positively to carry the Olympic Flame during next summer's 2012 Olympic Torch Relay in London. Think about teens you know who inspire you in these ways:
Healthy/Active Living – Do they live a healthy and active lifestyle…inspiring others to stay fit and/or take care of themselves?
Community – Do they give back?  How do they make an effort in their community?
Environment – Are they sensitive to the needs of the world around them? Do they actively seek to recycle, conserve energy and protect the planet?
Ten teenagers will be selected. These ten will carry the Olympic Flame around the historic town of Oxford, England July 9-11, 2012 as it makes its way to London for the Opening Ceremony on July 27, 2012.
To nominate a teen you know, go to LivePositively.com. In 150 words or less, submit an essay that expresses why your teen is a champion of living positively.
Nominees must be legal residents of the U.S. and between the ages of 13 and 18 as of July 25, 2011.
Nominations will be accepted through 11:59 p.m. EDT on August 15, 2011.
This post was sponsored by Coca Cola and One2One Network.  However, I imagine you know by now, I have a very special place in my heart for the Olympic Games and Paralympic Games…. every sentiment expressed about these events are mine and mine alone.