In 100 days, my small people, husband and I will begin anew what has become a tradition for us: every two years we sit as a family for days on end and watch television…transfixed, laughing, crying, yelling as though the people on the other side can hear us and yes, cheering our hearts out from the moment we get up until we fall asleep at night.  No, we aren't watching the latest reality show craze, and no, amazingly we also aren't watching the 2011 World Series on repeat.
We're watching the Olympics.  In this case, it will be the 2014 Winter Olympic Games.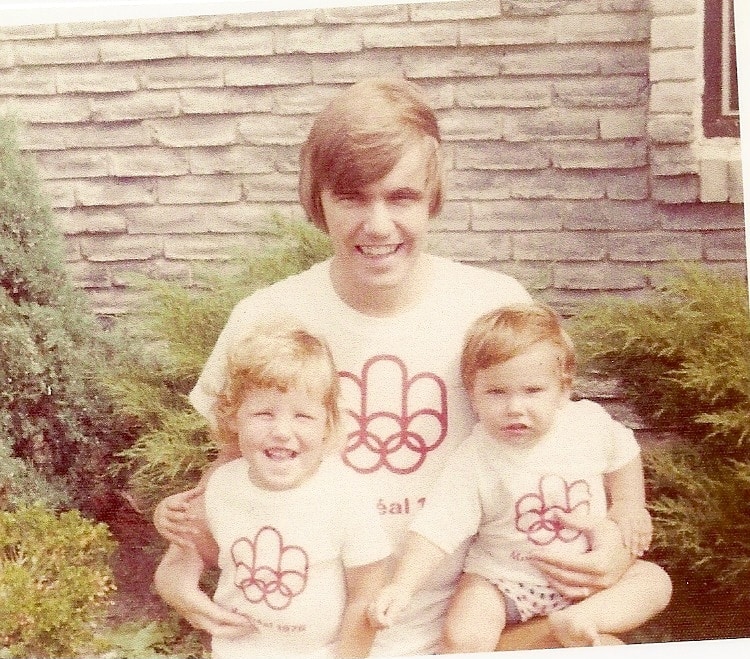 Olympic blood runs in my family.  No, not the amazing athletic kind….not the I-knew-I-was-destined-for-this-from-the-start, but purely the love of the games, the traditions, the athletes themselves and most certainly, their stories. In 1976, my parents ran the last kilometer with the Olympic flame, escorting it just before it lit the actual torch that burned for the Summer Olympic games.  In addition to each person who carried the torch, six people were chosen to surround the flame during each portion of its journey.  But at the end, during the final leg, a few dozen – each bearing candles having been lit by the torch, joined the run.  My parents were two of those people. That's my brother and I proudly sporting our Montreal Olympic t-shirts after the ceremony.
As a little girl, I used to sit with my parents, holding my breath as Mary Lou Retton, Scott Hamilton, Bonnie Blair and the men's U.S. Hockey team aimed for gold.
I was invested in their stories….how they got their start. Today, I feel just the same.
Starting now, I begin to adopt the athletes and their dreams as they journey to the next games – this time to Sochi, Russia.
It is their stories that make them so special to me. These stories make me laugh. They make me cry.  They make me believe in the people who are free skiing, snowboarding, and ice dancing.
Today I sat in awe as Kelloggs introduced the team of athletes they are supporting on this journey to Sochi. Current and hopeful Olympians, ParaOlympians and Olympic Greats make up this team of eleven who count World Championships, Olympic medals and a passion to do it all again among their achievements and strengths.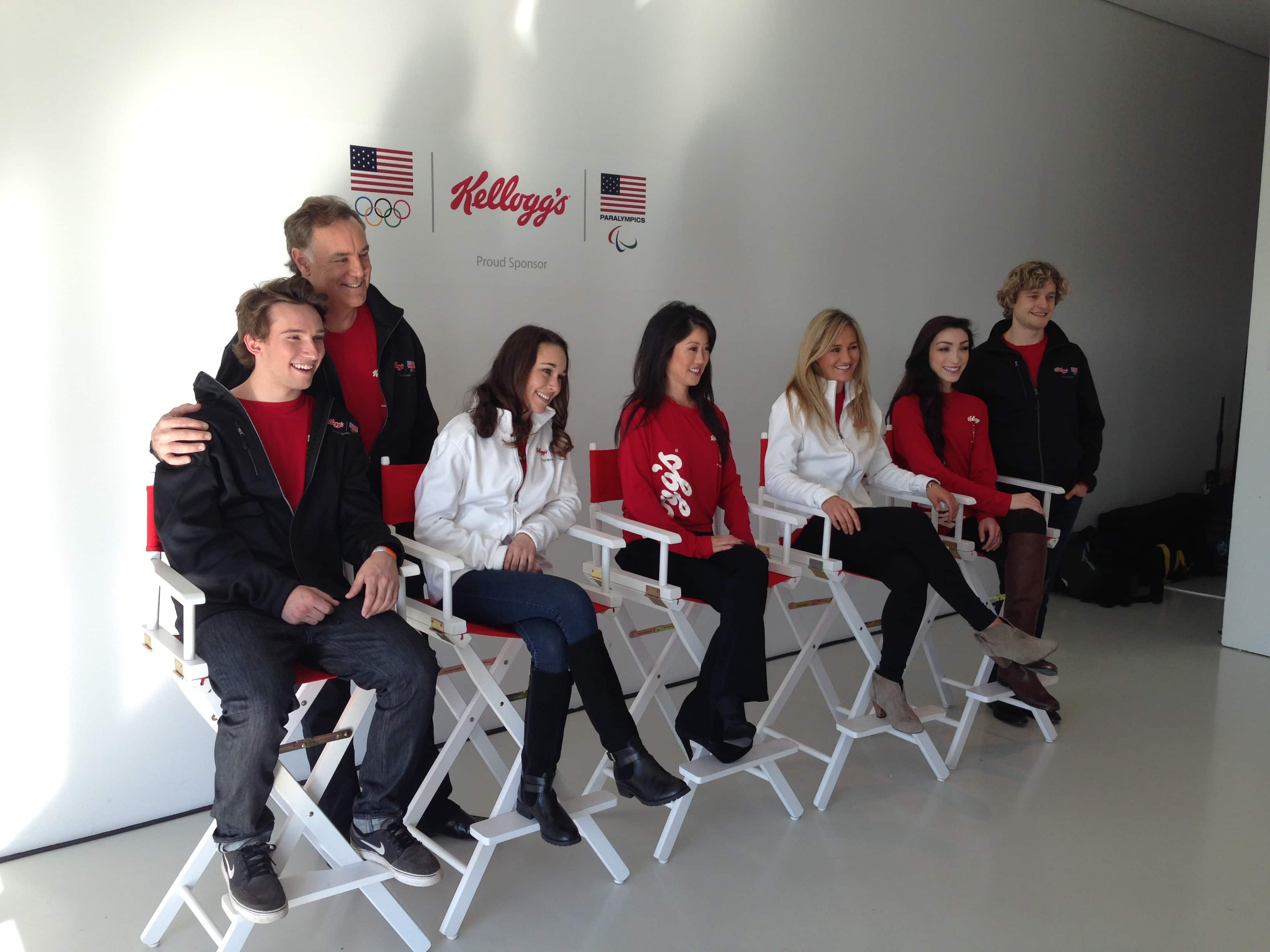 As each athlete was introduced, their #GreatStart story was shared…. It is these few moments of video that offer you the most beautiful glimpse into the soul of each athlete: How are they living this journey? What is their destiny? Who is the fastest mom on ice? How does sharing what you love help you compete? What have they overcome to get to this very stage? And how do they take care of themselves to keep Sochi in their sights?
With each Start Story, you will find yourself both laughing and crying and most definitely falling in love with each of these athletes:
Meryl Davis and Charlie White – Figure Skating, Ice Dancing
Noelle Pikus-Pace  – Skeleton
Gretchen Bleiler – Snowboard, Halfpipe
Ted Ligety – Alpine Skiing
Torin Yater-Wallace – Freeskiing (new for 2014)
Sarah Hendrickson – Ski Jumping (new for 2014, too!)
Paralympics
Heath Calhoun – Alpine Skiing
Amy Purdy – Snowboard, Cross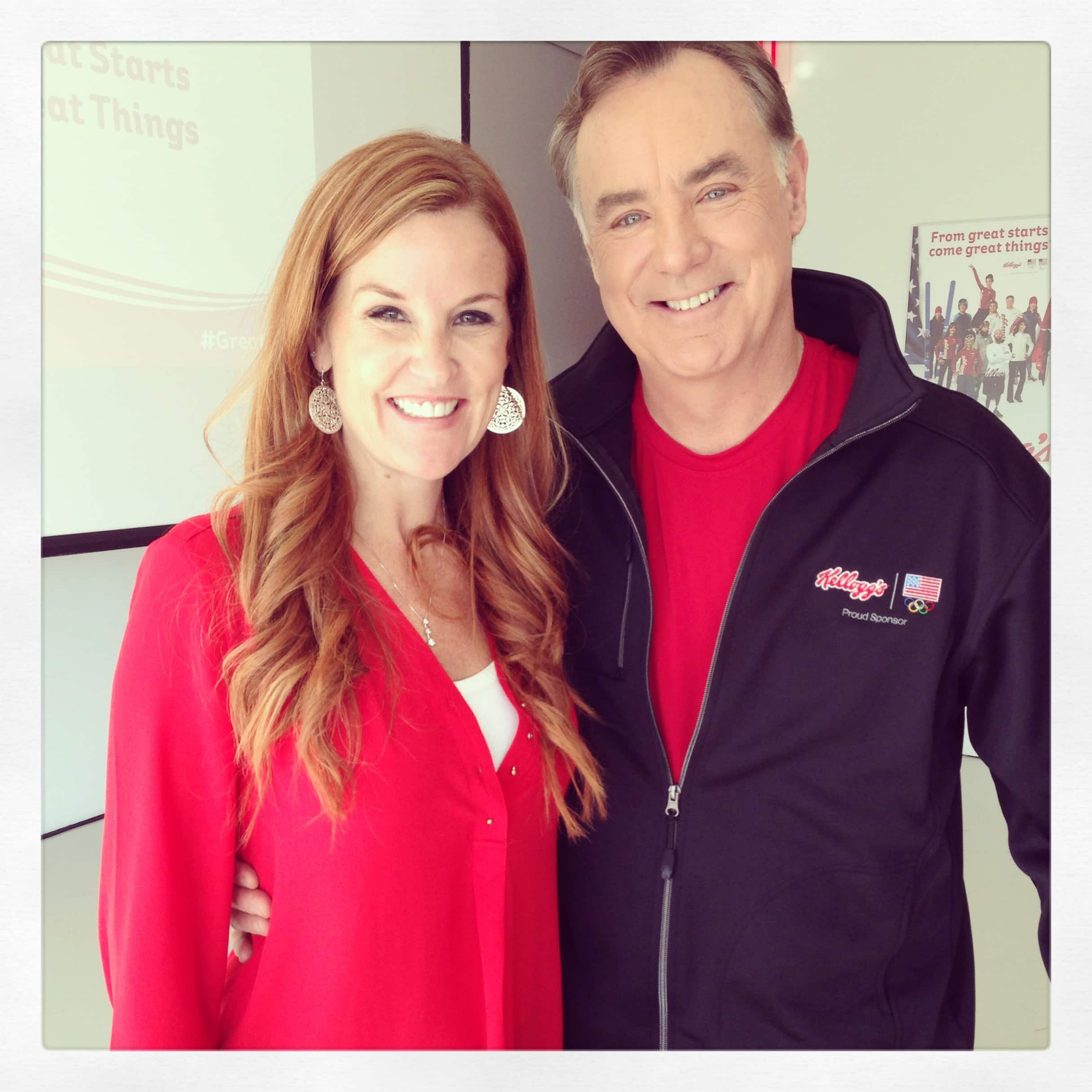 These stories were introduced by Olympic greats Kristi Yamaguchi and Jim Craig, a Gold Medalist from the 1980 Olympic Hockey Team (Miracle on Ice!!  I was giddy) and they celebrate how each of the U.S. Olympic and Paralymic athletes and hopefuls got their start, but there is an additional element of extraordinary: These stories are part of Kellogg's campaign to 'Give Kids a Great Start' which allows people like you and me to help provide breakfast to kids in need.  Each time you watch one of their stories, share their Start Stories, pin one of their videos or use the hashtag #GreatStarts, Kelloggs will donate one breakfast to a child in need.  You've heard me talk about it before, but one in five kids goes without breakfast.
The goal is a beautiful but lofty one: to provide two million meals to kids in need.
Over the next few months, I'm delighted to be able to share part of their journey with you. Later this week, I'll be sharing some additional highlights from today (ice skating in Rockefeller Center with Charlie and Meryl? Amazing), but I truly wanted you to have access to these stories – not only because of their magic, and because I know you will love the athletes as I do, but because I think we can start helping kids together right now.
I'm not sure if it is possible, but if you can…. tell me which #GreatStart Story moves you the most!
Just for fun…. Start here with Paralympian Amy Purdy…. Her passion not only for her sport, but for LIVING is truly extraordinary.
Disclosure: I am proud to be working with Kellogg's on the Olympic #GreatStarts campaign and others.  As always all thoughts and opinions shared are my own.