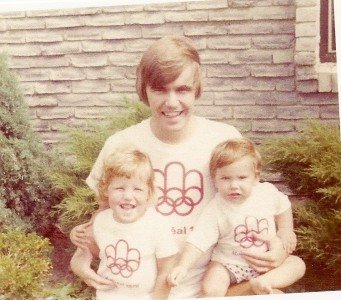 My fascination with the Olympic Games began a long time ago.  Back when the dreams of being an Olympic athlete were beginning to rumble through my small head.  It was 1976.  Montreal, Canada. I was a mere three years old when my parents ran the last kilometer with the Olympic flame, escorting it just before it lit the actual torch that burned the duration of the Summer Olympic games.  They applied for this honor.  In addition to each person who carried the torch, six people were chosen to surround the flame during each portion of its journey.  But at the end, during the final leg, a few dozen – each bearing candles having been lit by the torch, joined the run.  My parents were two of those people.
No, I don't remember everything.  I can remember the shirts you see us wearing in the picture.  I can remember how beautiful my mother looked in her ponytail and rainbow-colored headband.  I remember how proud my parents were at the time (and still are to this day).  In fact, I know they still have the candles they carried on that run.
Family legend says my swim coach approached my parents when I was six about training me for the Olympic games… my parents apparently told him he would have to explain the commitment to me – the practices, the hours required and then ask me if I wanted to do it. Shockingly, my six year old self wasn't willing to commit to four hours of practice a day. There went my Olympic dream.
So, instead, I live vicariously… first through other athletes – watching Mary Lou Retton at the 1984 Los Angeles Summer Games with my mom…. and then in 2010, watching WITH the moms (and as a mom myself) in Vancouver at the P&G Family Home as they held their collective breathes…. waiting as their children competed… ice skating, skiing, hockey, speed skating…  The many hours of practice, the successes, the 'almosts'….. all whirling through their minds.
And with every heart beat then… and every heart beat now, P&G salutes these moms with a simple:
Thank You, Mom.
I was never able to watch P&G's 2010 Olympic Thank You, Mom ad without crying.  And this new one?  Same Beautiful Result.
Because being a mom really is The Best Job AND the Hardest Job.
You cried, right?  Felt that lump right there in your throat?
And now?  Hop on over to the  "Thank You Mom" Facebook page.  For every 'like', P&G will donate $1 to the USOC P&G|Team USA Youth Sports fund, up to $100,000.
How can you NOT like that?
Oh…. and if you are wondering about Dads (because my small people would like you to know their Dad plays just as crucial a 'thank you' role as mom does) P&G knows this and will be honoring Dads around Father's Day.
I would love to know what you think of the commercial.  And?  Have you thanked your mom lately? (Because 'Thank You, Mom' doesn't only apply to athletes….)
Disclosure:  I was not compensated in any way to write about this campaign. I am sharing this with you simply because I loved it more than two years ago at the 2010 Vancouver Winter Olympic Games and I think this year's Thank You, Mom initiative is JUST as extraordinary.