Mother.  Wife.  Business Owner.  Friend.  Volunteer.
During the day – and often night – I move from one task, one event, to another. I return calls, do laundry, make lunches, work on projects, read to my small people, schedule doctor's appointments, plan travel, cheer at softball games, bandage scraped knees, write and drive, drive and drive some more.
Most days I drag myself out of bed – many of them knowing I didn't get enough sleep (but I'm working to change that, based on a past P&G everyday resolution) and I hurry from one thing to the next until I'm ready to collapse at the end of the day.  Lately, I've noticed the spring in my step isn't quite what it used to be.
I've been going through the motions.  I love being a mom.  I love the work I do, but there is something missing.
JOY.
The simple joys in life that have always defined who I am are not present in my daily life – somewhere along the way, I stopped doing the little things that made me happy.  I stopped taking care of me.
A few years ago, I was having a conversation with my doctor.  She gave me a beautiful analogy that has stuck with me – and though I don't always put it in to practice, it resurfaces when I need it.  This is one of those times: Moms are much like a boat…. if there is a hole in them, even a small one, they will take everyone down with them.
I'm choosing to plug my 'hole' – to fix what is missing – by adding joy to my daily life.  And I'm going to do it be reincorporating all of the little things that have always made me happy – one at a time.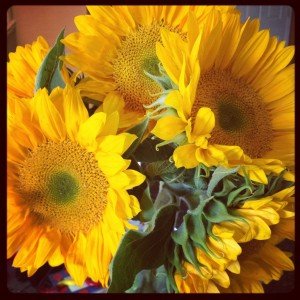 I resolve to do one thing every day that brings me joy.
I might buy myself flowers (or pick them from the garden in the front yard).
I will stop and read for pleasure – a magazine, or book I've been dying to read.
I will take 15 minutes to meditate.
I will take a bath (with lavender – is there ANYTHING that smells better??).
I will give myself a treat – eat a piece of chocolate or buy a frozen mocha.
I will continue to ask for good news from other people – as their joy is contagious.
I will exercise – somehow, some way – even if it means dancing….
It is amazing how easy it is to forget 'me' as I switch from one hat to another throughout the day.  Even though I know I am a better mother, business owner and friend when I'm happy, sometimes, I forget.
But not anymore.
This is my P&G everyday resolution – my chance to make a positive mid-year change. What will you do to create a positive change in your life? P&G everyday wants to know… join the conversation and enter the P&G everyday resolution sweepstakes for a chance to win a $1000 Visa® prepaid debit card, daily between now and the end of June. Also – don't forget to visit P&G everyday for smart living tips, value savings advice and free samples to help better your "life in progress". And if you haven't done so already, follow P&G everyday on Twitter (@pgeveryday)!
Disclosure: I am working as a spokesperson for P&G's everyday resolution campaign.  Why? Because I use P&G products on a daily basis and it makes me happy to share this new project with you.  As always, all opinions and stories are mine alone.