2018.
A new year.
A clean slate. A calendar flip.
A fresh beginning.
As a general rule, I count my birthday – also in January – as the official beginning of my new year.
But I start thinking, planning, hustling…..even before we celebrate January 1st. I can't claim to be uber organized….but I AM a dreamer, a planner, a goal-setter.
And this is where that word of the year comes in to play.
Choosing a word not only allows you to frame your everything (hopes, dreams, wishes, plans) for the new year, but it gives you permission to welcome all that word has in store for you. In the past, I've had bracelets printed with my word. The first time I did it, I chose a phrase, not a word: Hell Yeah. I will write more about the genesis of this phrase and why it is important to me (it was a light-bulb moment for me after writing my first book) soon. As much as I've spoken about it, it baffles me that I've never shared it all with you here. Let's suffice it to say, "If it is not a Hell Yeah, it is a NO".  That year, I learned to prioritize both personally and professionally – and I learned to say no when there wasn't a good fit.
The next notable word….friends – I have it as a tattoo.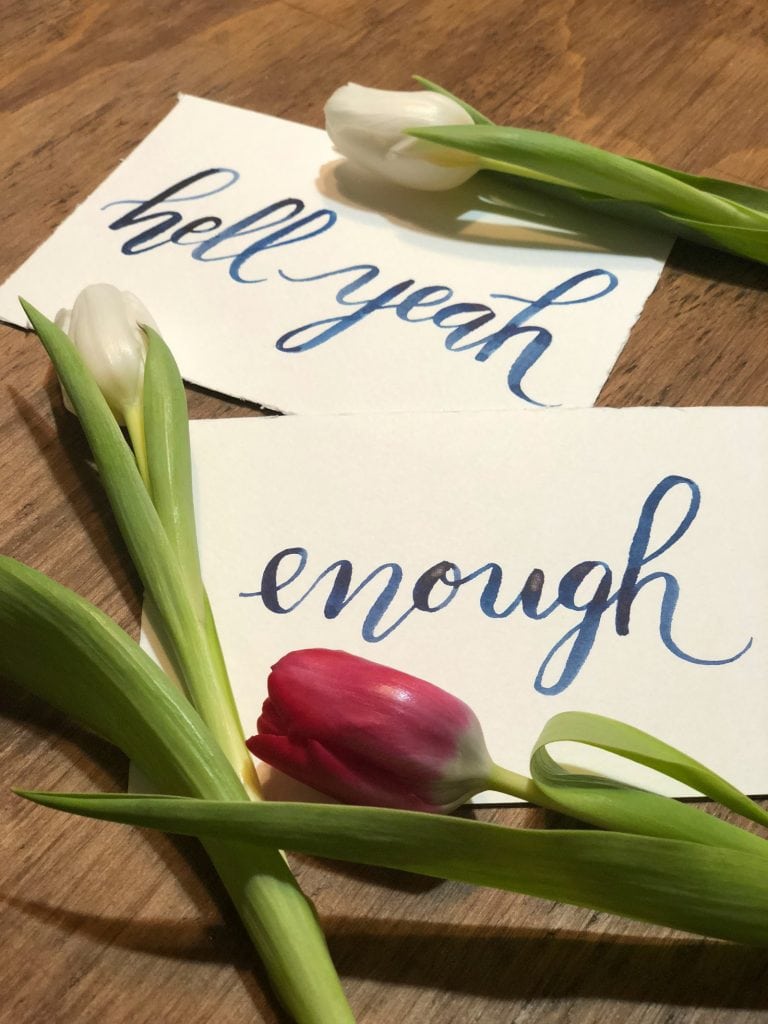 Enough.
You know why? Because I wanted to embrace the fact that I HAVE ENOUGH and I AM ENOUGH. As a mother, a friend, as an entrepreneur.
You know what? You are enough, too.
For weeks, I ruminated on my word for 2018….running each one I considered over and over in my mind….whispering it to myself to see how it sounded on my tongue…but I just couldn't find the 'right word'. Until I did.
It hit me. It knocked me over with its power.
And then I asked YOU. And good heavens, did you ever inspire me with your words and missions for this year.
Unapologetic.
Rise.
Inspire.
Harmony.
Release.
Worthy.
Abundance.
Me.
Soar.
Newness.
Keep fighting.
And so, so, so many more. Each word serves as part of the road map I would like to create for this coming year. I don't ever want to be the smartest person in the room. I want to continue to learn from, and be inspired by, all of you.
So, thank you.
And with that – I share the word I CHOSE.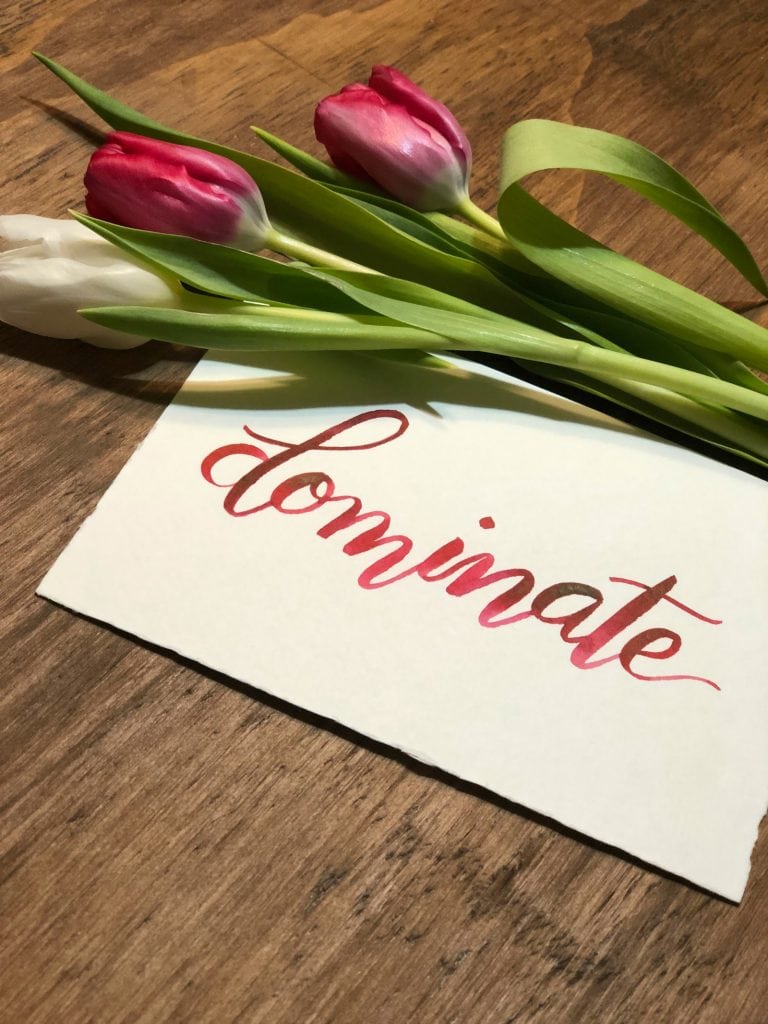 Dominate.
I realize it sounds harsh. I get that. But, that it isn't my intention. For me, it is strong word. And it represents my desire to dominate my health, my schedule, and yes, the work that I do. It isn't a comparison to anyone else, but rather, my goal to be the very best version of me possible.
That means embracing all of the power of my previous words PLUS Dominate. It feels so good. So strong.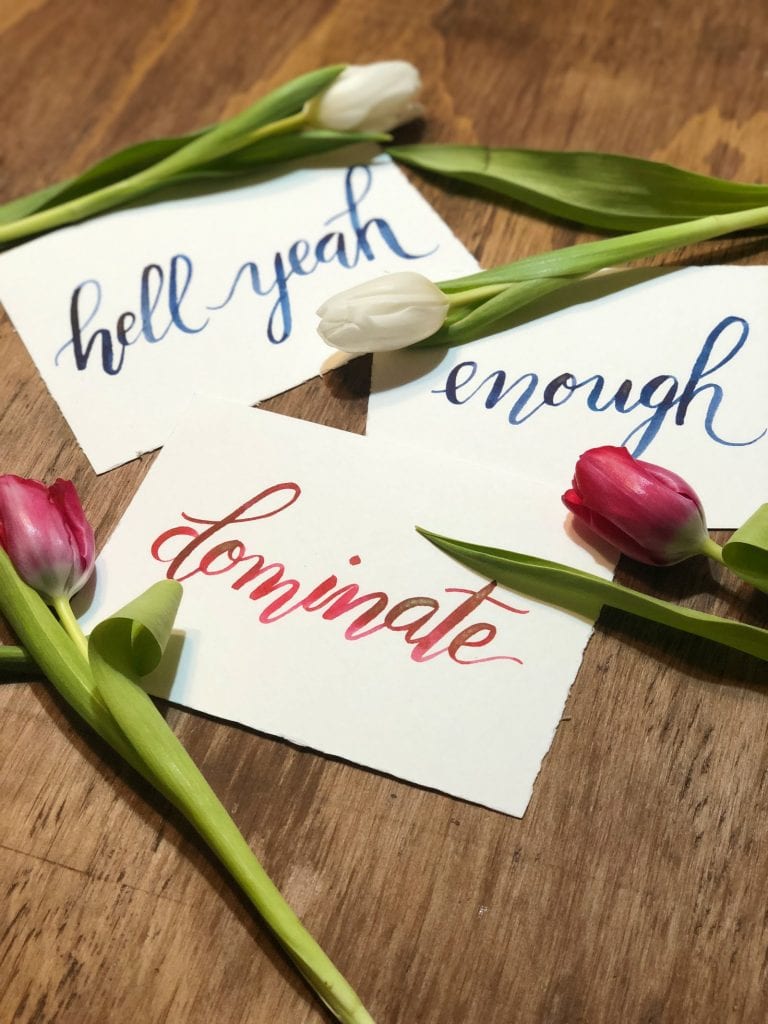 In case you are wondering (I KNOW YOU ARE) – these watercolors of my words are the
magic of my friend Lucrecer
. Go order yours now. Seriously.
Oh….and I'm dying to know YOUR word.
Thank you, a million times over, for being so much of the motivation that drives me.