I fed my children dinner tonight.
Somewhere there is another mother who didn't.  Not because she didn't want to….make no mistake, she would rip out a piece of her heart if it would help….but she simply can't.  The food isn't there.  The money to buy the food isn't there.
The very thought….the pure knowledge – and yes, I do know that this is happening….makes me physically ill.
I've given you the numbers….nearly 17 million children in this country are hungry.
Where I live, in Missouri – there are close to 300,000
But, I'm really worried about Tennessee.  Before this past weekend, the number of hungry children in the state was more than 310,000.  (using numbers below combined with census stats)  But now, with the floods?  There are how many more people, families, children in need.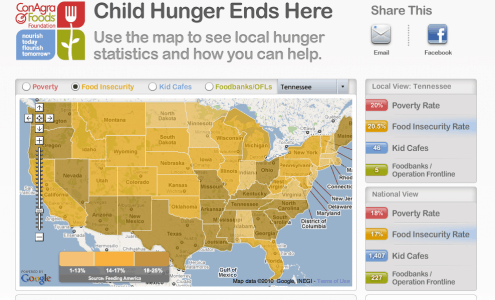 More than 600 people were rescued over the weekend.  More than 50 schools were damaged.  What happens to the kids who's main meals were coming from school?
Fortunately, there are people who are making child hunger their number one priority. You may have seen me post this recently….I'm working on the ChildHungerEndsHere Campaign benefitting Feeding America.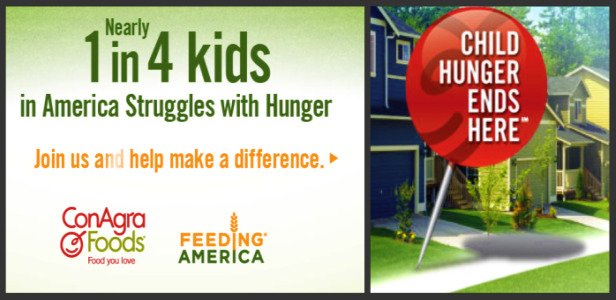 The idea?  To encourage people like you to host a small neighborhood rally – a garage sale, a bake sale, a potluck – and donate a portion (or all) of the proceeds to fight child hunger.
I'm doing a Lemonade Stand with my kids…..I think it is crucial they understand that there are children who do not know where they will get their next meal.  I've been encouraging people to host a stand of their own – any Saturday (or Sunday) in May.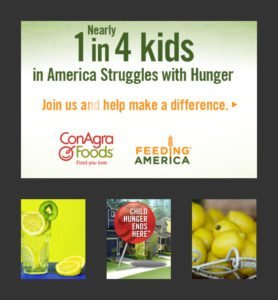 One dollar provides 7 meals…..so, even $10 makes a HUGE difference.
In addition to the Lemonade Stand, I am organizing a Food Drive at my church, Assumption, in O'Fallon, Missouri, to be held  on June 19-20th.  Since the church regularly supports St. Vincent DePaul – everything donated will be split between that organization and Child Hunger Ends Here.
Will you join me?  Simply go to ChildHungerEndsHere to register your rally.  They will send you a rally kit: a banner, some ConAgra Foods Coupons and posters.  And when you donate any portion of your proceeds online…..that money STAYS IN YOUR LOCAL COMMUNITY.
When I last asked for rally suggestions – you gave me some fabulous ideas: children's festivals, book sales, tricycle races, volleyball tournaments….even growing vegetables in vacant lots.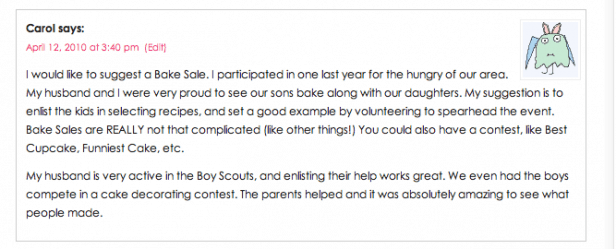 Thank you so very much for your ideas.
Please send me any pictures you take at your rally – I would love to highlight your efforts to fight child hunger.