I've been homeschooling two of my four children for three years now, and every new year rolls around leaving me with an odd mixture of complete confidence and utter despair.
My brain, somewhat at war with itself, looks to the coming semester and two thoughts roll through it almost simultaneously:
"I've totally got this. We are going to rock this last semester. Eye on the prize, baby! June will be here before you know it!"
AND
"I'm going to diiiiieeeee! I can't do it. June is never going to get here. My son will never learn to write a decent paragraph, and my daughter will hate reading until the day she dies."
There's a slight possibility that I am a little dramatic.
In any case, whether you homeschool your kids or they get their education in a brick and mortar building, the truth is that sometimes it takes a good, firm pep talk leading into the final months of a school year, and not just for the kids!
Parenting school age children is hard. Schedules are hectic, homework is hard, and making sure they stay motivated until summertime rolls around can be exhausting.
Some kids are naturally drawn toward school and learning, so the second semester is like bringing back a welcome friend.
Other kids, like mine for example, simply tolerate school, and keeping those kids focused can often feel like trying to get a goldfish to leap through a hula hoop.
If the second semester is looming before you and you feel entirely overwhelmed, I'm here to say: I get it.
Solidarity, my friend.
We are all in this together.
The first time the alarm goes off in early January before the sun has even peeked her head above the horizon, and we swing our weary legs over the side of the bed and set them down on the cold floor, it's hard to feel upbeat and excited about the days to come.
When we're trying to pull crabby kids from their beds after a two week break of over-indulging, we may realize that there isn't a coffee in the world strong enough to make the upstart of a new year an easy transition.
But fear not.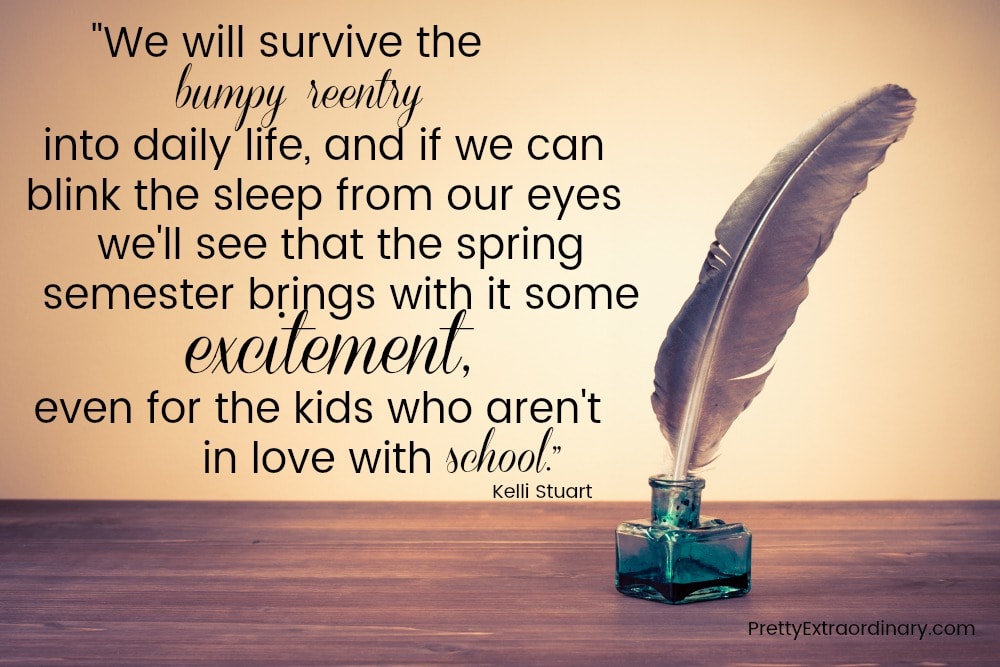 We will survive the bumpy reentry into daily life, and if we can blink the sleep from our eyes, we'll see that the spring semester brings with it some excitement, even for the kids who aren't in love with school.
Second semester is full of anticipation. We're anticipating warmer weather and rejoicing even the slightest break from the icy winter air.
We're beginning to make summer plans, looking to the future with great joy because it's right around the corner.
Older kids are looking toward grand accomplishments: graduating elementary school, or middle school, or high school.
Younger kids are likely excited for those end of the year field trips that are always a little extra fun.
And parents get to ride the wave of these youthful lives, watching our kids grow and develop, fighting with them and for them as they overcome challenges, grow more mature, and get a little closer to growing up.
It's overwhelming, for sure. And exhausting. But we all know the truth:
It's so very short.
These school years are but a breath. We blink and these kids of ours have gone from gap-toothed kindergartners to stubbly-faced high schoolers, and everything between those days feels like a blur.
June may feel like it's never going to get here when you and your children look at all that needs to be accomplished between now and then, but the truth is the time between today and summertime will fly by…and then it's gone.
If you, like me, find yourself overwhelmed with the looming semester, then I urge you to hold on to the beauty of today. Take it one grand, busy, hectic step at a time, because tomorrow will come, and the next day after that, and your children will grow up, even if that seems a laughable concept right now.
They will develop and discover who they're supposed to be, right there under your nose, and you don't want to miss it.
So make the coffee strong, and pour it while it's hot. Because June is coming, and it will be here before we know it.
Do you get overwhelmed by the upstart of the second semester, or do you find yourself energized and ready to tackle the second half of the school year?