December 18th, 2014 EDITED TO ADD: THIS CONTEST IS NOW CLOSED.
Thank you ALL so much for entering – your stories are all beautiful. If it was possible for us to gift each and every little girl mentioned with an American Girl, we would. Our Editorial Team has selected: Laura Jacobson as the winner. Congratulations, Laura. Happy Holidays, Everyone!
I still remember the first time I took my small girl to an American Girl store. I did not have one as a child, but my mother-in-law was giddy about the possibility of introducing the first girl in her family to the magic. At the tender and sweet age of two, Delaney, her grandmother and I began what was to become an annual trip from St. Louis to Chicago to visit the store and experience the wonder that is American Girl.
That first year, my over-stimulated toddler screamed and cried when I told her it was time to leave. While, that wasn't my favorite moment, it is a testament to the love and attachment that was developing in her little heart for these dolls, the history they share and the stories they tell.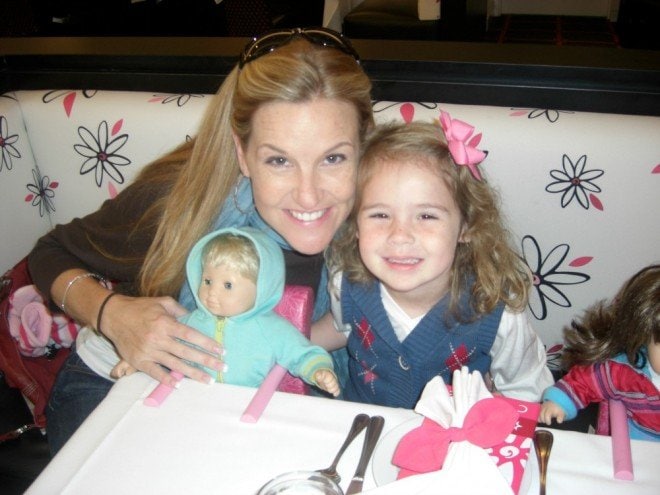 Virtually ever year since, then, we've returned – for shopping, for tea, for the beauty and hair maintenance her dolls need, and for the pure joy.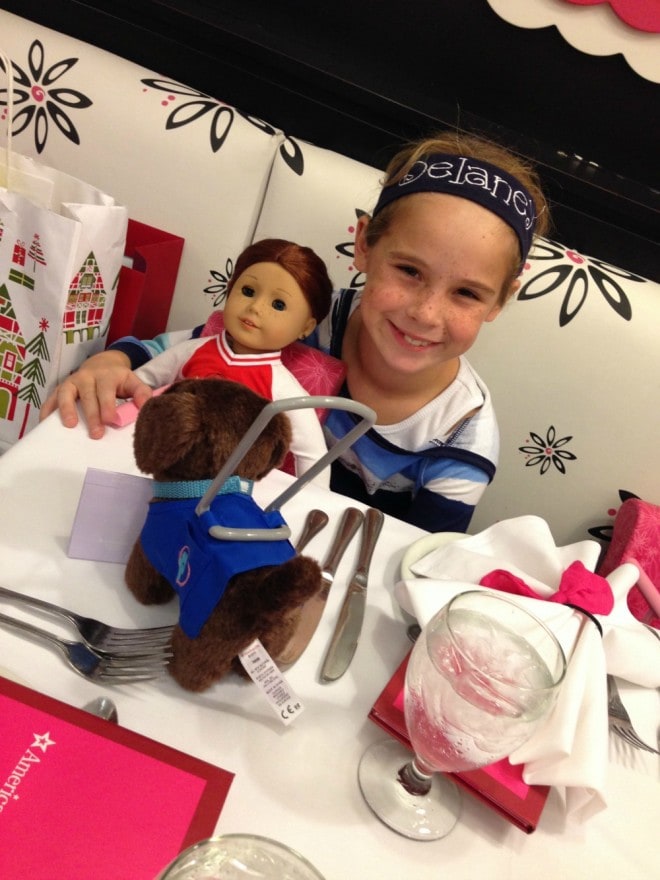 I have loved American Girl for the happiness they have given Delaney, for the teaching moments they have provided through their historical books and for the collection of advice books we have turned to as she is getting older and seeking to know more about herself and the world around her. But as much as all of this, I love American Girl for the way they GIVE.

I have long admired their philanthropic and charitable efforts – prioritizing children and families in need, but this year, I'm especially excited by the way they are celebrating the holidays. For every doll purchased in the store, online or over the phone through December 18th (they started this 'giving' on November 24th), American Girl will donate an 18-inch doll (up to 1,000 dolls each day). This is all part of their 2014 "Share the Wonder of the Holidays" giving campaign which works with the Children's Hospital Association and will be making sure that thousands of American Girl dolls will find a new home in the hands of young girls receiving care in any of the Association's 200+ U.S. member hospitals.
Think about that for a moment – not only is there beauty in American Girl's nearly 3 million dollar gift to young girls spending time in the hospital, BUT your love of the dolls, your daughter's love of them – triggers a gift every time you purchase through December 18th.
I'm thrilled about two additional things I have to share with you: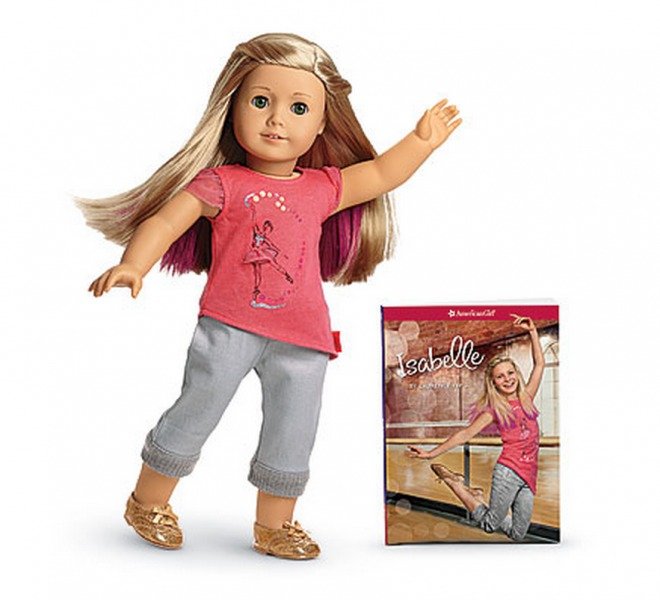 1) American Girl has offered to make a donation of an 18-inch Isabelle doll to the charity of my choice. (Isabelle is the girl of the year for 2014) I have chosen to give this generous donation to the Crisis Nursery – an organization dedicated to prevention of child abuse and neglect. They provide emergency intervention and support for families in crisis – including short-term care for young children. I've already called to confirm they have a little girl who could use the smile Isabelle will bring.
2) I am giving away an 18-inch Isabelle Doll  because I know YOU know someone who needs it AND, my gift to one of you – this purchase, will trigger ANOTHER gift to the Children's Hospital Association.
Here's how the giveaway will work:  It is VERY simple… in the comments, I want to understand your giving spirit. Tell me a quick story about someone you know whose day would be made by the gift of Isabelle. Who would you be giving the doll to for the holidays?
One winner will be chosen.
We will be accepting entries until 11:59pm on Tuesday, December 16th, so that a winner can be notified, accepted and the doll mailed by the 18th.
Thank you for spending time with me, for sharing your stories and for entering.
Happy Holidays!
Rules: No purchase necessary to enter. ExtraordinaryMommy.com is not responsible for prizes that are shipped from outside vendors or sponsors. All entries will be pooled together and one (1) winner will be drawn. The winner will have two calendar days to reply via email. Unclaimed prizes will be placed for availability to newly chosen winners after that time. Giveaway is open to all U.S. residents only, must be at least 18 years old to enter. One entry per person, entries accepted through Tuesday, December 16th, 2014 ending at exactly 11:59 CDT.